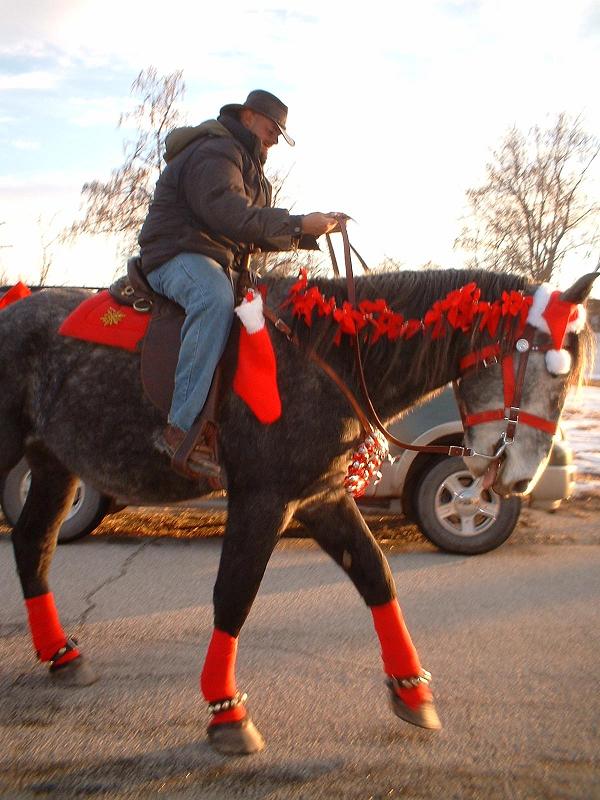 by Ellen Wright
August 2012
Now we know this guy is obviously ready for the Christmas season, but the point is-you notice him and that horse. You would even hear them coming with bells on all four feet and the breastplate. Halter, ribbons in the mane, saddle pad, ribbons in the tail, and leg wraps are all eye catching color. A hunter who shoots this rider or his horse was AIMING at them and had no excuse whatsoever!
But what if a deer jumps up in front of this horse and spooks it? If the rider falls off, and the horse panics and leaves, what then? Could you identify YOUR horse? Your saddle? How would you do it? We're talking positive ID, folks-not just walking up and telling somebody "oh, yeah, that's my horse" because anybody can do that.
While we're at it, could you identify YOURSELF? Would you have your insurance information on you if that fall caused serious injury and you were unconscious and unable to speak? How would emergency personnel notify your family? Allergies? Medical conditions?
Look for the upcoming series of articles on "Preventative Theft Therapy" by our editor, Ellen Wright. There will be just tons of hints and helpful information coming!