The missing horses were found on Friday, June 28, on a 140 acre farm approximately two miles from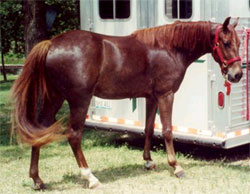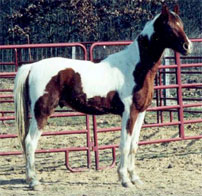 where they were lost. Mr. & Mrs. Mike Johnson of Salem took their brother who was visiting from Kentucky out to the land to show them the farm. When they entered the gate to the property, they found the flyer that had been put in the lock by Jim & Janet Kelly. Jim & Janet spent a whole day in the area passing out flyers and talking to people in the surrounding area where the horses were lost to let people know about it.

When the Johnson's were walking down the access road, they spotted DJ near a log pile, his reins entangled around a log. Zarr was nearby with no bridle. DJ's saddle had twisted to the left side and the breast collar was tight under his leg. The buckle on the breast plate had acted as a "saw", cutting his leg to the bone. Mr. & Mrs. Johnson removed the saddle and upon seeing how bad DJ's leg was cut, they called a vet from Salem, Doc Jones. Doc Jones promptly made the trip to the property, cleaned the wound and gave DJ something for the pain along with tetanus and antibiotics for the infection. I truly believe that DJ would not have survived the weekend, had he not been found. His eyes were so dull and he appeared to have "just given up." Zarr was not in bad shape except for a sore back.

They were very glad to get back home that night and spend the night in a clean stall and a cool fan blowing on them. Zarr is back in the pasture with his buddies and doing just great! DJ is confined to his stall for the time being, but his eyes are again bright and shining and he nickers whenever I go to the barn. In time his leg will heal.

A heartfelt thank you to all who were involved in any way in helping us to bring our "kids" home. We know there are so many of you helping in so many different ways. A special thank you to all who searched the area on horseback, to Jim & Janet Kelly for their time and effort in getting the "word" out through their flyers and talking to people in the area. Also, thank you Dawn & Kenny for putting the information "on the web." To Mike Johnson and his family for finding them and taking the necessary steps to get them veterinary attention so quickly. We are indebted to all of you. Horse people are the greatest people in the world!!

We are so thankful to have them home....and the horses are glad to be there!

Sincerely,

Gary & Doris Anglehart
(417) 589-2186

Original Plea for Help
Hello, my name is "D.J."
I am a 5 yr. old Fox Trotter. My owner and I was going for a early Sunday Morning Ride on 6-16-02 when my hind feet slipped off in a deep erosion ditch. Then the un-thinkable happened. I fell repeatedly on my owner in trying to get back on my feet. My Owner had to be Air Lifted to a Springfield Hospital.

Thank Goodness his injuries were not life threatening. HOWEVER when the Helicopter Landed it frightened me and my stable mate "Zarr" a 3 Yr. old Spotted Saddle Horse. "Zarr" and I ran off, we had our saddles and bridles on, one saddle is a Tucker Endurance the other is a Colorado. WE WERE LAST SEEN NEAR SCHAFER LAKE AREA, near Whispering Pines Trail Ride on ZZ Hwy in Missouri. Our owners believe that we may be tangled in our tack and we can't get to water or may be we have gone to some ones pasture or barn and they don't know who our owners are and they are keeping us until they find our owners. WE LOVE OUR OWNERS AND WE WANT TO GO HOME . PLEASE HELP, CALL ANY OF THE NUMBERS BELOW.

Thank You,
D.J.