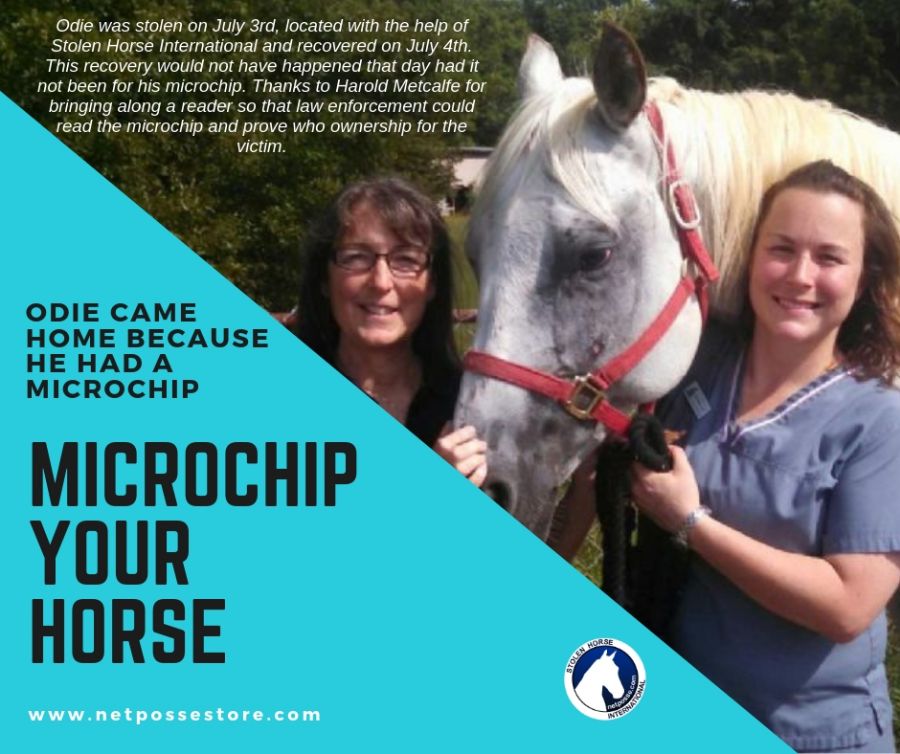 Stolen Horse International - NetPosse has been ringing the bell about how important microchipping your horse is since the late '90s and were the first to offer microchip kits online sold directly to horse owners. Surprise, it was not the microchip companies. It was apparent to Stolen Horse International – NetPosse.com just how important equine ID was after our founder, Debi Metcalfe's, horse was stolen. Without proper paperwork and ID, their horse Idaho almost didn't come home.
The tiny chip may not be preventative unless you have a sign stating your horses are chipped, for theft but it can help recover a horse after a horse is missing in any situation, theft or disaster.
Microchipping helps the owner prove ownership as well as a valuable searching tool for our nonprofit organization, Stolen Horse International and the authorities. One never knows where a stolen/missing horse will turn up or who will need to discover where the horse belongs. Help your horse help find their own way home. Give them a VIN/serial number today.
A study on stolen horses in the late '90s stated that approximately 40,000 horses were stolen each year. Stolen Horse International has not seen a study since then and has no idea how many are stolen annually since that Texas study was completed. However, we have been working with owners of stolen horses for almost 22 years and we have never seen a moment when theft is not happening. In other words, it did not go out with the old west days.
We are seeing more and more horses disappear in "civil theft" situations and there is often a moment when an owner has to prove ownership to law enforcement and in court situations. The microchip may help bring your horse home. Read this article written by Debi Metcalfe for Equus Magazine, When horse theft is not a "crime".
Disasters such as floods, tornadoes, fires, and hurricanes, just to name a few, affect so many horse owners every month. Why not make it easy for the equine rescuers to find you? A horse can disappear in the 'system' when there is no traceable ID on the horse. Do you want to take that chance with your horse?
Microchipping is cheap, easy and through Stolen Horse International's microchip program, can provide records that not only identify your horse but also keep important records about your horse on file. Through the years Stolen Horse International has witnessed horses that didn't come home because of the lack of ID as well as horses that came home for many odd reasons. We've put our experience into our Equine ID record-keeping system so that everyone who inserts the information may have a better chance of bringing their horses home when they are found.
You can purchase your kit on our website, protect your horse and help our victims at the same time. All of the proceeds from microchip kits go 100% toward victim's services and education. Click this link to order today. www.netpossestore.com.


Order your microchips from our NetPosse Store today!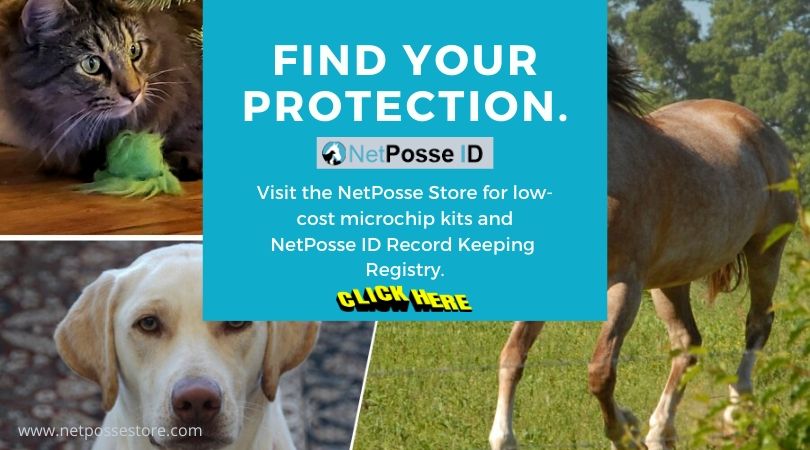 www.netpossestore.com
Stolen Horse International
provides news and other resources for free on this website. As a charitable organization we survive on the kindness of people like you. Please consider donating to help fund the organization or purchasing a NetPosse ID for your horse, dog or cat to help protect your beloved animals!
Donate
Buy NetPosse ID
Back