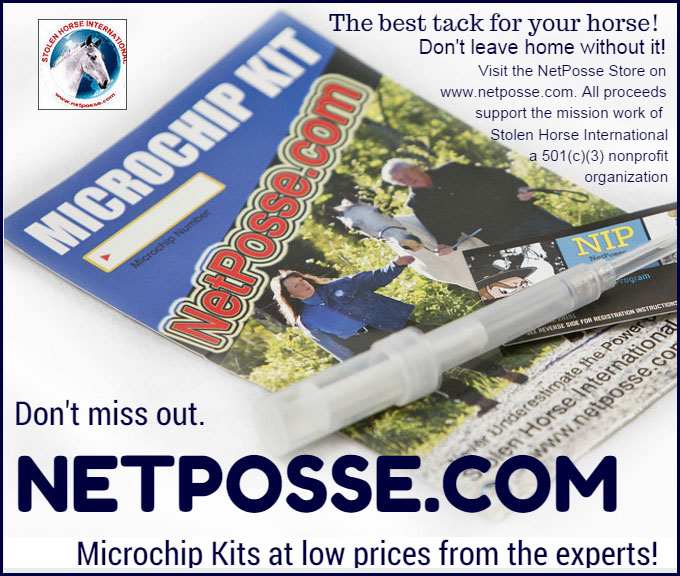 Equine Protection Is Key, Don't Leave Home Without It
There's nothing like a runaway horse or a theft to put a dampener on a spur-of-the-moment adventure, but many argue that if you can't afford "equine ID insurance", protection for your horse, you can't afford the horse. They have a point, even though finding the best equine identification isn't always easy. Equine ID exists to protect a horse owner's investment in their horse and ensure they don't lose the horse, and give the horse a fighting chance to find his own way home, if things go wrong. Whether you lose your horse or have it stolen, get an equine microchip or some other type of ID. You need to know you can get help (without spending a large sum of money). And that's where Stolen Horse International comes in, the original equine microchip program offered directly to the consumer.
Stolen Horse International started the first microchip kit program in 2002 and was the first to sell directly to the horse owner to help provide much need protection to more horses at low prices. Our program serves as an ongoing fundraiser for our educational outreach programs and victim's services.
Choosing appropriate equine ID will give you peace of mind. At best, it could save the life of your horse. So when considering which microchip is right for you, it pays to look at the details.
Registered microchips are a great way to help prove ownership of an animal. Contrary to what many people think, a microchip does not move in a horse if it is properly inserted.
Who Can Insert a Microchip?
Most states will liet anyone microchip their own horse since a horse is considered property. It is not legal in most states to insert a microchip into another person's horse unless you are a veterinarian or veterinarian technician. Refer to the Veterinary Practice Act in your state for a current ruling. If you are doing this as a business and are a lay person, we highly recommend that you get a letter from the State Veterinary Board as a ruling.
It is also true that not everyone who is selling the microchips knows how or where to insert them properly. Microchips insertion on a horse is different than other animals. The microchip is inserted on a horse half way between the withers and the poll on the left side of the neck into the Nuchal ligament. It does not go just under the skin like it is inserted into a dog. It is up to you the horse owner to make sure your microchip is implanted the right way.
There is Much To Know About Microchips
v The US Standard 125 KHz frequency microchip is the oldie but goldie and is still the most widely read by the scanners in the United States.
v Both the old universal and new universal scanners read the 125 KHz microchip which is usually a 9 or 10 character microchip number.
v The International 134.2 KHz frequency is the new kid on the block and is a 15 character number, stands a high chance of not being read when needed.
v Many older scanners have not been upgraded by professionals in the field to read the new microchip.
v Many professionals still prefer the older microchip because it is more dependable. Some do not want to spend more money to upgrade. "If it isn't broke, don't fix it."
v AVID Microchips—The old AVID Mini-Tracker, one of the most used universal scanners is universal for the 125 KHz US Standard microchip only. It will not read the new 134.2 KHz microchip frequency.
v The new AVID universals scanners read multiple frequencies including the US Standard 125 KHz, 128KHz and the 134.2 KHz (International) microchips.
v It is not true that AVID microchips can only be read by an AVID scanner.
v HomeAgain—The new HomeAgain WorldScan scanner reads 134.2 KHz, 125 KHz and 128 KHz encrypted and non-encrypted microchips. Make sure you know which WorldScan scanner you are using. The old and the new scanner look basically the same.
v FEI and USEF require horses that are shown in their shows to have an International frequency microchip. This is to make sure the right horse is in the right show. It is not necessarily for tracking in case a horse is lost.
Stolen Horse International does not represent the microchip as a cure all form of animal identification. All forms of equine Id have pros and cons. We highly recommend the microchip in combination with a permanent form of visible ID as well.
Questions? Ask by sending an email to us from the CONTACT US form on the NetPosse.com website. We not only brought you the ability to purchase the chip online but we also actually work in the field in clinics with veterinarians and at many horse venues. We have also dealt with thousands of missing horse cases through Stolen Horse International. We see what works and what does not as it is tested in the field.
It is not about the money for Stolen Horse International. It is about the safety of your horse so that in any situation where you need to prove ownership, you can do so. We highly recommend that you ID your horse in any manner of your choice as soon as possible.
"It" does not always happen to the other person.
---
Purchase your microchips from Stolen Horse International and help us continue to help missing horse victims with your purchase. We do not use companies that sell the 900 numbered microchips. All proceeds support our Victim's Service and Educational Outreach projects. Click the image below. http://www.netposse.com/storefront.asp