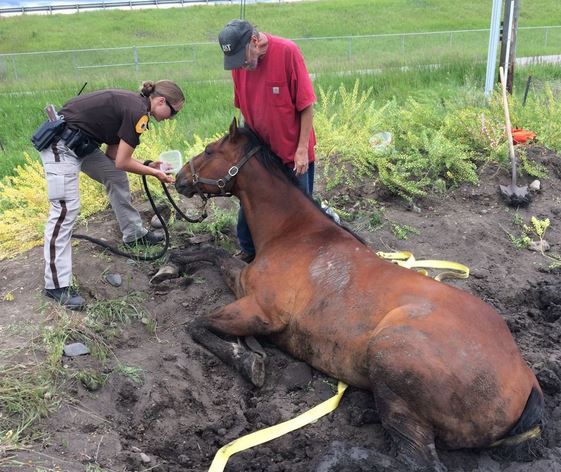 BOZEMAN, MONTANA - Social media was a big help in finding the owner of a horse police rescued after it had been stuck in the mud Sunday, June 18, 2017.
Police responded to a call regarding a horse stuck in mud near the Bohart Lane and L Street, close to the North Western Energy substation. The horse was seen by a veterinarian and was in good condition although exhausted from its ordeal in the mud.
The horse was successfully rescued from the mud but where did it belong? Police used social media as a way to find the owner on Monday morning. Shortly after lunch the owner was found.
We at Stolen Horse International, Inc™ are relieved that this horse and owner had their happy ending. We hear of situations like this often in our office, many where the owners are not found. In this case social media was used successfully but what if the owner is not on social media? What if they do not even have internet service? What if the horse has wandered into another county, or state? Would it be so easy for social media alone to find you?
You never know when a horse can create its own disaster like this one did. We encourage you to be proactive in giving your horse the best chance to find their own way home. There is no such thing as one type of equine ID that protects a horse in every situation. That is why we recommend an ID combo.
Make sure your horse has a VIN number first in the form of a registered microchip. This can be used to prove ownership by rescuers and you upon finding your horse. We also recommend some form of visible identification such has a freeze brand, lip tattoo etc. Learn more about equine identification.
This article has been brought to you by Stolen Horse International, Inc.™ through our Educational Outreach Program.
RESOURCE: Bozeman Daily Chronicle, June 19, 2017, writer Whitney Bermes, http://www.bozemandailychronicle.com/blogs/beyond_the_blotter/police-find-owner-of-a-horse-they-rescued-from-mud/article_b4416c81-b0ee-5290-86a8-2c0104b48ecc.html