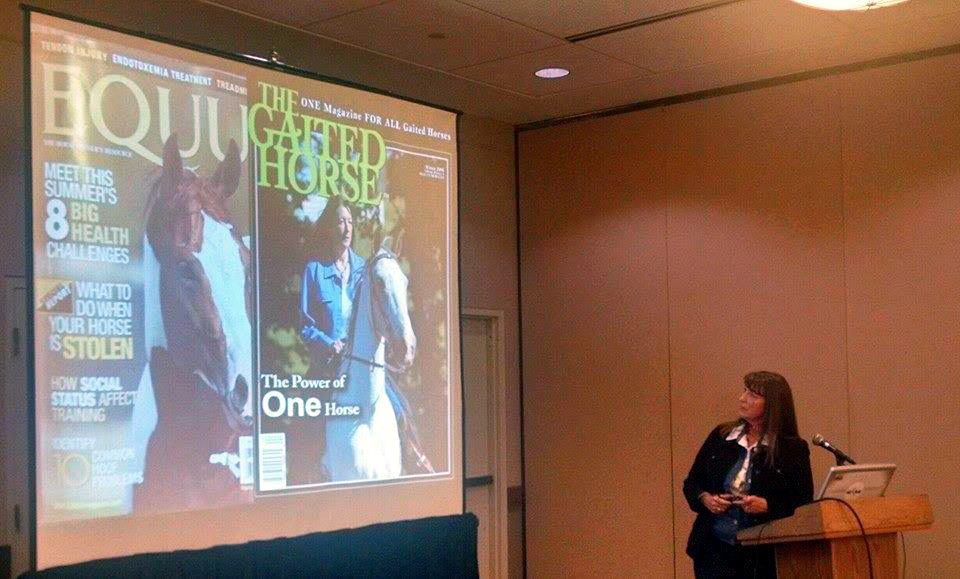 "We all have a "moment" in life where we realize something important for the first time, an epiphany. Mine came when I was speaking in New York in 2014. I turned around to look at the screen and saw this image. It was then that I realized for the first time that what I do, what we do through this organization, touches many lives in a good way. I had to pause for a moment as it hit me; you can never underestimate the power of one. This event was my moment in time when I knew that I had "done good," and that what I do matters." - Debi Metcalfe.
Over the past two decades, Ms. Metcalfe has become a champion for horse theft prevention. She started on a one-person crusade to right a wrong and to put her family back together in the wake of a shattering experience. Now, with over two decades of volunteer service with Stolen Horse International-NetPosse.com, she leads others to help with missing, lost, and stolen horses and also search for old horses, found, and crimes against horses as well.
In solving a crime and compiling her research, Ms. Metcalfe has become a recognized authority. She has appeared on television and various radio programs, in newspaper and magazine articles, and addressed civic groups. Her message is powerful and inspirational.Debi Metcalfe never meant to become an activist. Quiet and unassuming, she and her husband, Harold, were just another family with a few well-loved pleasure horses. Debi ran a home-based business in their small town of Shelby, NC.
But everything changed on the night of September 26, 1997. Harold's mare, Idaho, a member of the Metcalfe family for eight years, disappeared from her pasture. A search revealed a cut fence and hoof prints that ended abruptly where tire tracks began.
A year-long odyssey began. Debi placed her business on hold and spearheaded the search for Idaho.
She found that no structured, centralized resource for victims of horse theft existed. In desperation, she used a "shotgun" strategy to blanket as much of the U.S. as possible with flyers, and she reached out and spoke with every horse dealer, law enforcement officer, and auction house that would listen. Debi knew her search required luck and prayer to succeed, but fifty-one weeks after the theft, a flyer ended up in the right place. Its viewer made the call that brought Idaho home.
Debi vowed that no other victim would face such a traumatic experience alone. NetPosse was born. This modern-day posse uses the speed and networking power of the Internet to spread the word about stolen horses worldwide. There is no membership list or dues; anyone can "join" the posse by visiting www.netposse.com or (www.netposse.org) where information is posted about missing horses.
Today, at the nerve center of the NetPosse, Debi receives hundreds of e-mails daily and travels to speaking engagements to educate equine enthusiasts about theft prevention and recovery strategies. Through the efforts of Debi and the NetPosse volunteer network, not only have many horses and their owners been reunited but many more thefts have been prevented.
Metcalfe, author of Horse Theft, Been There--Done That, is a graduate of the University of North Carolina at Pembroke and a member of Kappa Delta Sorority, where she was one of 2008's Awe Inspiring Woman Over 50. Kappa Delta's AWE-inspiring Women Over 50 includes physicians, artists, entrepreneurs, philanthropists, authors, and community leaders.


EQUINE EXPERT SPEAKER, JOURNALIST, WRITER, AUTHOR, CONSULTANT
Stolen Horse International, Inc., a 501(c)(3), an all-volunteer-run nonprofit organization known as NetPosse.com, was started by Harold and Debi Metcalfe in 1997 after the theft of their horse, Idaho. There needed to be Education or a place to turn for help when Idaho.
It was during the 51 weeks that it took to find their horse Idaho, the Metcalfes knew something needed to change for the tens of thousands of victims like themselves who needed help and had no place to turn.
Although they never envisioned where they would be decades later, their leadership, inventiveness, and admirable contribution toward positive changes in the equine industry, these visionaries have filled a gap in the equine industry worldwide and are true pioneers.
Stolen Horse International is the only organization of its kind in the world that is not only known for its strong missing, lost, found, and stolen equine NetPosse Alert network but one that also focuses on Education aimed at helping horse owners learn to be proactive and protect horses before the worst happens.
Spearheading all operations of the organization is founder and President Debi Metcalfe, whose passion brings Education to the public in various ways through Stolen Horse International's Educational Outreach Program. Some of Metcalfe's and the organization's accomplishments are listed below.
Debi Metcalfe offers seminars and clinics for horse expos, 4H, horse clubs and breed associations, and more via Stolen Horse International's
Educational Outreach Program. If you'd like Debi to speak at your function or need more information, email Debi by clicking on the
Contact Us button above.
Book author - Horse Theft. Been There--Done That (SOLD OUT!)
Speaking Topics
Horse Theft

Civil Matters

Equine Identification

Farm and Barn Security

Equine Made Disasters

Inspirational and Motivational

National Disaster Prep and Recovery
T.V. and Radio:
NetPosse News Show Host (broadcast live on social media)

Inside Edition

FOX TV's America's Most Wanted

PBS Radio's Weekend America Show

RFDTV's - HorseCityTV segments

Horses In The Morning Radio Show

Tracey Morgan Interview for Butler News Network

Debbie Loucks - Horsemanship Radio

Best of America by Horseback Radio

Best of America RFDTV show

Experience Cleveland County TV Show

Butler News Network - Tracy Morgan Podcast

Horsemanship Radio

Rick Lambe Show

Speaking of Horses

Jim Campbell Show

Lisa Ross-Williams's "If Your Horse Could Talk" show
Presenter at:
2018 World Equestrian Games

Horse Lovers Summit

37th Annual American Youth Horse Council (AYHC) Symposium

Southern States Livestock and Rural Enforcement Association Conference

Hoosier Horse Fair

Pomona Equine Affaire

Ohio Equine Affaire

Kentucky Equine Affaire

Massachusetts Equine Affaire

Texas Horse Expos

Lynn Palm's "Women Luv Horses" Expo

New York EquiFest

Southern Equine Expo

Mule Days at Leatherwood

Equifest Kansas

NATRC National Convention

Alabama Horse Fair

Florida Equestrian Celebration

Florida Equine Capital Horse Exposition

Virginia Equine Extravaganza

NC Equine Extravanganza

Virginia Equestrian Event East

International Stallion Exhibition and Trade Show Lansing, MI

Tennessee Volunteer Horse Fair

Carolina Classic Horse Expo

Southern Horse Festival

AmerEquine Horse Festival

Women's Horse Industry Association

Southern States field programs

Numerous horse clubs

Various well know horse trainers

Multiple equine businesses with speaking programs
Columnist:
PhelpsSports.com Columnist

Columnist for The Voice Magazine, TWHBEA
News Media Coverage
MSN News

People Magazine

AOL News

Today Show (online)

Yahoo News

T.V. News stations and newspapers across the USA

Tractor Supply's Out Here Magazine

Dressage Today

Horse and Rider

Western Horseman

United States Pony Club News

EQUUS Magazine

The Equine Chronicle

The Paint Horse Journal

The Quarter Horse Journal - America's Horse

Practical Horseman

The Gaited Horse Magazine (On cover Winter addition 2006)

Horse Illustrated Livestock Magazine

Horse Illustrated

Canada.com

The Yankee Pedlar

Natural Horse Magazine

Hoofbeats Magazine

The Voice

ShowLife Magazine

The Angelos

The Charlotte Observer, Shelby Star, many newspapers across the country, and many more
Author and Writer
Horse Theft. Been There--Done That by Debi Metcalfe

Has written cover feature articles for Equus Magazine

Has written articles for many other magazines and newspapers
Metcalfe's Educational/Professional Background
BS in Education and former teacher and coach

Director of special activities in the N.C. school system

Insurance Agent

Public speaker

Writer

Author
Awards, Honorable Mentions, and Accomplishments for Stolen Horse International
First to:
Develop a searchable website for report listings for missing, lost, and found horses where victims receive unprecedented support.

Developed the NetPosse Alert in 1997, the equine industries lost and found "Amber Alert."

Develop an all-equine I.D. record keeping all I.D. registry, NetPosse Identification Program (NetPosse ID)

Package and sell microchips directly to the consumer

Develop a disaster/trail Q.R. tag and database, the Farm ID Tag system

Develop an equine-specific public BOLO

Develop news articles about theft, missing, lost, stolen equines, and equine I.D. in one place.

Best Use of Social Media in North America by Equine Social Media Award

Equine Social Media Award (3rd place) Best Charity

Equine Social Media Award (3rd place) Best use of Facebook

Developed a searchable horse auction resource on NetPosse.org (.com) that includes vets, feedlots, kill pens, and horse traders by state

Online support group for victims

Developed a free Beta disaster recovery database, NetPosse Disaster Recovery
Awards, Honorable Mentions for Metcalfe:
National Collegiate Kappa Delta Sorority's Awe-Inspiring Woman over 50

Coach of the Year - Mount Olive College (Men's Tennis Team)

Serves as a consultant with law enforcement and law firms

Expert witness
SOCIAL MEDIA INFLUENCER
Stolen Horse International-Mising and Stolen Equine has tens of thousands of followers. Multiple groups work with Metcalfe and total group members/followers are well over 100k to date.