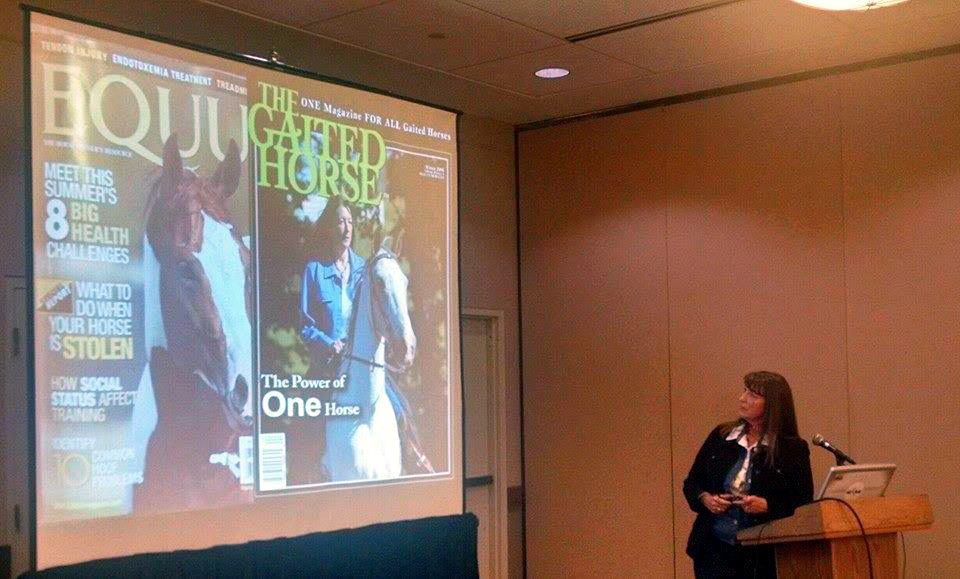 "We all have a "moment" in life where we realize something important for the first time, an epiphany of sorts. Mine came when I was speaking in New York in 2014. I turned around to look at the screen and saw this image. It was then that I realized for the first time that what I do, what we do through this organization, touches many lives in a good way. I had to pause for a moment as it hit me, you can never underestimate the power of one. This was my moment in time when I knew that I had "done good", and that what I do matters." - Debi Metcalfe
Over the past two decades, Ms. Metcalfe has become a champion for the prevention of horse theft. She started on a one-person crusade to right a wrong and to put her family back together in the wake of a shattering experience. Now with over two decades of volunteer service with Stolen Horse International-NetPosse.com, she leads others to help not only with missing, lost, and stolen horses but also searching for an old horse, found, and crimes against horses as well.
In the process of solving a crime and compiling her research, Ms. Metcalfe has become a recognized authority in her field. She has appeared on television and various radio programs, in newspaper and magazine articles, and addressed civic groups. Her message is powerful and inspirational.
Debi Metcalfe never meant to become an activist. Quiet and unassuming, she and her husband, Harold, were just another family with a few well-loved pleasure horses. Debi ran a home-based business in their small town of Shelby, NC. But everything changed the night of September 26, 1997. Harold's mare, Idaho, a member of the Metcalfe family for 8 years, disappeared from her pasture. A search revealed a cut fence and hoof prints that ended abruptly where tire tracks began.
A year-long odyssey began. Debi placed her business on hold and spearheaded the search for Idaho.
She found that no structured, centralized resource for victims of horse theft existed. In desperation, she used a "shotgun" strategy to blanket as much of the U.S. as possible with flyers, and she reached out and spoke with every horse dealer, law enforcement officer, and auction house that would listen. Debi knew her search required luck and prayer to succeed, but fifty-one weeks after the theft, a flyer ended up in the right place. Its viewer made the call that brought Idaho home.
Debi vowed that no other victim would have to face such a traumatic experience alone ... NetPosse was born. This modern-day posse uses the speed and networking power of the Internet to spread the word about stolen horses around the world. There is no membership list or dues; anyone can "join" the posse by visiting www.netposse.com, or (www.netposse.org) where information is posted about missing horses.
Today, at the nerve center of the NetPosse, Debi receives hundreds of e-mails daily and travels to speaking engagements to educate equine enthusiasts about theft prevention and recovery strategies. Through the efforts of Debi and the NetPosse volunteer network, not only have many horses and their owners have been reunited, but many more thefts have been prevented.
Metcalfe, author of Horse Theft, Been There--Done That, is a graduate of the University of North Carolina at Pembroke and a member of Kappa Delta Sorority, where she was one of 2008's Awe Inspiring Woman Over 50. The list of Kappa Delta's AWE-inspiring Women Over 50 includes physicians, artists, entrepreneurs, philanthropists, authors, and community leaders.