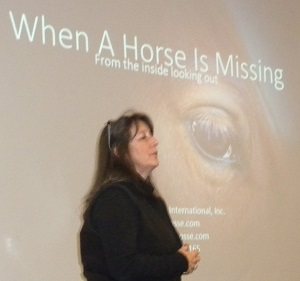 Christianburg, VA - On Thursday, February 20, 2014, at Virginia Tech Veterinary School (VMRCVM), the founder of Stolen Horse International, aka NetPosse.com, presented a program for veterinary students in a meeting with the AAEP Club.
The aim of Metcalfe's visit was to motivate students to apply their knowledge of missing horses and equine identification as a way to support for their clients in their future veterinary practice.
Metcalfe reviewed the many ways horses can disappear, the importance of equine identification, pros and cons of each type of ID and ways to support victims in their professional careers.
Stolen Horse International would like to thank AAEP club president, Katie McHenry, for inviting Metcalfe to address the club with her presentation, When A Horse Is Missing.
Stolen Horse International works with many types of organizations and people who are involved in our quest to assist victims in need.
Over the years Metcalfe has had virtual contact with thousands of people but rarely does she get the chance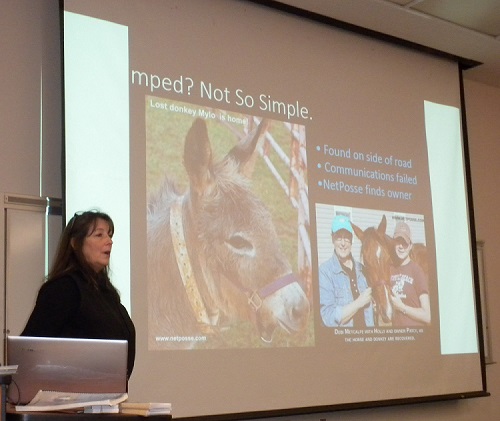 to meet them face to face. Our supporters come from all walks of life and backgrounds.
A surprised guest, one who has followed the work of Stolen Horse International for over a decade, sat on the front row at the meeting.
Metcalfe and her husband Harold, were happy to meet John Holland of Virginia. They were able see a face to a person, who until this night had been an email address and a voice at the other end of the phone.
"I have talked to so many people over the years who have offered support to the organization in so many different ways. It is a thrill to get to meet someone in person, thank them for their help and to be able to give them a hug," said Metcalfe.
We would like to invite anyone who is in an area where Metcafle is presenting to contact the venue just as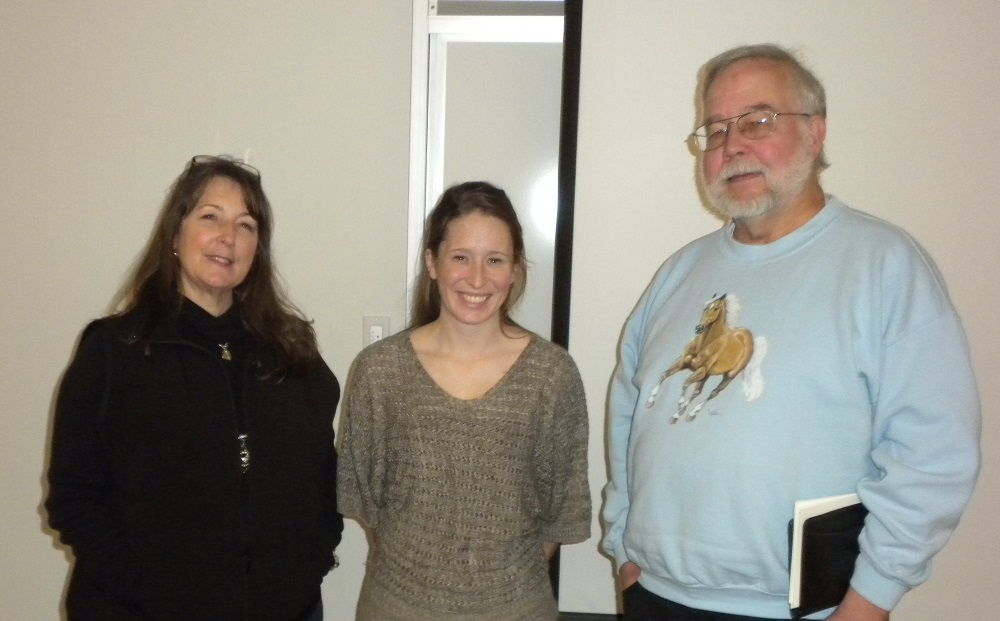 John did, and join us.
If you'd like for Metcalfe to come to your next meeting you can email her at the CONTACT US button on NetPosse.com.
---
Click here to learn more about Debi Metcalfe as a speaker, clinician and consultant.
Click here to see Stolen Horse Internatinal's public event schedule.
---
Speaking at events and expositions is a very important part of our educational outreach program. If you would like to support this program, please make a tax-deductible contribution today.