Vet arrested for horse theft
By Thomas R. Collins, Palm Beach Post Staff Writer (Staff writer Lauren Gold contributed to this story.)
Monday, March 3, 2003
----------------------------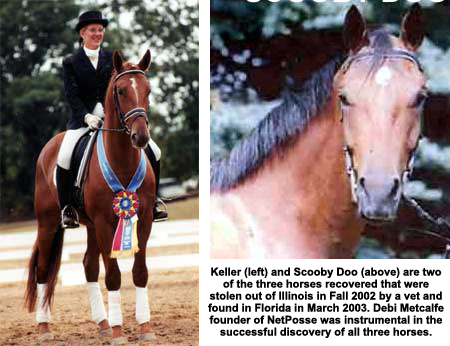 WELLINGTON -- Palm Beach County deputies have recovered three valuable horses and arrested a veterinarian who frequented village equestrian events -- charging her as a horse thief.
Among the horses recovered was San Diego, a treasured Oldenburg dark gray gelding who vanished from his Saddle Trail paddock Jan. 22.
Arrested and charged with San Diego's theft was Cathy Crighton, a Chicago-area veterinarian. Detectives said she kept the stolen horse for more than a month in a Palm Beach Point stable, and tried to conceal its distinctive white markings by spray-painting them with black Rustoleum.
Deputies said San Diego suffered blisters from the paint on the thin and sensitive skin just above his nose. He could be permanently scarred. But otherwise, the horse appeared in good shape.
"What makes it shameful is that she would paint the horses with toxic paint," said Palm Beach County Sheriff's Office Sgt. John Howley, of the animal cruelty unit.
Crighton, 44, of Palos Park, Ill., was arrested Saturday evening at the barn where San Diego was hidden. She was held Sunday at the Palm Beach County Jail, where she received a psychiatric evaluation.
Acquaintances described her as a troubled woman who squabbled with her Wellington neighbors and badgered a former boyfriend.
Her arrest was particularly chilling for San Diego's co-owner and trainer, who said she stopped by to offer her condolences after a reward was posted for his return.
"She stopped here the day after he was stolen and asked me all kinds of questions and told me how bad she felt," said Ron Esposito. "I thought she was just a concerned neighbor. She was really trying to find out what she had stolen."
He now suspects she was trying to find out how much San Diego was worth. Esposito valued the horse at more than $500,000.
In Wellington for the polo and jumping season, Crighton lived at 13515 Fountainview Blvd. and drove a white Land Rover with a vanity tag: I PLAY DR.
"She would get verbally combative," said Jon Kassel, who worked with Crighton at an Illinois horse fair. "I just remember it being kooky."
Other horses recovered
Aside from San Diego, deputies recovered two other horses reported stolen in the Chicago area last fall. In the same barn with San Diego, they found Scooby Doo, a Dutch Warmblood that had disappeared from Minooka, Ill. Another horse named Keller, a Swedish Warmblood, had been sold to a buyer who was unaware the horse had been stolen.
Crighton's arrest was the latest episode to rock Wellington's otherwise serene equestrian community. Little more than two weeks ago, Meggan Morency, a 17-year-old jumper, was crushed to death when her horse fell on her during competition at Littlewood Farms.
Crighton's undoing began when she was spotted spraying San Diego with paint by the owner of the barn she was renting. Deputies did not identify the owner.
"He saw her painting the horse's legs and thought she was crazy," Esposito said.
When asked what she was doing, she allegedly told the owner it was a medical treatment. Still suspicious, the barn owner noted the Oldenburg crest branded on San Diego's left flank -- and sketched it on a napkin.
San Diego's disappearance had been well publicized. It was posted on a Web site called netposse.com, a national clearinghouse that keeps track of stolen horses. Some 40,000 are reported stolen nationally each year.
The barn owner took the napkin to Esposito, who recognized it immediately and called the sheriff.
A trap was set for Crighton. Esposito said the barn owner called and advised her that one of her horses was sick. She was led away in handcuffs without making a fuss.
Sandy Boston, Scooby Doo's owner, was stunned to hear that Crighton might have something to do with her horse's theft. She said Crighton was the veterinarian at the barn where Scooby Doo was kept. She described her reputation as "radical" and said she had even been barred from some barns in that part of Illinois. Once, about seven years ago, she gave a "very exaggerated diagnosis" of Scooby Doo that was discredited by other vets.
Wellington resident Neal Shapiro, who had a three-year romantic relationship with Crighton before breaking it off recently, said she portrayed herself as a top-drawer horse doctor who cared for million-dollar steeds. In a 1999 newspaper interview in Illinois, Crighton said she served on a medical committee at the 1996 Olympics in Atlanta. On a Web site where she gave advice on animal care, she described her horse patients as Olympian-class jumpers.
Shapiro said he recently had filed a police complaint against Crighton because she kept making harassing phone calls late at night. "I told her we had nothing to talk about, stop calling me," Shapiro said.
Crighton's Wellington neighbor, Mitch Barsky, said he had a couple of run-ins with her, mostly over the cramped parking in the driveway they shared. After hearing loud voices in Barsky's home one night, she left a note on his door saying she'd call the police next time it happened.
Still, Barsky couldn't get over the news of her arrest.
"It's like out of Falcon Crest or something," he said.
San Diego's theft prompted owners of horses in neighboring stalls to tighten security. Now, all the paddock gates stay locked.
Crighton's arrest was a relief to some.
"I can't imagine anybody caring for a horse or any creature at all doing something like that," said horse owner Summers Thomas.
More on this story here: https://netposse.com/newsviewer.asp?id=559