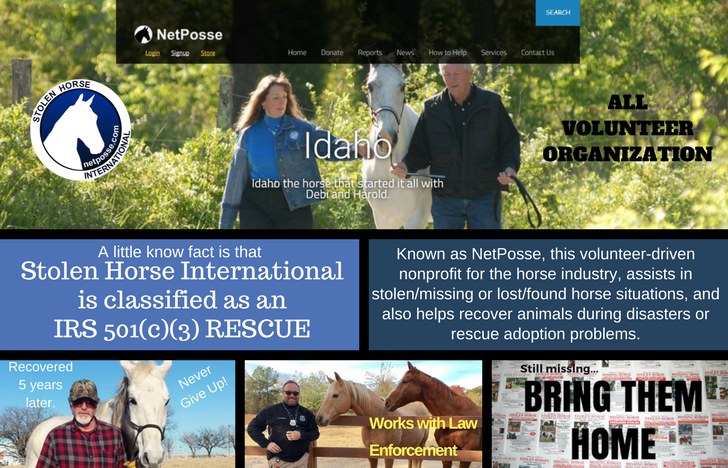 We all know about equine rescues and how they help horses in need. When you think of an equine rescue a picture is drawn in our minds of malnourished horses brought to a loving rescue to be rehabilitated to a beautiful healthy horse. In recent years we have seen even more horses being saved at feedlots and auction facilities hours before they are to be shipped to Canada or Mexico to be slaughter.
Some of these rescues are 501(c)(3) nonprofits and some are personal nonprofits. You may be surprised to find out that we are the first, a registered 501(c)(3) nonprofit rescue.
Since most people do not understand the vital services we provide to the horse industry, we want to help you understand.
Myth 1: All rescues are alike
Are all rescues created equal? Can you still be an equine rescue and not pull horses from hoarding situations or horse auctions? The answer is yes.
Few people know that Stolen Horse International, Inc™, also known as NetPosse, is a certified Internal Revenue Service 501(c)(3) RESCUE, a horse of a different color so to speak.
This means that we have qualified for the following:
To not pay taxes on the money raised by our organization
Your donations may be tax-deductible
We must have a board of directors
Myth 2: We get everything free, therefore we do not need support
Although we do have some great supporters who help us out each year with discounts and donated items, we pay our bills just like every business pays their bills.
Just like any business we have the following professional task:
Public relations
Writing articles
Social media marketing
Email correspondence
If you have any of these skills and would like to volunteer your time, we have a volunteer job for you.
Here are a few of our expenses that we have every year"
Victim's Services Program: $5600
Educational Outreach Project: $5313
Insurance: $400
Dues and subscriptions: $1909
Professional fees: $874
Total operations: $7587
Myth 3: We don't need money because we have grants and government assistance
Don't we wish that was true. As you can see, running a nonprofit organization is not free. Raising the money to keep this rescue afloat each year is a daily task and one that weighs on our minds heavily each week.
Stolen Horse International is a square peg trying to fit in a round hole in the rescue industry. We often do not qualify for the simplest rescue grants because the guidelines do not cover our type of rescue.
Without funds there will be no Stolen Horse International. It is that simple. We depend on the public to help us help others with your donations and gifts in kind. Without you, there is no us.
Myth 4: All rescues pay salaries
Although some rescues do have a paid staff, we are not one of them. We do not pay salaries to anyone. This is still and entirely run by volunteers who donated hours of their time each week.
We do our best to answer emails and phone calls but we do not work 24 hours a day. With the influx of Facebook private messages and comments communication is becoming even harder to keep up with on a daily basis.
Myth 5: Every horse is a stolen horse in our NetPosse Alerts
No, that is not true. Unlike the many post you see in social media, Craigslist etc, claiming a horse is stolen, we look at each case individually and through the eyes of the law. If a horse is reported as a theft:
There must be an active criminal case with local law enforcement
The owner has to report all details to our organization through our website
A small fee that is used to help fund the Victim's Services Program must be paid
Myth 6: We only handle stolen horse cases
False. We handle missing horses, "poof gone", runaways, lost and found, searching for horses and civil theft cases. Again, each case is treated individually by our Reports Coordinator. We will even take a lost farm animal that is owned by a horse owner occasionally.
You can find a searchable database with thousands of horses on our website under REPORTS.
We also have an extensive NetPosse Educational Outreach Program (NEOP) under our SERVICES tab on the website which includes
National horse auction listings
Theft and recovery tips
Printable PDF resources
Equine Identification information
NetPosse Equine ID Program (NIP) Registry
In addition to our online resources we also do public outreach programs at horse expos, events and clubs.
Steve Jobs said, "The people who are crazy enough to think they can change the world are the ones that

Did you know:
Stolen Horse International is the first organization to support missing horse victims
The first to start an ID program and sell a microchip kit online directly to the horse owner in our NetPosse Store
The first to have an ALL ID registry that includes every type of equine identification and more
The first to bring horses' home using the NetPosse Alert, the horse industry "Amber" alert.
If you have some time on your hands to volunteer, or can donate money or gifts for our NetPosse (thrift) Store, I hope you will consider our rescue. It really does take a village to keep Stolen Horse International, Inc. here for the victims who need us.
Never underestimate the power of one.