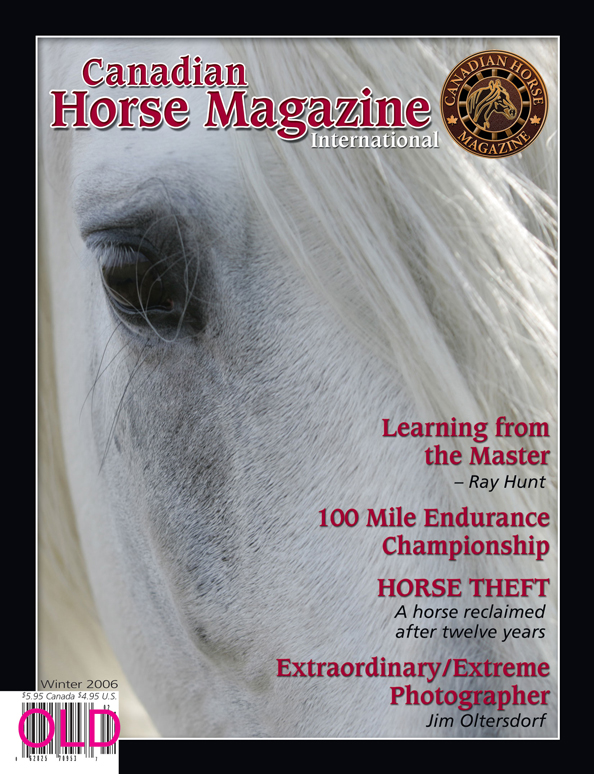 By Debi Metcalfe
I never thought about my horse being stolen. It only happens in the "Old West" or to other people, right? There is nothing like learning a lesson the hard way.
The Journey to Find Idaho and Peace
Our family founded SHI after our horse, Idaho, was stolen and recovered. At that time, there were few Internet resources available. We had only ourselves and a network of friends. However, this network rapidly grew as weeks turned into months. The media dubbed the group "NetPosse". After Idaho was found 51 weeks later, I knew that I had to help others.
On September. 17, 1998, we recovered Idaho after her flyer was seen at a convenience store. She'd endured starvation, sickness, miles of travel, and abuse. She'd been sold at least five times before finding a home with a sweet 10-year-old girl in Tennessee.
Thousands of horses are stolen each year, yet horse owners are not prepared. Why? Maybe because they don't know they need to be.
Jim Dandy, a grey miniature, was stolen May 23, 2004. Buddy was snatched from his paddock in Ontario ,May 22, 2005. Neither has been seen since.
Malaki, an American-owned horse is missing after a broken sales agreement with the trainer in March 2005. The trainer may have him competing in Canada or he may have been sold. Where are these horses?
Belle, a Belgian, was stolen from his pasture with other horses, possibly by a neighbor. They were recovered. Mekeezun disappeared in March 2003 from her stall one night in Puslinch, Ontario. The mare and newborn foal were found a few days later dumped at a nearby barn.
It is my sincere desire, through SHI, to ease other victims' journeys. I hope this article will help you become proactive. Horse theft doesn't discriminate. It touches all breeds, disciplines, and horses of any value.
What are Idaho Alerts and NetPosse?
The Idaho Alert, named in honor of Idaho, is SHI's emergency response system for missing and stolen horses. When a stolen horse is reported to SHI, the information is compiled and distributed to thousands of people who pass it on to thousands more. In these situations, time is of the essence.
After receiving an Idaho Alert, a flyer created by SHI is available online, along with pictures, descriptions, and key information that might help in recovery. NetPosse volunteers then post and distribute flyers at horse events, auctions, and area stores. They also send encouraging messages to the victims. The NetPosse theory is simple: As members circulate information, more and more people become aware of thefts and the more horses that are found. One horse was located in just 30 hours after e-mails circulated across the Internet – proving the Idaho Alert system and NetPosse work!
Due to its reputation and widespread visibility, SHI has made invaluable contacts in horse organizations, law enforcement circles, and the like, linking SHI to information not readily available to individuals. The website is also viewed by an astounding number of people every day – www.netposse.com averages almost 30,000 visitors a month. The recovery rate of horses reported to SHI in 2004 was approximately 50 percent. This year, the rate's already improved to 55 percent! These figures don't include missing horses reported and recovered. Tack and trailers can also be reported to NetPosse.
NetPosse Volunteers Unite in North America
One study estimated at least 40,000 horses are stolen each year in the U.S, but we don't know the numbers in Canada. However, with the U.S.-Canadian borders so easy to cross, the need for a SHI affiliate was apparent. Therefore in 2003, I worked with Kelly Gibson, in cooperation with SHI Board Members, to establish the first SHI affiliate to fight against horse theft on a global level.
"Most people cannot image having their horse stolen right out of their barn or pasture, but horses disappear every day. It is through the tireless efforts of SHI and its extensive network of people all across North America that make SHI and its Canadian affiliate such a powerful tool against horse thieves," says Kelly who runs the Canadian extension.
Bewildered Victims Speak
Elaine Baker says, "Dandy's theft left my 15-year-old daughter heartbroken. He was her best friend."
Lenore Boniface, Buddy's owner echoes Elaine's frustration. "We've been dealing with a great deal of confusion. My children are devastated. I have been searching every field I come across hoping that I will see him."
Other Canadian horse owners have been more fortunate than Dandy and Buddy.
DA Rihkha and Sarah were stolen in 1999 from an equestrian park in Palgrave, Ontario, after winning championship Arabian titles. Their owner at first thought they'd been taken to make easy money at a slaughterhouse, but later believed the thieves knew there was more value in their genetics.
Roper, a 13-year-old, reddish-brown Appaloosa mare went missing from a summer camp on August 5, 2005, with another mare. "The camp is located back away from the road. All gates were closed and no gates were down." says Crystal Haynes. A week later, Crystal was elated that the publicity generated through flyers and e-mails scared the thieves into returning the horses. The suspects confessed after being apprehended and currently face charges.
Law Enforcement's Role
Today, law enforcement agencies are discovering the benefits of NetPosse.
"This is a wonderful resource to use, and Debi's ability and dedication makes it an outstanding law enforcement tool. Contacting SHI is part of my department's plan of action in case of horse theft," says Matt Lunsford of the Preble County, Ohio, Sheriff's Office.
"During the time I've known Debi, I've admired her style, professionalism, and dedication to her mission. She's a great asset in helping law enforcement do their job. Her "never give up attitude" is a lesson to all of us!" says Jay Gregory, an investigator for the Commonwealth of Virginia.
Awareness and Action
SHI works closely with horse owners to increase awareness, promote theft deterrents, and establish available procedures and resources when theft occurs. Horse owners, who are complacent about theft and fail to enact preventive measures, make it easier to become the next victim.
Time is critical when a horse is stolen. Yes, some end up in feed lots or at slaughterhouses, but it's a misconception that all go to slaughter. Horses can be sold several times in a 36-hour period. The longer a victim waits to report the theft, the harder it is to find the horse.
Thieves are usually concerned with a quick sell and profit. High-priced horses may sell at shockingly low prices. Most horses are sold the first time within a 150-mile radius of the origin of theft, and can travel across the U.S. or into Canada within a week.
Identification Methods and Prevention Tips
Owners vaccinate horses to prevent disease and always look for ways to protect them from injury. Shouldn't horse theft prevention be proactive, too? In others words, don't wait until it happens.
Well-organized, up-to-date records should be easily accessible during the recovery process, along with good pictures, Coggins papers, bills of sale, vet records, ID and breed registrations, along with an emergency contact list.
There are no guarantees or absolutes, but there are deterrents such as locked gates, warning signs, alarms, and surveillance equipment. However, permanent ID is critical in protecting horses, not only from theft, but also from fraud or during natural disasters.
The most common and preferred ways to permanently mark horses are freeze branding and microchipping. Other methods used are hot branding, lip tattooing, freeze marking, DNA testing, blood testing and natural markings. Tack and other equine equipment should be marked also.
There are lessons to be learned. Chris Pohlkmp realized the importance of branding when Mekeezun's was stolen. Branded horses are not resalable without a bill of sale. "We have a good system in place in Canada," remarked Chris. "We think the reason the horse was returned was because she has a very distinct brand on her right hip."
Horse Theft Changes Your Life
Horse theft is the end of normal. We lost so much — our horse, our trust in people, and our innocence. After Idaho was stolen, my husband and I felt like we consumed by an uncontrollable illness with no cure. We were immobilized by the feelings, causing us to lose focus on daily routines. We were physically, emotionally, and mentally hurt. However, random acts of kindness from people around the world helped restore our faith and hope.
The next time you receive an alert about a stolen horse, remember that it only takes a moment to help – hang a flyer at the feed store, forward theft notices to your friends, post a flyer at horse events. It only takes one flyer in the right place to bring a horse home.
"Never underestimate the power of one." Victims need your help. After all, can you honestly say it won't happen to you?
Visit SHI today at www.netposse.com.
Notes
Stolen Horse International, Inc. is a 501(c)(3) non-profit corporation in the state of North Carolina. Sales from the book, Horse Theft, Been There—Done That, and donations (in most cases, tax deductible) keep our efforts funded.
For use in Canada Horse Magazine, August 24, 2005 Horse Theft—Been There…Promoting theft education my way
* "One source says 40,000 to 55,000 are stolen each year." - These numbers are based on a study done in the late 90's. There are no current numbers available.