Part of Stolen Horse International's mission is to create content that educates, enlightens and inspires. To do this, Stolen Horse International offers educational programs that expands the minds of horse owners, a newsletter that that shares worldwide educational news articles, stories seen through the eyes of victims, news programs that keep horse enthusiast informed on equine identification, updates and programs that expose the horse world to the perils of theft, disaster, civil theft and recoveries.
"The purpose for the public educational programs from Stolen Horse International is to ensure that by the time I leave a meeting or a conference, every horse owner knows how much they do not know, and are instilled with a desire to know more about how horses end up missing and how to keep their horses safe. Education is not filling a pail but the lighting of a fire, which is what I try to do at every event I attend," - Debi Metcalfe
Did you know? Most speakers at events receive no expense money for their contribution to an event. All cost of travel; gas, booth rental, hotel, food shipping and supplies is supplied by the speaker themselves? Did you know that Debi and Harold Metcalfe, founders of Stolen Horse International donate all of their time and are fulltime volunteers?

Debi Metcalfe's Public Schedule for 2014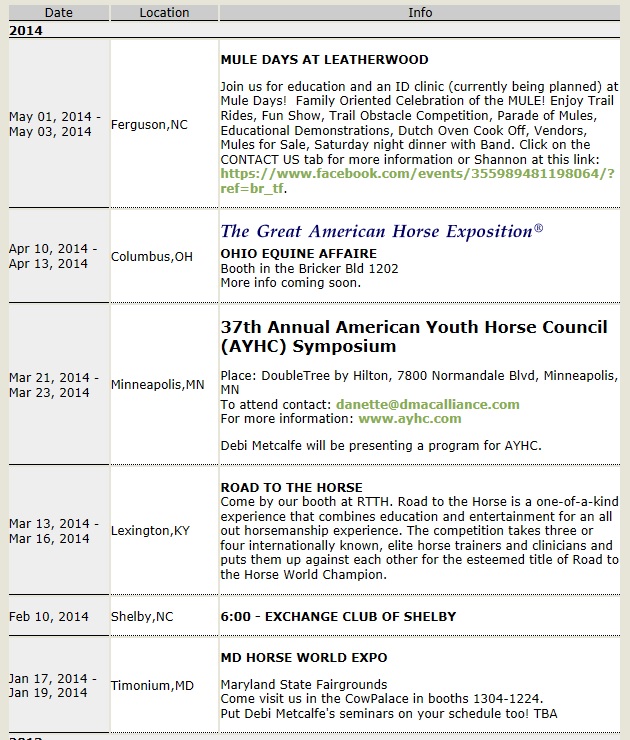 What is the estimated cost of education for the programs you see above?
Booth rentals: 4200 - Hotel: $1900 - Gas: $400 - Air: $400 - Food: $500 - Supplies: $550 - Shipping: $195
Total: $8145



Without these programs, so many horses are not saved and more owners become victims!





Without your help some of these programs may have to be canceled and money already paid, lost!
Support Stolen Horse International... Do You Believe in What We do?

Your generous gift allows us the ability to explore new ideas and new worlds through innovative online programming, public events and television. Together, as a Stolen Horse International supporter, we can offer trusted news and premier equine programming today, tomorrow and in the future.
How to Support Stolen Horse International

The vast majority of fundraising for Stolen Horse International takes place online, through an email sent to you or a social media page you visit. Working cooperatively and collaboratively with friends of Stolen Horse International, the nonprofit's fundraising efforts benefit and enhance the system as a whole by providing an important source of revenue. Make a difference. Make a much needed donation today.
Visit http://www.netposse.com/donate.asp?type=4 to give a tax-deductible gift today or click on one of the buttons at the bottom of this page.