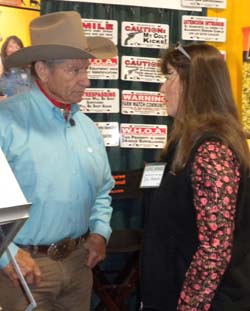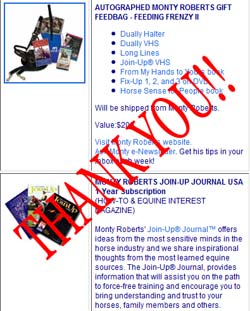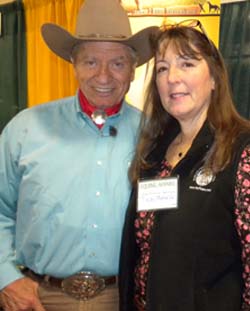 NetPosse.com Commentary by - Debi Metcalfe, President of Stolen Horse International
Mr.Roberts and his family have supported our Stolen Horse International fundraiser auction many times over the years and have helped us raise valuable funds that were used to develop this website. We cannot thank the Roberts family enough for their support.
I have had the pleasure to talk with Mr. Roberts on several occasions as well his wife Pat and his daughter Debbie. They are one of my favorite equine families.
Monty Roberts first gained widespread fame with the release of his New York Times Best Selling book, The Man Who Listens To Horses; a chronicle of his life and development of his non-violent horse training methods.
As a newbie owning a horse for the first time, I remember how I found myself lost in the pages of this book. I hope to carry my copy with me to one of the events where Mr. Roberts and I both present programs so that I can have him sign the cover. It is one of my more treasured equine books.
CONGRADULATIONS ON A JOB WELL DONE MR. ROBERTS!
We here at NetPosse.com are very proud of your accomplishment!
Following is an excerpt from the story about Mr. Robert's award. I hope you will continue reading the story at the link at the bottom of the page.
And, thank you for the many lesson that I have learned from you over the years. England (June 11, 2011) – LEGENDARY "Horse Whisperer" Monty Roberts, 76, was honored privately by the Queen for service to the Royal Family and Her Majesty Queen Elizabeth II, for his service to the racing establishment.
The American trainer, whose gentle techniques are based on the silent language of horses, was made an honorary Member of the Royal Victorian Order. The Royal Victorian Order is given by the Queen to people who have served her or the monarchy in a personal way. In 1989, the Queen Mother was reduced to tears after Roberts managed to tame her wildest horse. Roberts has been involved with some aspects of the monarchy's horses ever since.