Debi Metcalfe and Dottie Burch do horse owner workshops in Lincoln County, NC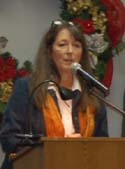 The NC Cooperative Extension Service is hosting two horse owner education workshops in Lincolnton, NC. Both workshops will be held at the James W. Warren Citizens Center, 115 W. Main St., Lincolnton, NC.
The first workshop, entitled "Do You Have Good HORSE SENSE When it Comes to Protecting Your Farm?" will be presented by Debi Metcalfe of Stolen Horse International/Netposse.com on April 2nd at 7 p.m. She will discuss how to protect your horses and equipment on the farm, and while traveling, how to keep horses from being stolen, along with tips on search and recovery and proper animal identification. Since 1998, Debi has been an advocate on horse theft after her family's mare, Idaho, was stolen then recovered 51 weeks later. Over the last 15 years, the North Carolina native has become the leading expert on equine-related theft while working relentless to educate tens of thousands of horse owners on theft prevention and also the recovery of stolen and missing horses, tack and trailers.
The second workshop, entitled "Legal Issues to Consider as a Horse Owner", will be presented by Dorothy Bass Burch, an attorney with Ragsdale Liggett that specializes in equine law and Lucinda Human of Star H Equine Insurance on April 9th at 7 p.m. As we all hope, owning a horse is supposed to be fun. But misunderstanding equine-related legal issues can cause horse owners hassle and heartache, not to mention a lot of expense. Educating yourself about these legalities helps ensure that your involvement with horses remains a pleasurable experience. So here is your opportunity to ask the experts every legal/insurance question you have been dying to know the answer to!
Both of these workshops are FREE to the public, but pre-registration is recommended. To register, contact Cooperative Extension at 704-922-2112.
###