MEET SAM AND BLAZE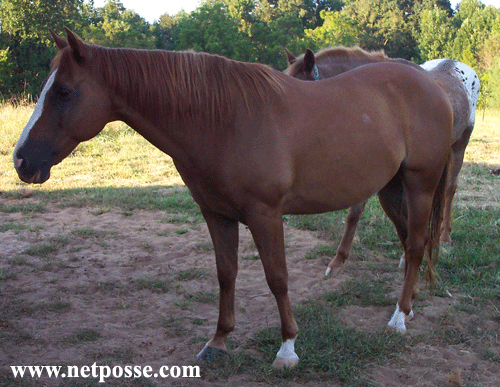 Diablo Van Too (Sam)
15-yr-old AQHA registerd Sorrel quarter horse. Trained first level dressage, but never shown. Twenty meter circle on the bit, walk trot canter, leads, rein back, leg yield, shoulder in. Very good for farrier. He likes to be touched and handled.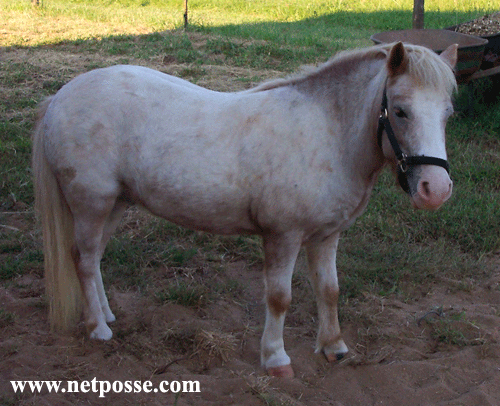 AVA Farm I Like Your Style (Blaze)
This 6-yr-old red roan miniature gelding loves to be petted, but he is not broken. He is possibly registered.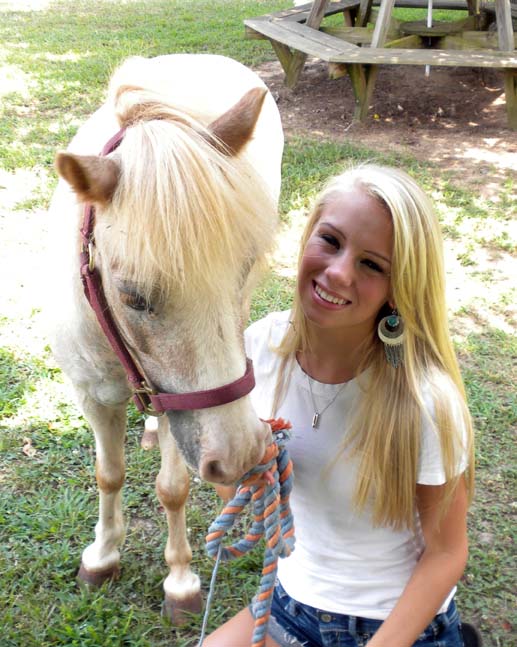 SHELBY, NC April 2006 -- After Hurricane Katrina ravaged the Gulf Coast areas of Louisiana, Mississippi and Alabama, thousands of animals were left to be rescued, including hundreds of horses. Unfortunately, many of these families lost everything ... homes, cars, jobs and pets ... they had a hard time finding help and rebuilding for their human families, but how were they to provide for their furry friends?
Although many major organizations were ready and they willingly stepped in to help reunite pets and owners, there were, as too often in disaster situations, those unscrupulous people that offered help, but had ulterior motives. Such happened in the case that led Debi Metcalfe to receive the original call about Sam and Blaze, two of three horses removed from Mississippi while the rescue efforts were underway.

A volunteer for a large rescue organization contacted Debi in complete distress. According to her, a person had arrived in Mississippi, given false information and proceeded to remove three horses from a farm and head out of state. Debi immediately began investigating the situation to determine the location and well being of the animals.
Amazingly, the horses had been transported to a farm not far from Debi's home in North Carolina. Within hours of receiving the initial call, Debi arrived at the holding place and examined the animals. According to the person that took the horses from Mississippi to North Carolina, she was only acting on behalf of the owners who were out of state at the time and couldn't return home.
Debi took pictures and spoke to the owners. She assured the owners that the horses were safe, but because of Debi's experience and instincts, she cautioned the owners about the person who removed the horses. Although the woman had promised to maintain the horses free for a year, Debi had too many unanswered questions. Things just didn't add up. However, the owners felt the woman had good intentions, and Debi had done what she gone there to do ... assure that the horses were safe. They were being quarantined at a complete stranger's farm (the owners nor the other woman knew this person), and being properly cared for.

Not surprisingly, Debi received a call a few weeks later from the foster family wondering what was going on! They wondered if the horses had been abandoned since they hadn't heard from anyone. What were they to do? What could Debi do? Nothing. She had offered to help the owners and get the horses to them, but they hadn't understood the possible consequences of trusting one stranger who had no credentials and who had sought the horses out over a person who had spent seven years building a reputation for helping victims of stolen and missing horses and who had been drug into the situation. All Debi could do was pray the horses continued to receive the care and attention they deserved. It was out of her hands.

Several weeks went by, and near the eve of Thanksgiving, Debi received more frantic calls about the horses. The woman who'd removed them from Mississippi had them in her care and she didn't want them. Again, Debi contacted the horses' owners to find out what they wanted to do with the horses. Despite her offering to keep the horses for free, suddenly the horses' rescuer wanted what amounted to be a large ransom!

Having been through so much trauma since the hurricane, the owners offered, in the horses' best interest, to surrender them to Debi so that she could ensure they found a safe home. They agreed that any proceeds from the sales of these horses could be used for SHI. Sadly, one of the horses, the appaloosa, had to be put down due to progressive, incurable cancer.
Thankfully, Sam and Blaze now have a chance to find good, loving homes. On November 22, two days before Thanksgiving, Debi and her husband Harold, along with a couple of volunteers, met the person who had transported the animals from Mississippi. The Metcalfes picked up the horses and brought them back to their farm.

Today, Debi is searching for lifelong, loving homes for these deserving horses. They are not discards. They are not auction leftovers. They are beautiful, healthy horses with a history. Debi is not looking to just send them off to the first person that makes some type of offer. She is asking fair market value and the assurance that the person buying them intends to care for and keep them … not resell them for a profit. That is why she is being particular in finding them a home. She has been entrusted with the welfare of the remaining horses, and she wants to do what's best for the horses.

Now that the tale has been told, are you the person that is meant to provide a forever home for one or both of these horses?

Thanks so much!
---
Postnote 2010: Both horses are stll in their wonderful homes and are doing well.