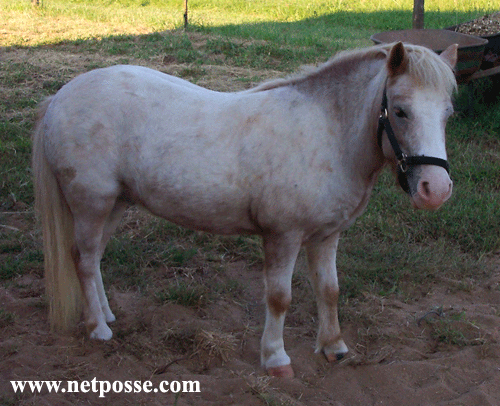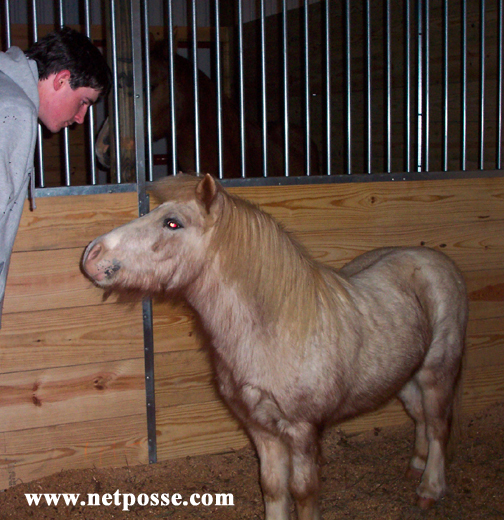 Ava Farm I Like Your Style (Blaze)This 7-yr-old red roan miniature gelding loves to be petted.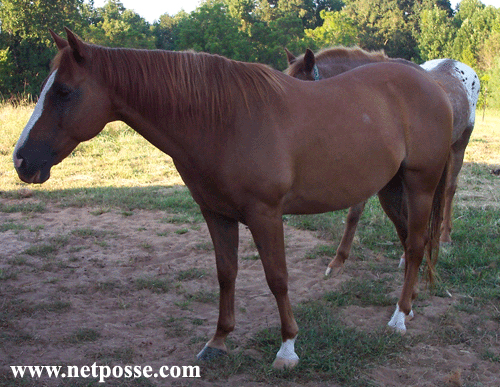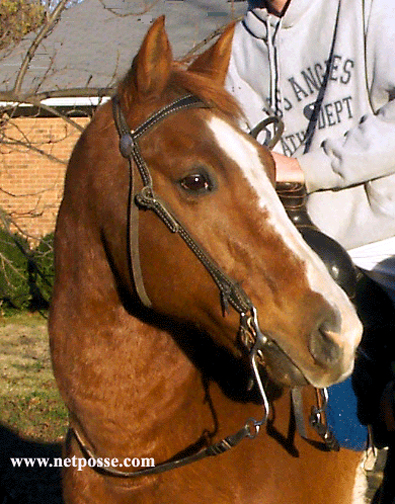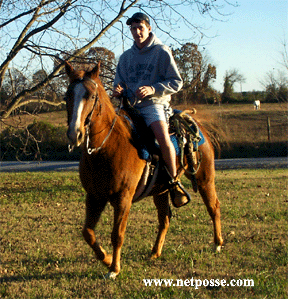 Diablo Van Too (Sam)16-yr-old AQHA registerd Sorrel quarter horse. Trained first level dressage,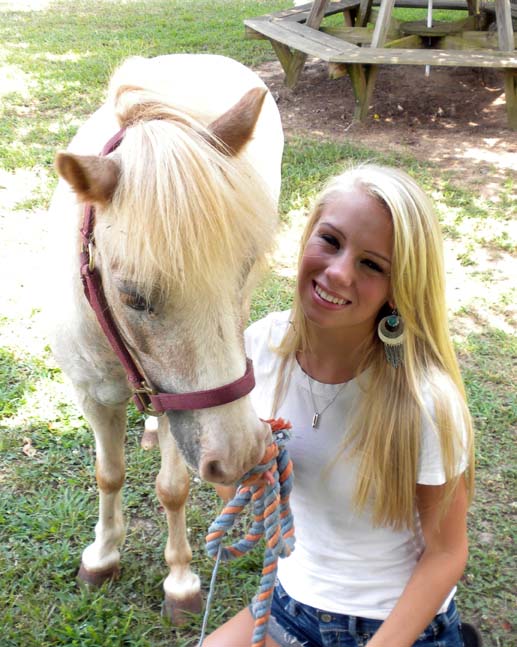 Blaze with his new owner in 2010.
NetPosse Needs Your Help to Continue Assisting Victims of Natural Disasters and Those with Missing Horses ... The following story of Sam and Blaze is just one way NetPosse has helped owners and their horses ... this story is one worthy of a best-selling novel ... for original press release and even more details on what transpired, click here.
June 19, 2012 (Updated)
Meet Sam and Blaze, two horses taken from Mississippi in the

aftermath of Hurricane Katrina by a person who was not who she claimed to be when she arrived and offered to help. She was instructed to take these horses to the depot, where misplaced animals were being held until they could be returned to their rightful owners. However, instead following these instructions, she took off with the horses to North Carolina. When she was reached on her cell phone and told to return to the depot or risk theft charges, Plan B went into action for the person, a scam directed at the owner. The owner fell for it and the horses continued on to North Carolina with the scammer.
Scammers are good, and when you are at your lowest and one is dangling something you need in front of your face -- in this case free care for your

horses for a year until you get back on your feet -- at the end of a hook you may have taken the bait, too. These bottom-feeders are successful because they prey on people at their most vulnerable times. This scammer knew her target and took full advantage.
Representatives of the facility in Mississippi decided to call Stolen Horse International for assistance, as they were familiar with the work the nonprofit does for missing horses. The depot had received information that the horses were located at a temporary foster home. The scammer did not offer anyone the horses' whereabouts, but she had been tracked moving toward the East Coast. With the right people working on your behalf and strong networking, like that of the NetPosse volunteers, it is easy enough to accomplish with the scammer being none the wiser.
Upon getting all the necessary details, Debi and Harold Metcalfe drove over to meet the horses and the foster family. While there, the Metcalfes took pictures of the horses and even called the owner.
Not surprising to Debi, when she spoke to the owner, the lady chose to listen to the scammer, who by her description "was an angel". The scammer had been so convincing that the owner believed that everyone else was out to take her horses from her and not give them back. Since the owner had given the scammer permission to take possession of the horses there was nothing law enforcement could do at that point. The horses stayed at the foster home.
Reality Dawns
Flash forward to the day before Thanksgiving ... A law enforcement officer from Mississippi contacted Stolen Horse with a request to pick the horses up on behalf of the owner. This victim had now learned the harsh truth and knew who really was on her side months before because the scammer had begun demanding money for the care of the horses or they were to be sold. Remember, the scammer had promised to care for these horses at no charge for a year. Now the owner not only wanted Debi Metcalfe to help her but she wanted her to keep her horses and find them good homes.
Arrangements were made and four people from Shelby, NC, took off on a quest that can only be described as bizarre and possibly dangerous. They met the scammer face to face and witnessed how convincing she could be when weaving her tales. Eventually, the horses were transferred into the Metcalfe's care and taken to Hafta' Mosey Farm where they stayed with the Metcalfes until April. The scammer, like in many cases where owners are victimized and conned out of their horses, was never charged.
All in a Day's Work
Now you have a gist of this story, which actually has enough crooks and turns in it to write a short novel. Sam and Blaze have new homes and both are doing very well thanks to the collaborative efforts of Stolen Horse International, its founders The Metcalfes, The Investigation Unit of the Mississippi Department of Agriculture, and the volunteers who helped track and recover them from the scammer.
It is important to remember that two horses were saved because of this organization and they are safe today because Stolen Horse International aka NetPosse.com is here. All expenses in this case came out of Stolen Horse International's small budget and was well worth every penny. This is part of the work we do that the public rarely hears about in the news.
Sometimes people wrongly assume that since Stolen Horse International is a nonprofit organization that it gets everything free or does not have expenses. The organization has all the same expense any business has when operating, except paying salaries. Presently there are no paid positions. Everyone is a volunteer.
If you would like to help keep us here, please click on the DONATE button at the top of this page. Any amount large or small helps pay a bill, continue our educational outreach programs or like in this case, helps bring another horse home.
And, yes, both Sam and Blaze were found wonderful new homes not far from the Metcalfes after the prospective owners were thoroughly screened by Debi.
NOTE: This story was first reported on NetPosse in 2005, following the devastation of Hurricane Katrina. On June 19, 2012, it was updated with details not previousl released publicly. All names have been omitted to protect the innocent third parties and because charges were never filed against the scammer.