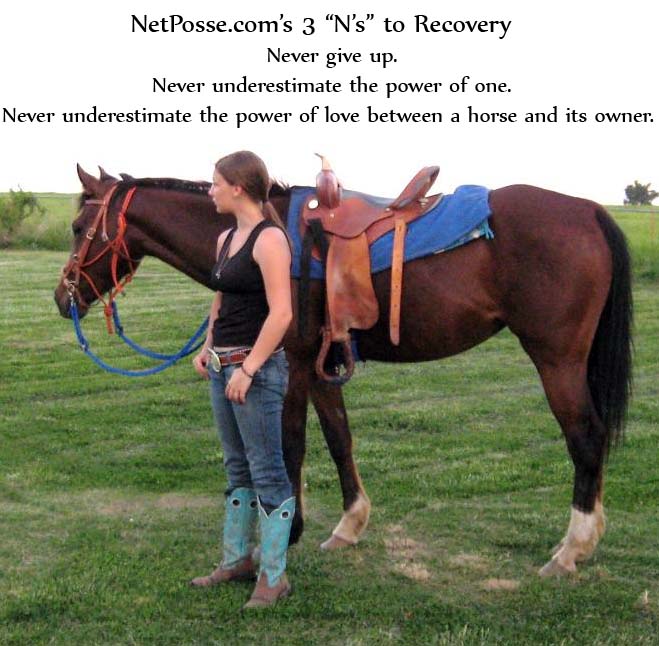 OCT 22, 2013 - We bring this story to you today because it reflects Stolen Horse International's outlook on the three 'N's", the ones we use as inspiration in our nonprofit organization, and to help people comprehend that what seems hopeless today, may not be further on down the road.
We want the victims and the people who see our NetPosse Alerts to remember the three "N's",
Never giving up.
Never underestimate the power of one.
Never underestimate the power of love between a horse and its owner.
We can't predict the future or guaranteed that every horse is going to be found. However, we do know that every recovery is laced with love, luck, and kindness. If you do nothing, then it is usually rewarded with nothing.
We can't make miracles happen without you! We hope you are inspired to:
Join our NetPosse Alert and NetPosse Newsletter
Share, print and post the flyer and information in the NetPosse Alerts
Donate to Stolen Horse International to help us continue the work we do.
LIKE our Facebook page and then invite your friends to do the same.
We are using the following news article to prove our point. Now for this happy news story!
---
MAGOFFIN COUNTY, Ky - A horse with a very unique story made its way back home to a farm in Magoffin County after being away for 12 years.

Thirteen years ago a horse named, Summer, was born at A & J Farm. Avavan Deaton saw that Summer noticed both of her front two feet at the joint were turned straight up.
Doctors at the University of Kentucky Equine Center looked at Summer's condition and said there was nothing that could be done for the little horse, even proposing to have the Summer put down.
Determined to save the horse, Deaton came up with PVC pipe remedy. She split the pipe, heated it, put the pipe on as a PVC cotton cloth cast around the foal's legs. Five months later Summer could stand on her own.
At 14 months old, against Deaton's protest, Summer was sold. Twelve years later, still missing Summer, Deaton became determined to find her old friend.
And find her she did. Now Summer is back home.
Read the full story and watch a video here.
RESOURCE: . WYMT TV, http://www.wkyt.com/wymt/home/headlines/Miracle-horse-found-by-owner-after-12-years--228561171.html
FOOTNOTE: Stolen Horse International has many ways to report a horse on NetPosse.com. Searching for Equine and Searching for Equine History are two of them. If you have sold a horse and need help with your search, register for an account on NePosse.com and File a Report on the website. Your report listing is a valuable tool in any search for a horse.