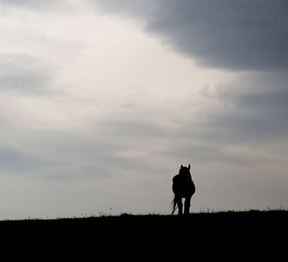 By Leslie Potter | July 25, 2014
Earlier this week, a West Virginia horse named Catnip was found viciously strangled with a tow rope in her pasture. Although Catnip's owners removed the rope and worked with her veterinarian to help the horse recover, her throat was so swollen that she had to be euthanized. In a separate incident this week, an unknown person entered a barn in New York in the middle of the night and chopped off the mane and tail off a gelding named Dusty. This person also spray painted the barn and the horse. The horse was uninjured, but the farm owner's sense of security may never recover.
Horse lovers read these stories and expressed disgust toward the criminals and sympathy for owners across social media, but these are, unfortunately, not isolated incidents. Acts of mischief or cruelty against horses happen every day. We like to think of our barns as our sanctuaries. It's important to be proactive in protecting those sanctuaries and the beloved animals that live there.
First Line of Defense - Click here to continue reading article.
---
Stolen Horse International would like to thank Leslie Potter and the HorseChannel for this article and the educaton that comes with the article. Please take time to read the entire article, LIKE IT and SHARE IT.
And, as always, thank you for your support! We can't do what we do without you!
---
---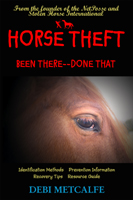 More helpful information from Stolen Horse International
What is a NetPosse report listing? Click here.
NetPosse Alert History - Click here.
Victim testimonials - Click here.
More about Debi Metcalfe author of "Horse Theft, Been There Done That"
Need a speaker or clinic for your next meeting or event? Click here.
Visit our NetPosse Store. Other than ID products, you never know what you will find. All proceeds support the victim's services and our educational programs!
Don't forget to check out the rest of the web site. We have so many educational articles and resources for the horse owner in many areas. Register for an account and check out our RESOURCES (PDF printable doucuments on the go) under the Services tab.