For immediate Release
Moore, OK Donations needed for fuel and supplies for first responders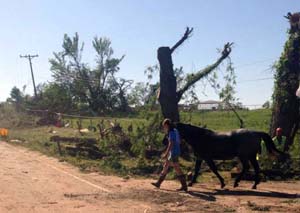 Another found horse...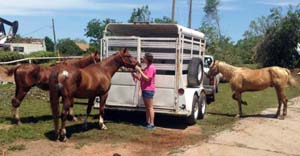 There are horses that need feed, water and medical attention.

Photo credits: All Photos supplied by Red Earth Feed & Tack in Oklahoma City, OK



View NetPosse.com Lost and Found listings and information

. Click here
We are working closely with Oklahoma Livestock First Responders, other organizations and local veterinarians on the ground in Moore, OK and surrounding areas.
Michele De Vinney Schmoll, coordinator for this project, just spoke with one of the first responders who used his last bit of change to fill up his truck to head back in to move more animals out of danger. This volunteer has repaired eight of his tires already from the scattered debris. He and his other responders have been running almost 24/7 moving animals and assisting vets in area.
There are many of us who would love to help but for many reasons can't. Donations are needed urgently for tire repairs, miscellaneous items and gas cards for these tireless volunteers, who like many of us have big hearts, strong hands and limited funds.
They are working hard under conditions we can never completely understand because we are not seeing the heartbreaking sights they encounter.
Please find it in your heart to donate today via the DONATE page on Stolen Horse International. You can use a credit card or PayPal. All funds will be distributed from this account via the project coordinator, Michele De Vinney Schmoll.
For confirmation of your donation please send an email to stolenhorse@netposse.com with TORNADO FUND written in the subject line. Include the amount of your donation, name and email address. This will help us track all donations.
For more info contact: Michele De Vinney Schmoll
Volunteer Organizer
Email: mschmoll@hughes.net