Stolen Horse International™, also known as NetPosse.™, receives reports of missing horses every week. Sometimes the animals are helped out of their pastures by humans but more often than you think, the horses are nearby and in trouble. This is what happened to a Clydesdale gelding this week in Chester County Virginia.
Cyrus, an 18-year-old 1,800-pound Clydesdale gelding horse became trapped in mud and fell to its side at Thornbury Farm Stables Wednesday, October 6, 2016. He had gone missing from the farm early Wednesday morning.
The co-manager of the farm, Penny Parker notified authorities to watch out for the horse. He was purchased recently from New Holland auction at the facility and was to be sent to his new owner this coming weekend.
Believed to have been spooked, Parker found Cyrus in a muddy area of the pasture around 10:30 a.m. Wednesday morning.
Many responded to help Cyrus out of his peculiar situation including the West Chester Rescue Task Force, the West Chester Fire Department, veterinarians from Unionville Equine and Associates and varies other agencies.
Rescuing Cyrus was no easy task with helicopters flying overhead and horses circling the crew as they tried to free the horse.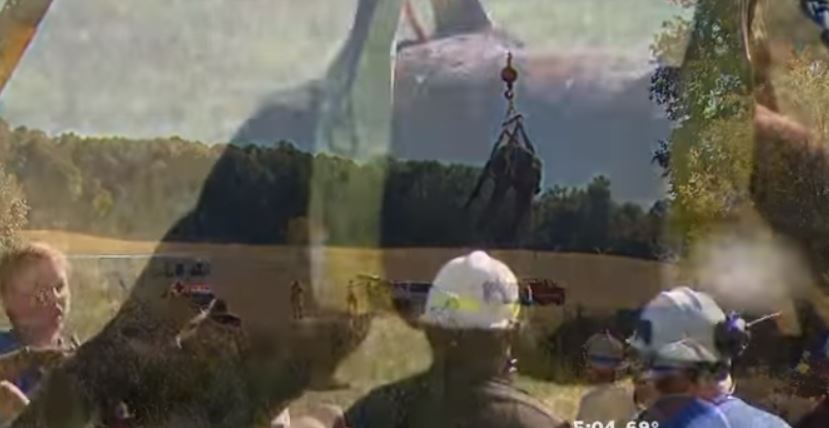 Cyrus was sedated by the vet as rescue crews brought in boards and other supplies to work on themselves. They maneuvered a harness under the horse. Compressed air was used to breakdown the grip the mud had on Cyrus as the crew turned chained supported hand cranks to pull him out of the mud.
Chester County Animal Response Team helped the crew. Bob's Crane Services was brought in to lift the horse from the mud to safety. Local fire crews later reported that Cyrus was up and walking around later that afternoon.
RESOURCE: CBS News 3, https://www.youtube.com/watch?v=-eCPKrMA3iU
Daily Local News, by Pete Bannan, October 6, 2016, http://www.dailylocal.com/general-news/20161005/horse-rescuer-missing-horse-stuck-in-mud-pulled-to-safety-with-crane