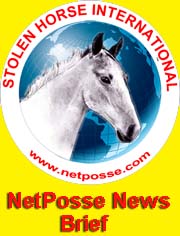 TULSA, Oklahoma - Horse breeders are in Tulsa, Oklahoma for the National Arabian Horse Show, and some think they are being targeted by thieves. Since the beginning of the show, there have been numerous burglaries from cars and Tuesday night, one trainer was robbed outside his motel at gunpoint.
When you are at public events you need to trust your instinct and proceed with caution. We know we have thugs and thieves among us. So many people are out of work and need money to survive. It makes many honest people do things they may not do otherwise. It is a different world, a more desperate one.
One participant at the show Chase Harvill, pulled into his hotel parking lot and observed two men who looked like they may be up to "no good". Like many of us would do, he shrugged off his doubts and got out of his car anyway.
As soon as they heard the sound of the beep (locking doors with key fob), they turned toward him, pulled a gun, and took his wallet, cell phone, and a small amount of cash. They even ask for the keys to Harvill's truck. Fortunately he was able to talk them out of the truck because of the custom painted initials and the size of the vehicle.
When we go to a major horse event or show, somewhere in the back of our minds we know there may be some break-ins and theft. We just don't think it will happen to us. "It" always happens to the other guy, right?
At this event, one with more than 7,000 horse breeders in attendance, crime is the norm rather than the exception. And true to form, this event has had other instances of truck theft and break-ins.
But it is not only this event where bad things happen. At an Ohio event, a gold jewelry vendor who stopped to get a drink after leaving the exposition, was robbed at gunpoint at the end of the day at a nearby convenience store. At another event a vendor's entire trailer filled with goods for the show was stolen. And at numerous events horses, tack and trailers have disappeared.
We know crime is not going to keep us away from these events, but listen to what your gut tells you. If it doesn't feel right, chances are, it's not right.
Click here to view video, pictures and more details.
---
RESOURCE: Oklahoma News 6, Grant Sloan, http://www.newson6.com/story/23773801/thieves-target