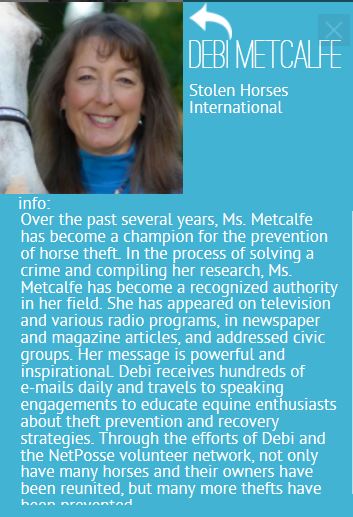 Shelby, NC – September 4, 2013 – Stolen Horse International is pleased to announce that Stolen Horse International /NetPosse.com founder Debi Metcalfe will be a featured clinician at the Equine Extravaganza – at Meadow Event Park November 1-3, 2013. Plan ahead! Don't miss it!
In the process of solving her own crime and compiling her research, Metcalfe has become a recognized authority in her field. She has appeared on television and various radio programs, in newspaper and magazine articles, and addressed civic groups and horse expo audiences. She is the author of Horse Theft. Been There—Done That, columnist and writer.
With the assistance of NetPosse volunteers, Metcalfe has helped recover hundreds of stolen horses, tack and trailers within the United States and internationally, while also providing educational programs that have changed the way the horse industry views horse theft in the 21st century.
During the clinics, Metcalfe will be focusing disaster planning for horses and recovery tips when they are missing; all based from true life experiences with victims she has helped for over 15 years. She will also review traditional methods of identification, explaining the pros and cons of each one.
Equine Extravaganza, the popular Virginia equestrian festival and expo, has a new owner, a new location and an exciting new program. The Virginia Farm Bureau Federation announced the purchase of the show this spring. Its new permanent location is the historic Meadow Event Park in Caroline County, where the legendary Triple Crown champion Secretariat was born and raised.
The show will present more than 100 clinics and demonstrations by top trainers and horse industry experts from across the country. Metcalfe joins key presenters which include Julie Goodnight, versatile trainer and popular host of "Horse Master" on RFD-TV and Ken McNabb, true "American Cowboy" and host of "Discovering the Horseman Within" on RFD-TV, to name a few.
Topics will range from natural horsemanship, dressage, reining, driving, jumping, trail riding, gaited riding, cowboy mounted shooting, barrel racing, therapeutic riding, holistic health and more.
Look for Metcalfe's clinics and make sure you come by and visit with her at the Stolen Horse International booth. Volunteers are needed to man the booth. If you are interested in helping, please go to www.netposse.com, click on CONTACT US and email Metcalfe.
For continuous updates on the Equine Extravaganza program, see www.equineextravaganza.com.
---
NOTE: Metcalfe will not receive any monetary compensation for speaking at this event and is donating her time to teach others about disasters and missing horses. Attending public events is a very costly part of our educational outreach. If you'd like to help us continue our education, please make a donation today. This event will cost us approximately $2500. Expenses include gas, food, lodging, booth materials, to name a few.
Help us make a difference by donating today!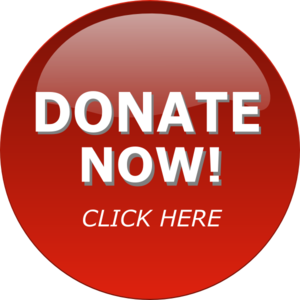 Sign up to get our NetPosse Alerts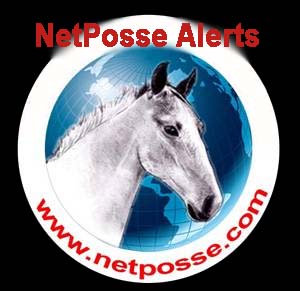 Sign up to get the NetPosse New e-newsletter

Like Stolen Horse International on Facebook

© 2013 SHI - This press release has been sent to you by Stolen Horse International, Inc. (www.netpossee.com). Contact Debi Metcalfe for additional information at the above phone number. Stolen Horse International is a not-for-profit organization that is dedicated to reuniting stolen and missing horses with their owners by utilizing a network of people throughout the United States and Internationally. For more information on Debi Metcalfe's appearances, visit http://netposse.com/events.asp