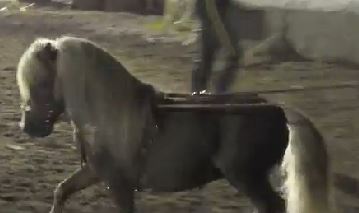 ITALY, SEPTEMBER 13, 2013 - Thieves in Italy may be asking the owner of the "world's smallest" horse to pony up after stealing the steed and potentially holding it for ransom.
The animal was recently stolen from the 47th annual National Horse Show in Città di Castello, located in the country's Umbria region. A representative for the show told The Local that the steed's diminutive stature made him "particularly valuable," leading authorities to speculate he may be held for ransom.
At 2 feet tall, pint-size can be easily hidden just about anywhere. According to Messina, the world's smallest horse thieves are believed to have cut a hole in the fence surrounding Charlie's enclosure Thursday night then absconded with him through a nearby tobacco field.
Continue article and watch video here.
---
RESOURCE: Huffington Post, written by Ryan Grenoble, http://www.huffingtonpost.com/2013/09/13/worlds-smallest-horse-stolen-charlie-italy_n_3922339.html?utm_hp_ref=world
9/16/13 Update Article: World's Smallest Pony Alleged Stolen by the Italian Mafia http://www.pawnation.com/2013/09/16/worlds-smallest-pony-alleged-stolen-by-the-italian-mafia/
---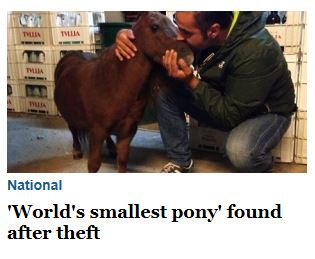 UPDATE: CHARLIE HAS BEEN FOUND!!!
ITALY September 19, 2013 - The 63cm tall pony, listed in the Guiness World Book of Records, was found in a secluded area near Lake Garda after being taken from one of the stalls on the eve of the national horse exhibition in Città di Castello, an Umbrian town in the province of Perugia, according to Italian press reports.
Thieves are thought to have cut through the netting surrounding Charly's enclosure before making off with the steed through a nearby tobacco field.
The alarm was later raised by the pony's owner, Bartolo Messina.
''It was as if they kidnapped a member of the family,'' Messina is reported as saying.
The pony is reported to have been found in a secluded area 340 km north of the horse exhibition.
No arrests have yet been made.
RESOURCE: The Local, http://www.thelocal.it/20130919/worlds-smallest-pony-found-after-theft
---
If you like the articles we bring to you, please help us continue by donating today!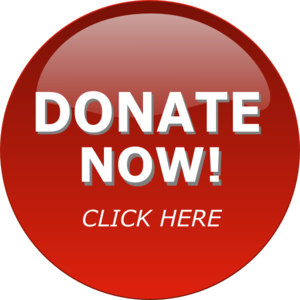 Sign up to get our NetPosse Alerts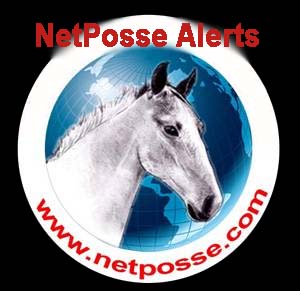 Sign up to get the NetPosse New e-newsletter

Like Stolen Horse International on Facebook