by Angela Kirby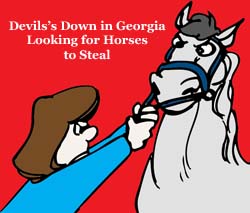 Stolen Horse International, aka NetPosse.com, has been working nonstop the last few weeks. It seems as though horse theft is hotter than ever, and the week of July Fourth was the kickoff.
And nowhere does it seem to be hotter than in the state of Georgia. In May, SHI's volunteer network, NetPosse, was focused on the state of Oklahoma where a horse theft ring had been unearthed and a number of stolen horses recovered. In fact, the success stories continue to roll in, and we expect more from that area soon.
In the meantime, people are asking – what's going on in Georgia?
Charlie Daniels needs to rewrite his infamous song, "The Devil Went Down to Georgia." Seems right now, the devil and his cohorts are looking for horses, not souls, to steal.
Actually the years 2006 and 2007 started off with horse thefts in Georgia. In 2006, NetPosse processed the report for a paint mare named Scout, and after working through the weekend to send out the information, Debi Metcalfe, founder of SHI, received a call about 48 hours later stating Scout was home. Her mane had been cut and shoe polish had been used to cover some of her markings, but she was safe.
Then this past January, another Georgia horse theft was reported. Empty Glass, a breeding stock paint gelding, had vanished from his pasture. Three days later, he was found not far from home. A suspect was arrested and charged.
Though not a good way to welcome in the New Year, these Georgia thefts have happy and successful endings. Now NetPosse volunteers are working diligently for other victims and hoping for the same conclusions.
On July 1, 2007, a 9-month-old bay filly disappeared from her pasture in Screven County. Her owners recently witnessed a large, black SUV near their property on more than one occasion. Could this be a clue in her theft? Evidence shows this filly did not go willingly. Where is she now?
Less than a week later, on July 6, a 3-year-old palomino paint mare, Tinkerbelle, vanished from her pasture in Gordon County, located in northwest Georgia. The irony here is that only about a week before, her owners discovered an uninvited guest on their property – a bay stallion was in the pasture. This horse has since been turned over to animal control. Was he also stolen?
Then, on July 9, a horse owner in Coweta County added an unexpected member to her herd. A chestnut thoroughbred gelding, in good health, was found wandering loose. His owner has yet to be located. This again begs the question – was this a failed horse theft attempt?
While the originations of the two found horses remain a mystery, the good news is that Tinkerbelle is home safe! Ten days after she vanished, Tinkerbelle was found by a neighbor, but the circumstances are suspicious at best. Her owners had searched the fencelines and pastures, but saw no way for her to cross over. Also, mare had manure stains as if she'd been stall kept. The neighbor didn't report finding this mare to authorities. His wife had even removed her halter and had given her a name … So you have to wonder … how well do you know your neighbors?

It is unfortunate that no one can be held accountable in Tinkerbelle's case. However her owner, Melinda, knows that her recovery is a blessing. Melinda expressed her gratitude in having organization like NetPosse who can help in these situations.
In between Tinkerbelle's theft and recovery, NetPosse processed another theft report from Troup County, located just below Coweta. During a local horse show, a mare was left tied to her trailer for about 15 minutes. When the owner returned, the Danish Warmblood cross was gone. The immediate thought was that she had simply pulled loose, but when she wasn't immediately found, it was suspected that she was stolen.
Yet there was more good news on Monday, July 23 – Merry was safe at home!
Though the show ground were searched thoroughly, Merry was in the yard of the property owner the morning of the 23rd. There is no way to truly know where she has been the last 10 days. But the question still exists – was she stolen? Did the pressure of the media cause a thief to dump her close to the original location? How could dozens of people not see a frightened horse running loose? If she was so close by, why did it take so long for her to wander back?
These are questions that might not be answered, but whether stolen or missing, horse owners need to take steps to protect their beloved horses. The first one is to place permanent identification on the animal, tack, trailer and vehicle when transporting horse from its barn to another location. Also, be careful of leaving a horse unattended for safety reasons and because of just such a case as Merry's. When in a show environment, it is easy to feel comfortable with the surroundings, partly because it is natural to be trusting. Unfortunately, thieves look for complacency and opportunity.
Horse owners simply cannot afford to give those types of people opportunity.
Remember, there are thousands of horses stolen each year in the United States. The vast majority of the people think that horse theft went out with the "old west days" … if they give it any thought at all. But horse theft is very real. Just ask the owners of these stolen horses. Merry's owner is a teenage girl. This is her dream horse but her family lived a nightmare for 10 days.
With recoveries in Georgia, Tennessee and Oklahoma, we know that NetPosse is working, and we appreciate those who have joined our efforts. The more allies we have, the more horses that will be recovered successfully. And for the hundreds of horses listed on NetPosse as still missing, we ask that you visit the site at www.netposse.com and review these cases, print out the flyers and send out the information to all of your contacts.
At Stolen Horse International, our favorite quote is, "Never underestimate the power of one!" It only takes one person to forward an email, post a flyer or make a phone call. If you would like to help, flyers can be downloaded from the organization's Web site: www.netposse.com.
For more information on Stolen Horse International and its programs, visit the website at www.netposse.com.
Note from author: Merry's case is in no way intended to suggest liability or involvement by the owners of the show grounds. The owners immediately contacted authorities when Merry was discovered missing, and did everything possible to locate her, including calling the owner the moment Merry was found. This incident could happen anywhere. The purpose of this story is to make horse owners aware of the possibilities and preventative measures.
Copyright © 2007 All rights reserved. The above article is the property of the Author/Organization and may not be duplicated or redistributed in any way without permission.