FOR IMMEDIATE RELEASE
Media Contact: Carey Kreidler Equine Extravaganza
carey@equineextravaganza.com, November 2-4, 2012
410-349-9333, Media Richmond, VA
www.equinextravaganza.com info@equineextravaganza.com
Equine Extravaganza Pleased to Partner with Stolen Horses International
Announcing Debi Metcalfe as a seminar speaker at this year's event!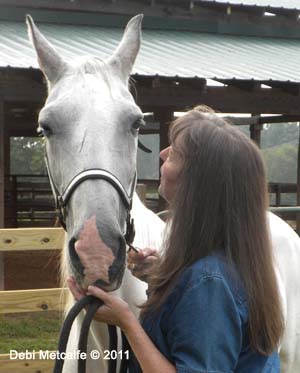 Debi Metcalfe with Idaho, stolen from her family in 1997 and recovered 51 weeks later. Idaho is the inspiration behind Stolen Horse International, aka NetPosse.com.
What would you do if you walked into the barn expecting to find your horse munching on hay without a care in the world only to find an open stall door and empty space? What if you drove up the drive, certain that your horse was happily grazing in its paddock where you had left it, only to find the paddock horseless and empty? Odd are, you've never given these questions any thought, but when "it" actually happens, what would you do? Debi Metcalfe, creator and owner of Stolen Horses International (SHI) has the answers to the questions attached to these situations and will be presenting invaluable information about if this "it" factor happens to you at this year's Equine Extravaganza.
Equine Extravaganza is very pleased to add Debi Metcalfe as one of their extraordinary seminar speakers at this year's event. With more than ten years of honing her sleuthing skills and developing SHI as a mecca for missing horses, Debi has become a master of her craft in relocating missing horses. Today, Debi shares her expertise and imparts her wisdom to other horse owners in an effort to help them prevent horse theft and provide them with guidance to recover missing horses, if the occasion shall ever arise.
Equine Extravaganza is a three day all-breed, all-discipline horse expo located at Richmond International Raceway , November 2-4 in Richmond, Virginia. The event proudly hosts 100+ clinics, seminars, and demonstrations and houses 150+ vendors. The Extravaganza has planned a wide assortment of fun-filled, exciting, and educational events, including their first ever Equestrian College Fair, an evening entertainment show, Equus Extrordinair, three competitions including, the Trail Blazer Challenge, "Rags-to-Riches" Horse Rescue Talent Search, and Chase Dodd's "Chase the Dream" obstacle course, wine tasting, an equine book club, and so much more! This year's featured clinicians are Guy McLean and Tommie Turvey, with a supporting cast of outstanding all-star clinicians including Lizzy Traband, Leisha and Brock Griffith, Scott Purdum, Chase Dodd, Randy Abernathy, Elizabeth Shatner, Tracy Magness, Colleen Kelly, Valerie Vizcarrondo and so many more!
For more information about Debi Metcalfe and Stolen Horses International, check out her website at http://www.netposse.com/default.asp and her Facebook Page under Stolen Horse International.
####
Debi Metcalfe's seminar is at 12:45 Friday, November 2, 2012 in the Blue Seal Seminar room
About Equine Extravaganza
Equine Extravaganza®, a production of Maryland-based Moonlark, Inc., is a comprehensive, all-breed, all-discipline horse expo, and is one of the largest of its kind on the East Coast. The eighth annual event will be held Nov. 2–4, 2012 at the Richmond Raceway Complex, Richmond, Virginia, and will feature hundreds of the country's top equine vendors, sponsors, clinicians, performers and professionals.
It's not just an expo, it's an extravaganza!