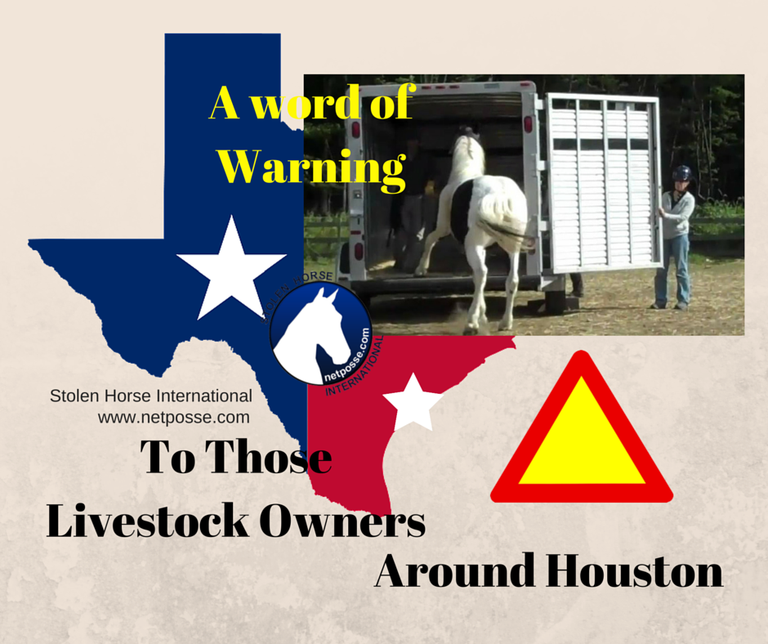 Wish we had better news but we don't. We are getting more theft reports from around the Houston area. Word of mouth says-the authorities are getting reports of at least one horse theft per day. That's an awful lot of horses being stolen!
Can you get them back? Depends-and I know you hate that word, but it is the truth. Here are the variables:
Do you have current photos of your horse? Front, rear, both sides, close-ups of whorls, brands, scars-should be time and date stamped. If you can't do that, buy a newspaper and hold that in the picture. Make sure you can read it. Grocery store circular works, too.
Bill of sale or Breeding certificate-something that says how YOU got that horse, when, from who, $$ (even if free)
Coggins and other vet records-and, no, those photos don't count-they're awful (worse than driver's license)
Show records if you have them
farrier, trainer, and/or boarding bills-WITH YOURS AND THE HORSE'S NAME and dates on them-establishes that you have owned the horse that long
Breed registration
Microchip registration certificate-and scan to be sure the chip is still reading properly-nothing is worse than finding out too late that a chip isn't reading.
Make sure your fences, gates, and barn are in good shape, posted, and clean.
TALK TO YOUR NEIGHBORS-make sure they know what your truck and trailer look like and you know theirs. That way, if a strange one shows up, 911 will be their first call.