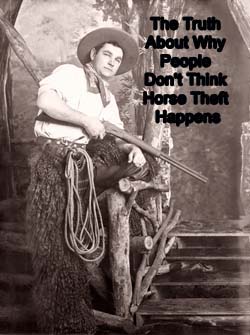 In the "old west" days cowboys stood watch over their horses. In the 21st century most people don't think theft happens and don't protect their horses at all.
And 15 reasons why you might not want to be an expert consultant for Stolen Horse International
By Debi Metcalfe, founder of Stolen Horse International
As I was pondering over my article for the another publication today, I sat staring once again at this blank Word document waiting for that brilliant idea to pop into my head. I started early this morning writing this article. Of course I have had emails and phones to answer during the day.
I sent one email to an editor assuring her that I would not miss my deadline. I even turned on the DVR and ate lunch while I watched my cousin Jordan on the Big Brother show, another way of procrastinating. I mean another way to clear my head for that incoming idea to just pop right in.
The definition of a consultant, which I am, is "someone brought in from outside a company to give advice." I have spent 10 of the last 12 years consulting with companies, organizations, magazines, expos and the news media. I've found my comfort zone when it comes to talking but I am still having trouble finding it when it comes to writing.
Many more times while trying to get around writer's block, I found myself in front of the blank page and many times I found something else "important" to do. I kept pondering the same question, "What am I to write about today?"
My answer to that question came in a phone call this afternoon when fellow NetPosse Volunteer Sonya Williams called my office. I am glad she missed the email that I had just sent as the phone rang that said, "Don't call me for another hour or so. I have a deadline and I am drawing blanks. I'm thinking."
Sonya lives on Marsh Pond Farm between Albany and Dawson, Ga., near Sasser, with her horses, dogs and husband Dr. Glenn Williams. My husband Harold and I had the pleasure of being their houseguests in August of 2009 to present a horse ID clinic organized by Sonya.
She hosted the clinic at a very nice dressage facility, spent her money to print flyers, distributed those flyers around town and even arranged a noontime appearance for me on the Albany, Ga., NBC affiliate WKAB's the Ruthie Show, just to name a few of the many things she did to pull this clinic together.
We spent the morning at the clinic talking about the many ways horses end up missing through theft, disaster, fraud, civil issues, something Sonya, like me, feels is important knowledge for all horse owners.
The afternoon session was a first of its kind and, in a way I felt like I was in my own reality show, anything could happen.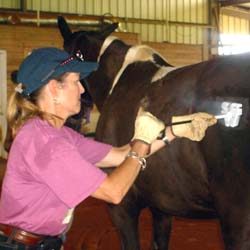 Sonya Williams freeze brands her horse.
It was the first time fearless Sonya freeze branded her own three horses while, with heightened anticipation, the audience watched. It was the first time a local veterinarian had actually microchipped horses. And, it was the first time I have ever had a "hands-on" clinic like this without seasoned professionals doing both the microchipping and freeze branding.
What was I thinking? Why do such an unscripted presentation? The answer is simple: so the audience could see how simple the processes were while at the same time understanding that not every horse acts the same way. Although most horses are very cooperative during these procedures, there is the occasional one that is not. The spectators need to see that as well.
I am glad to say that all three horses were successfully microchipped and freeze branded with only a little drama. Most of the audience left feeling that the processes did not hurt the horses, with some of the attendees empowered to ID their own horses in the future.
Sonya was disappointed when hundreds did not show up for the clinic. I have spoken to 1 to 223 people at one time and knew that the outcome might not meet her expectations. But no matter the small number of attendees, the clinic was a success because NetPosse fulfilled its mission to educate the public regarding how to protect horses in the event of theft or if their horses became missing.
So, as I talked with Sonya on the phone today and explained my conundrum of not having a topic for the articles she said, "I know what you need to write about! Why would you avoid a free seminar at your own facility to learn how to guard your horses, tack or other items from being stolen?"
I thought the title was too long, but I understood her sentiment and frustration well.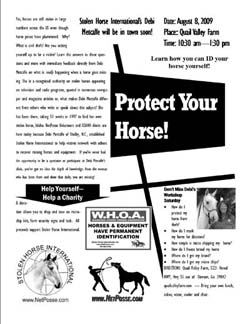 "Why would people not attend a free seminar to educate the local horse owners about how to protect themselves from being a victim? I put information at two horse shows and people were emailed and asked to forward the information to other horse owners. It was on two websites and on a public horse forum.
"I talked with someone today who has horses in the barn where you spoke, and I asked them why they didn't come to the seminar. This was a person who had a horse trailer stolen and the authorities saw it going down the road. This was a person who has had a horse get out and didn't even know it until the horse came out of the dark and put his head on the mans shoulder."
Sonya continued, "After hee-hawing around a little, he finally told me they didn't have any money to buy anything."
"Huh? Is that why they thought I was there?" I asked.
"Of course not," Sonya replied. "I don't understand it. They (horse owners) spend thousands of dollars on saddles, hundreds on blankets, pads and the right treats for their horses. Why would they not want to learn how to protect their horse?" she added.
Having heard this question before, I replied, "Think of it like this Sonya. There are some things in life that many of us do not want to face. Sometimes I feel like I am one of those things, like a cancer in the horse industry. If you attend one of my seminars then you are aware of the problems as well as the ways that you can protect you and your horse."
"That is a good thing then, right?
"Yes and no. Some people feel empowered by this knowledge, like you. To others knowing the dangers also means that they need to take action to help keep from becoming a victim. If they know and fail to act and their horses disappear, they are then partly responsible."
"So they just do nothing?" Sonya asked?
"Yes," I continued, "It is easier for many horse owners to do nothing and think it is not going to happen to them. It is less for them to worry about. After all, there are much more important things to think of for your horse like the next halter or show pad, both of which can cost more than a microchip."
"Horse owners are complacent when it comes to taking care of their horses in this area protection. If you don't hear about it then it must not be happening, right? Wrong. There are thousands of children that are missing each year. How many do you hear about? If you are not hearing about the children do you really think you are going to hear about the horses? Unless someone is shot, stabbed or killed in the process it rarely makes the evening news."
Still not grasping how some people wouldn't want to be empowered, Sonya tried to convince me that I had a valuable agenda, "But there was so much information you provided in the clinic. We talked about pictures of the horses and of the owner with the horses and then of the owner with a friend with their horses and copying papers, etc. So many people who said they would come never showed up or they were late and missed good information."
Sonya is just one of the thousands of people who understand that their horses could one day for a variety of reasons just cease to exist where they once were standing. It is the rest, which is the majority, that makes my job as a consultant for Stolen Horse International hard.
"Debi, people need to know how much time you put into these programs that are helping them. They need to understand how hard you work. They need to know that you are doing this out of love and concern for the horses and the owners. You and Harold are compassionate about your mission," Sonya adamantly stated.
I never underestimate the power of one and without Sonya's push I would have never written this article. Sonya, this article is for you, a volunteer who wanted her friends and community educated so much that she put on her own clinic.
"This article should give insight to what I have learned from working with victims of every type of missing horse situation imaginable since 1997, most of all theft. You can run from it but when it comes knocking on your barn door, you can't hide. It's best to be prepared." - Debi Metcalfe
Unfortunately the complacency of the horse owners disappointed you, but did not surprise us. Think of the information the ones who attended took home with them. Somewhere down the road your clinic may keep one of those horses from joining the ranks of the missing and prevent the heartbreak that I witness every week.
Those same missing horses are the reason I push forward every day whether its midnight or Sunday morning, and I never hesitate to respond to those who need to know the truth about stolen and missing horses. However, so many do not realize the truth about what I do.
Here are a few things I've learned over the years about the downside of consulting with a nonprofit organization on a mission:
Being mentally prepared is key.
Be prepared to be treated unreasonably bad and unimportant…
But also be prepared to be treated ridiculously well.
Most people will either like what you have to say or they won't.
I am often the stableboy at the bottom of the "food chain" of important consultants in the equine industry. Sometimes not.
I run a nonprofit with no pay so I have the worst desk, a slow computer and lack much needed supplies. I worry a lot about funding and paying bills.
I have worked in the cold, the rain and small rooms the size of large closets. I have worked in air conditioned arenas that seat thousands.
I am sometimes an outsider despite that I work as hard as or harder than most paid consultants in the horse industry.
I work with only volunteer support staff, which means they come and go at will.
I have to grovel to get any compensation for Stolen Horse International because as a consultant for a nonprofit trying to get our point across –I am usually priority number 1002.
People think that Stolen Horse International has lots of money like the Humane Society or United Way or is funded by grants or government funding. I wish!
Everyone will assume that you make more money than you do for doing the similar work as other consultants.
We are often forgotten by the very people we help the most.
My ear will get bent at least three times a week by well meaning people telling me that I need to get a "good, safe, stable job with benefits."
People think they can do this job but when they actually try, they don't last long. Working without pay, begging for funding, listening to naysayers daily and hearing so many problems is not for everyone.
I talked about the downside to consulting for Stolen Horse International. I presented the worst first to make sure that it would be clear it's not all roses. But there are a number of advantages to doing what I do, and in my opinion the advantages outweigh the disadvantages. Like when I prove our value to a horse owner or most importantly when because of what we do:
After working days on end with a victim, their horse is recovered through a phone call or NetPosse flyer.
A victim finds someone to confide in when they need it most and their own friends and family do not understand their pain.
A horse is identified with permanent identification.
A theft is thwarted because of our knowledge passed to someone who put it into practice.
Someone's personal property is recovered because NetPosse's information guided them successfully through the process
NetPosse's volunteer network sets off a chain of events leading to tips on a missing horse.
I actually get to meet someone who has been helped by Stolen Horse International in some way because of one gaited horse that was stolen from us in 1997, Idaho.
But aside from successful recoveries or thwarted thefts, I get amazing access to top trainers and clinicians in the equine industry and have become friends with many. I have the freedom to set my own schedule. I have worked on many projects that require the use of skills I didn't already have (a particular kind of software program or writing articles, for example).
The challenge of learning to meet new people has served me well in many aspects of my life. I have met and worked with so many great and interesting people that I never would have in my old job, like Sonya and Glenn.
I mean how often do I get the chance to visit a farm right down the road from where Dick Chaney hunts? Of course, that raised an eyebrow or two as Sonya knew what we were thinking.
"Don't worry, he only shoots people in Texas," Sonya assured us.
Did I mention that I was constantly on the lookout for the local wildlife, alligators, wild pigs, armadillo and water moccasins!?
Almost every company you work with will have its downside. In my experience, a company that is functioning well and has happy volunteers is a place for me. And on most days I go to bed content in what I do and looking forward to the new challenges the morning will bring without fail.
And to Sonya and Glenn Williams: thank you for caring about your horses and thank you for caring about us. And don't worry so much, we will be here for all horse owners when they need us, even if they think they never will.
Stolen Horse International, Inc. is a 501(c)(3) non profit organization. Send questions to Debi Metcalfe at stolenhorse@netposse.com