JB was stolen from Missouri on August 20, 2001 then recovered on September 7, in Kinta, Oklahoma, three weeks later
The original plea for help ... read below for Court Update after recovery: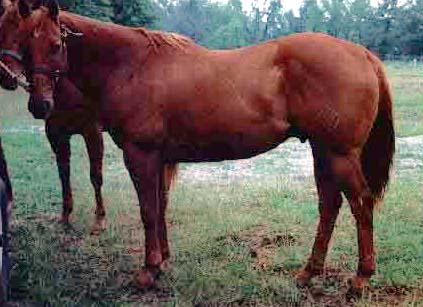 JB NEEDS YOUR HELP!
Horse Stolen From Harrisonville, Mo Area on 8/20/01

A 15-yrs old solid sorrel colored gelding with a diamond-cactus brand on the left hip was stolen from his home Sunday evening, August 20. This gelding is a retired companion that requires medication daily. His owners are frantic to find him. There is a reward for the return of the horse, no questions asked as to how he was acquired. If you think you can be of help will you please contact me?

Wendi Vines
Membership Chair, Missouri Equine Council
President, Rough Rider Saddle Club of Eldon Missouri
Work 573/392-2704
Home 573/676-3457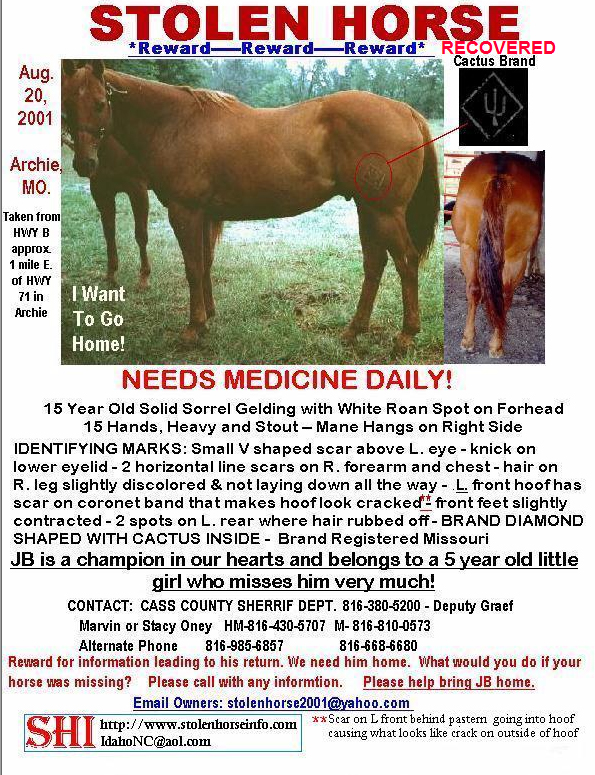 There are all kinds of ways to identify your horse with only a few visible. If you have ever wondered, "Should I brand or shouldn't I brand?" think of this story. What lengths will someone go to conceal a horse?

It was a long afternoon of waiting and hoping but Stacy's hopes finally came true. The phone rang and the officer on the other end of the phone said, "I have your horse."

For three weeks, Stacy worked night and day to find her horse. She worked with the many volunteers on the Internet as well as friends new and old in distribution of information about her missing horse, JB.

JB was in Kinta, Oklahoma and was being ridden in barrel horse races. A SHI flyer that was put into the hands of a lady at a Tulsa event recognized him right away as the horse she had seen someone with earlier. She had wondered how they came to own such a wonderful horse when they had not been able to do so in the past. Now she knew the rest of the story.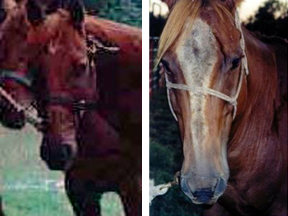 The police were called and dispatched to the man's home. A search of the property was completed but did not turn up the horse. As the deputy rolled up his window he heard a whinny off in another direction from where he had been taken to survey the horses on the property. It seemed there was one place the owner had not taken him. If he had rolled up is window 3 seconds earlier he would not have heard the cry of the horse. He searched the other building and right away spotted the brand on JB's hindquarter.

Stacy and her husband, once notified that JB was in protective custody, took off into the night to claim their horse. When they arrived a photo of the JB was shown to the deputy and the deputy's face went pale.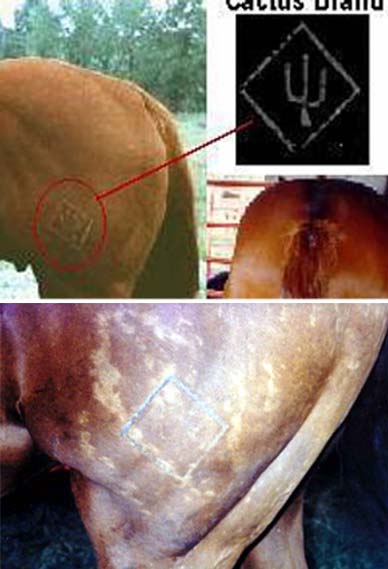 "That is not the horse I have." He told Stacy. "The horse I have has a white blaze". Shocked but not daunted by this discovery, Stacy told the officer it must be her horse since the brand was there. The officer took them to the horse. They were shocked by what they saw.
The once sorrel gelding with only a star on his forehead now had a full white blaze, white spots on his rump and his mane, tail and legs had been darkened. There was an unsuccessful attempt to alter the brand with dye and a razor. The cactus was a little hidden but the diamond was still there.

JB is home now and Stacy is left to sort out the legal issues concerning the alleged thief. Hopefully, Missouri laws will be more dreadful than some other laws are and the man will be made to pay for his crime. (Read the story on Penny and how the thief got away thanks to the justice system: http://www.netposse.com/newsviewer.asp?id=899)

In the end, the brand identified JB even though his appearance had changed. Do you have the answer to that question about branding now?
CONTINUED ...

JB's Day in Court - Posted August 12, 2003
Subj: Update on my stolen horse case
Date: 8/12/2003 11:54:25 PM Eastern Standard Time
From: sr_oney@yahoo.com
To: Idahonc@aol.com
I have just found out that on August 8, 2003, in Stigler, OK, Haskell County, James Bray entered a plea of guilty for the counts of knowing and willingly concealing stolen property and obliteration of a brand (this happened when he colored my entire horse in an attempt to hide my brand).

He also had been charged with the theft of my horse, after an investigation produced strong evidence, from here in Cass County, MO but those charges were dismissed due to a technicality on the sheriff in Haskell County because he did not receive permission from the Bray's to go in the small shed where he DID find my horse located on their property. His was sentenced to 5 years probation, a $250.00 fine and has to pay court costs.

I want to thank everyone again for all the hard work done and concern in helping me get JB back. It makes me feel so good every morning I can go out and see him standing in my pasture at HIS home!!

Stacy Oney and JB