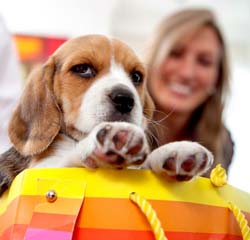 NetPosse.com can now list animals on the farm that are missing with the addition of our new Web site. For example: If your farm dog is missing on a trail or off of the farm, we are here to help. We can also take reports for other farm animals. Check out the new additions in our FILE A REPORT section of the website.
Keep your pet safe
Keep your personal information and your alternate contact information up-to-date
Take good photos of your pet. Keep them updated on a regular basis. Don't forget close-up shots of specific markings and scars.
When photographing for identifying purposes, leave the cute little clothing off.
If your pet has at tattoo, photograph the tattoo. This helps in case you forget your number, too.
Always keep a collar on your pet and have ID tags securely attached.
Look around your yard for ways for your pet can get out.
Look for loose fencing escape routes.
Keep gates locked.
Do not permit your pets to wander in the community.
When walking with your pets, keep them on a leash them at all times.
When traveling, transport pets in the proper carriers.
Make sure there is always a way to get in touch with you when your pet is missing.
Tips for Finding Your Lost Pet
Here are some tips to help you prevent your pet from getting lost, and if they ever do get lost, help you to find them faster.
Search your property carefully.
Search the neighborhood, talk to everyone, and leave your contact information and a flyer.
Simulate finding your pet by making a noise like calling your pet's name, while you walk around the community. Animals answer to sound.
Animals find their way by scent as well as sound so place some strong-scented personal items outside your house.
When your pet is lost, visit your local dog shelter, and all rescue shelters in your community and surrounding areas. Calling is never enough.
Place an ad in your local newspapers. Don't forget to check the lost and found section for an extended period of time. Not everyone lists a found pet right away.
Post posters everywhere within a 5-mile radius of where your pet was lost.
It could take months or years to find your pet. Don't give up.
Someone calls and has found your pet. Now what?
Take a friend with you when responding to a found pet call. Do not go alone.
Always meet in a public place.
Do not invite them to your home unless you already know them well.
There are many scams involving missing pets and money. Research these scams online so that you do not become a victim of this scam, too.
After your pet is home
Call us at NetPosse.com and let us know your pet is home safe.
Thank everybody who has helped you.
Click here to email us the story of your reunion. We may feature your pet on our Web site.