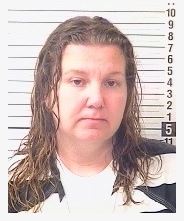 by RMHP Staff,
The owner of a Florida horse transportation company has been charged with grand theft of more than $100,000. Bay County Sheriff Deputies arrested Margaret Huguley of Sliding Spurs Equine & Horse Transportation on Sunday.
Huguley worked for Bay Environmental in Panama City from April 2012 until April 2014 handling the company's accounts and payroll. The defendant is accused of stealing more than $140,000 from the business.
In December 2013, Huguley was charged with felony dealing in stolen property. She is awaiting trial in Washington County.
According to the criminal complaint, Huguley boarded her cousin's paint mare named Fancy starting in February 2013. Huguley, who also goes by "Happy Huguley," allegedly advised Charles Gilmer in June that his horse had eye cancer and needed to be euthanized, which he authorized.
In July, Gilmer learned Fancy was not dead, but had allegedly been sold by Huguley in April. Huguley told authorities Gilmer wasn't paying his board for the mare, so she sold it, according to documents. Gilmer was able to provide proof to the authorities to dispel Huguley's non-payment claim.
Click here to continue reading full article.
---
RESOURCE: Rate My Horse Pro (RMHP), Staff writer, http://www.ratemyhorsepro.com/news/horse-transport-owner-charged-with-grand-theft-of-100k.aspx
---
Stolen Horse International, Inc. aka NetPosse.com thinks this is information you should learn more about and BEWARE! It is not unusual for us to be asked for help from horse owners who suspect their horse did not die while in someones care.
If your're informed ayour horse has "died" without positive proof of a death, then perhaps there is something wrong with the picture you see.
This is one of the many cases we have either dealt with in some way or heard about over time.