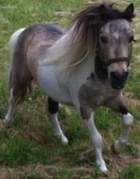 SULPHUR SPRINGS, IN, 7:19 AM, Aug. 8, 2012 — The search for a miniature horse missing since last Thursday night continued Tuesday, with no sign of the animal.
"We're still out there looking around," said Jonah Walters, who was passing out fliers bearing the picture of Bucky, a 7-year-old gelding that stands about 33 inches tall and weighs between 375 and 500 pounds.
The last time he was seen it was Thursday about 11 p.m and flyers have been passed out around Walnut Ridge Resort Campground, along Henry County Road 100-N between County Road 300-W and Sulphur Springs Road.
Anyone with information can call (765) 356-3175 or (765) 639-9413.
RESOURCE: thsStarpress.com, http://www.thestarpress.com/article/20120808/NEWS01/308080018/Miniature-horse-still-missing-near-town-Sulphur-Springs
POSTNOTE: At this time we do not have a report on Bucky from the owners. They may not know that NetPosse.com is here to assist them in their search. We'd appreciate anyone who would take a moment to get in touch with them and tell them about our organization and how to list Bucky on NetPosse.com. Thank you.