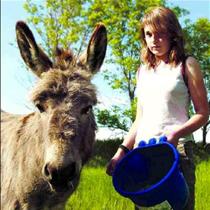 Thursday, June 01, 2006
Sky Stadnyk, with miniature donkey, Jack, on her family's Vanscoy-area acreage
A young girl from west of Saskatoon is heart-broken that the horse she bought with her own money is missing and believed stolen.
"He's gone and I love him a lot," said 11-year-old Sky Stadnyk.
On May 23, Sky's horse, Breeze, another horse owned by her parents and a miniature donkey broke through a gate on their acreage near Vanscoy, about 14 kilometres southwest of Saskatoon. The donkey returned home the next day, but the two horses haven't been seen since.
"It's not unusual for horses to get out now and again. That happened to us last year, but we found them right away," said Sky's father, Wayne Stadnyk.
"This time they are nowhere to be found, which makes no sense. They're large animals. It's not like a missing dog or a cat."
Breeze, a thoroughbred quarter-horse, is a grey gelding with white spots and socks, a dark grey mane and tail. He's about four years old. The other missing horse, a red Appaloosa gelding with white hindquarters named Ace, is about 13 years old.
Sky saved her birthday and Christmas money for three years until she finally had enough money last summer to purchase a horse for herself. Through a family friend, she landed a real deal. The horse, worth about $4,500, was Sky's for only $1,700 because the horse's owner, who was dying, needed to sell his animals and was looking for a good home.
"I gave him a hug and a kiss because I love him," recalled Sky of the first time she saw Breeze. "My stepmom saddled him up and I rode him."
A scrapbook that Sky made chronicles their short time together.
"He's amazing. When I saw him I felt so excited that I almost died. He's my little baby. He's only one and rides very well.
"I love Breeze. He's all mine," she wrote in the scrapbook, next to a photograph of her kissing Breeze between the eyes.
Sky, a novice rider, has plans for herself and Breeze. She's taken riding lessons and learned how to barrel race.
"I am never going to sell him. I am going to take very good care of him and compete with him. I am going to take riding lessons and go on trail rides with him until he dies and that might be awhile," she wrote in her scrapbook.
Those plans came crashing down on Tuesday when Stadnyk told his daughter that her beloved horse was missing. Sky, who lives part of the time with her father and stepmother on the acreage and the rest of the time with her mother in the city, cried.
"I was trying to keep it a secret. I was hoping I would be able to find the horses and bring them back before she knew," said Stadnyk.
For the past week, Stadnyk and a friend have been scouring the country. They've talked to neighbours within a 24-kilometre radius of the acreage. They've put up posters around the community, contacted police and the rural municipality office and called all of the auction marts in the province.
Stadnyk thinks only two options are possible at this point. Either the horses are wandering the ditches, in which case somebody should have seen them by now, or they have been picked up by somebody and taken. He doesn't think the horses would have jumped a fence to get into someone else's pasture.
"I would hate to say that somebody would actually steal them. I can't see anything other than that at this point, unless somebody's got them in their yard and they don't know that," said Stadnyk.
"Most people are honest, but there might be that one or two who will say, 'I found two horses. I'm going to see what I can get for them.' "
RCMP Cpl. Murray McCracken says it's unusual for horses to go missing for more than a day or two. Typically, neighbours will call around or contact police if they see a stray horse looking for its owner.
"I've been doing this (for) 19 years and I've had lots of horses that get out, and you phone up the owner and they go and get them -- but actual stolen horses, I don't think I've ever investigated one."
McCracken is reluctant to call the horses stolen because they weren't taken from private property. If someone is keeping them and making no attempt to find the owner, the person could be charged with possession of stolen property.
McCracken's advice: "If you find two horses, you better start making some calls."
Anyone with information about the horses may contact Delisle RCMP at 493-3240. lhaight@sp.canwest.com
CREDIT: by Lana Haight, Richard Marjan, The StarPhoenix, The StarPhoenix (Saskatoon) 2006