BEDFORD CO., VA (NETPOSSE) - Missy, a Tennessee Walking Horse mare is missing from her new home in Bedford County, Virginia.
"Missy arrived on our farm two hours earlier at 4 p.m. We stayed with her until 6 and she had calmed down. We ate dinner, came back out to check on her at 6:30 and she had smashed down a section of four board fence and bolted", says her owner, Kristi Fowler.
A search is underway for the missing horse who disappeared from Shepherd's Stoe Road around 6 p.m. on Sunday. She was last seen around 5:00 a.n. on Dickerson Mill Road in Bedford County.
Stolen Horse International, also known as NetPosse, is assisting in the search and has a flyer that you can post in your area on Missy's NetPosse website. You can read more information, updates and print that flyer with report 3175 here: https://netposse.com/tag.asp?id=3175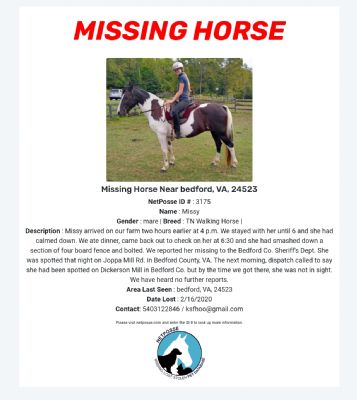 Facebook members can share her NetPosse Alert from the Stolen Horse International-NetPosse.com page located at this link: https://www.facebook.com/StolenHorseInternationalNetPosse/photos/a.146948968652937/3416296521718149
If sighted, please call 540- 312-2846 and contact the owner at 540-312-2846.

Other articles in the news for Missy
WSET - https://wset.com/news/local/horse-goes-missing-from-bedford-county-farm