Video By KSEE News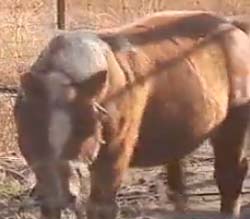 October 13, 2011
Cisco, the miniature that went mising from Wild Bill Tusan's ranch in Sanger, CA almost a year ago, was back home on Thursday, October 13, 2011.
According to the KSEE News Tusan says, "It's been down all the way through. It's like losing a best friend. You're really attached to a horse like that because this horse is a special horse."
Tusand tried to find Cisco, but could not find his missing buddy. This week one of his employees spotted the mini in Fresno, CA because of a unique mark on the horse.
Tusan said, "It was unbelievable. It was hard to imagine he was alive. When you give up or lose something you figure it's gone and it's never going to come back, so it's just amazing he's back."