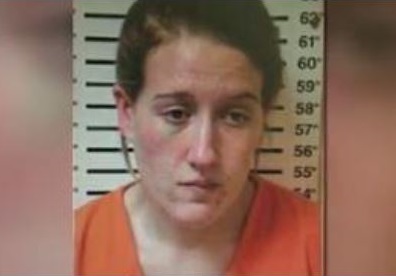 Fallon Blackwood was arrested on April 3, 2018 in Macon County, Alabama


STOLEN HORSE INTERNATIONAL, INC.

PRESS RELEASE – FOR IMMEDIATE RELEASE
For more information, contact: Pamela Miller, Volunteer Reports Manager
Email: pamela.miller@netposse.com
Vet Student at Tuskegee University in Alabama Leaves Horse Victims in Her Wake Across Multiple States
Updated: Saturday April 21, 2018
A 3rd year veterinary student at Tuskegee University in the State of Alabama has left many horse victims in her wake across multiple states. Reports have been received by Stolen Horse International aka NetPosse.com from horse owners in the states of Alabama, Georgia, Kentucky, North Carolina, South Carolina and Tennessee.
Their owners all had circumstances change in their lives and their horses were all given in good faith to one woman in Alabama. This young Tuskegee University vet student promised they'd be in retirement homes, companion animals for her barrel horse or she would train them and use them for her personal trail horses. She lied. Not once did she tell anyone that she was going to sell them or take them to horse auctions. If she had none of the owners would have let her have their horses.
The horse owners have reached out to their local law enforcement agencies to file reports. Fallon Blackwood was arrested on April 3, 2018 for a felony charge of obtaining property under false pretenses in North Carolina. She was arrested at the university and held in Macon County, Alabama jail until she was extradited to North Carolina. She was released on a $5000 bond once she arrived in North Carolina. A hearing has been scheduled for June 11, 2018 in Martin County North Carolina. Law enforcement continue to investigate the cases throughout the six states and are looking into pursuing criminal and federal charges. At this time, the estimated value of the equines, goats, equipment, supplies in which Ms. Blackwood allegedly obtained under false pretenses is $72,800.
One former owner received a fake vet bill from Ms. Blackwood, which was part of the story that the she had to have one of the horses, Clue, euthanized because of a severe case of colic. After further investigation, it was determined that the vet that was listed on this bill is not listed with the licensing board for the State of Alabama.
Stolen Horse International, a nonprofit organization also known as NetPosse.com, is well known as the "lost and found' place for horses on the internet for the equine industry. NetPosse.com offers horse theft and equine ID education, assist in search and recovery of stolen or missing horses, as well as other equine equipment.
"I am heart broken. Sick. Disgusted. Infuriated. I thought I was doing right by my horse by giving him to a home that would be able to provide him with the attention and care I felt he deserved. I have had horses in my life for over 20 years now and even as an avid horse lover, I was deceived. Because of my love for horses, I could never fathom this happening but unfortunately, it is a hard life lesson I am currently learning." says Lindsay Rosentrator, owner of Willie.
"Two of these horses, Samson and Rocky, my husband and I raised from birth. The Mustang, Cheyene, we rescued from a pasture after being abandoned. We loved all three very much. It broke our hearts to have to rehome them, but my husband developed health problems and we really had no choice. We thought we were sending them with someone who would love them and spend the time with them like we had. We were misled by a supposed vet student at Tuskegee University. I have pictures of the girl loading up Rocky and Samson. I shudder to think what she actually did with them. This was a very sad day to learn that she was lying to us. Reliving the painful day all over again. I hope we can get justice for ours and every other horse and owner.", says owner, Pamela Hughes.
This is just a couple of the horse owners that fell victim to the deception of their horses being provided a forever home with this student. Some had verbal contracts, some had written contracts regarding the transaction. Messages and texts were also kept discussing the transactions.
On February 28, 2018, Stolen Horse International, Inc. received the first online report on its website, www.NetPosse.com. Since that time, 33 victims have come forward and filed reports for 51 equines and 2 goats. Numerous other individuals have spoken out that they too fell victim to this vet student. Stolen Horse International, Inc. began distributing the information via their NetPosse Alert (the horse community's Amber Alert) on the Internet to hundreds of social media groups and private email contacts in an effort to rally the public to help these families who all had one thing in common, they were misled by a young lady used her status as a veterinary student to mislead the owners into believing their horses would be in good hands and have a forever home or be returned to them if she was no longer able to care for them. Many of the owners had contracts signed by Ms. Blackwood stating that she would not sale the horses, send them to an auction, kill pen or slaughter and would return them to the owner if she was unable to continue to care for the horses.
You will find the reports filed through NetPosse.com's webpage with information and a printable flyer in each NetPosse.com listing, which is where any updates or leads will be posted. Anyone interested in helping can visit the website. "If you have any information regarding this situation, individuals involved, or you have fallen victim to this situation, please contact us immediately." says Pam Miller, Volunteer Reports Manager for Stolen Horse International.
Pictures, flyer, contact information, updates and other information are on the NetPosse webpage to identify this case quickly when calling in a tip. Anyone with information is encouraged to contact Stolen Horse International with any information.
The report listings that have been received thus far are as follows:
Bird Man, Report #NR00542, Willie, Report #NR005422, Lia & Trouble, Report #NR005427,
Clue, Report #NR005430, Grey Lady & King, Report #NR005433,Cocoa & Tibby, Report #NR005434, Micky, Report #NR005435, Maddux, Report #NR005436, Ranger, Report #NR005437, Cheyenne, Samson & Rocky, Report #NR005439, Blondie, Report #NR005440, Georgia, Report #NR005441, Dragon, Report #NR005442, Dixie, Report #NR005443, Gambler, Report #NR005444, Batman, Report #NR005446, Sadie, Fred, Red, Jersey, Fancy & Wrangler, Report #NR005447, Goober, Report #NR005452, Daisy & Donkey, Report #NR005454, Jericho, Report #NR005462, Comanche, Report #NR005467, Beua Shae, Report #NR005469, Athena, Cochise, Mariposa & Pica, Report #NR005470, Ember, Report #NR005451, Thor, Report #NR005475, Lady, Report #NR005476, Stormy, Barnabas & Jasper, Report #NR005481, Coneja, Maraca, Maddie Rizo & Bon Bon, Report #NR005479, Teke, Report #NR005475, Sparky, Report #NR005477, Belle, Report #NR005489, Blondie & Ella, Report #NR005496, Copper, Report #NR005498
Link to see all reports listed under the "Vet Student Cases": https://netposse.com/trending.asp
"Circulating the flyers for these horses as well as the NetPosse.com Alert nationwide is imperative, as they could be anywhere by now. These flyers are one tool that brings home many horses and must be posted in as many public places as possible," says Debi Metcalfe, founder of Stolen Horse International. "And remember, not everyone has internet access. Please post their flyers in public places as well."
© 2018 – Stolen Horse International Public Relations – Pictures are available upon request.
For more information on Stolen Horse International and its programs, visit the website at www.netposse.com. Stolen Horse International is a Section 501(c)(3) organization under the Internal Revenue Code. Contributions to it are tax-deductible as charitable contributions.