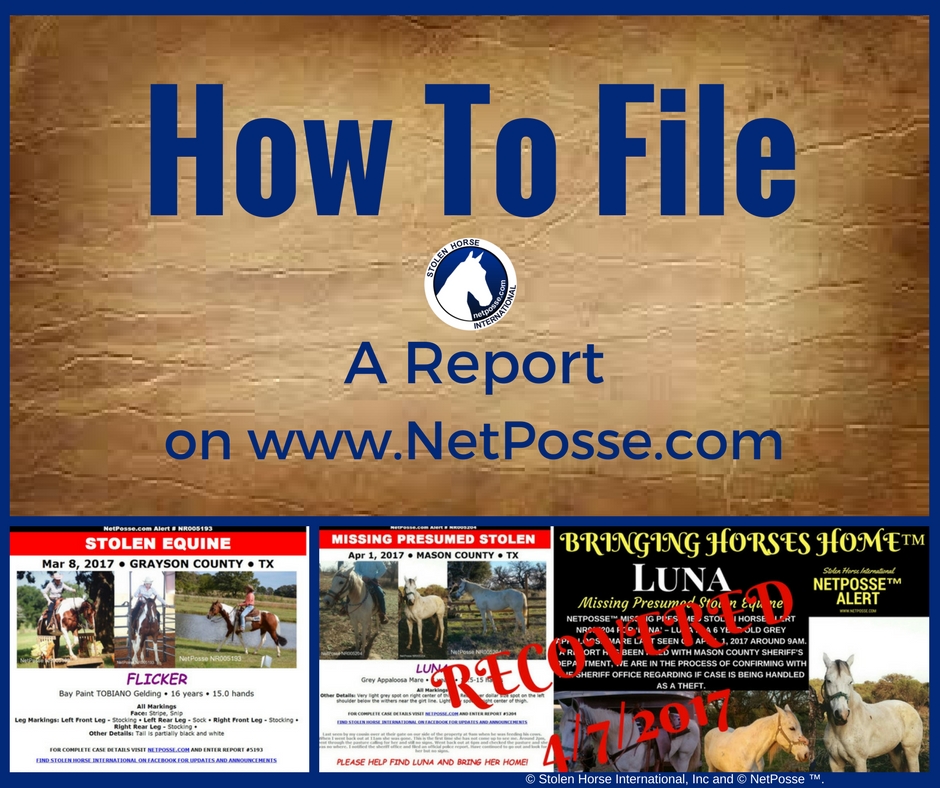 We receive notices everyday of missing, lost or stolen horses. We want to help everybody to search for their horse but in order to do that, we need an official report filed with Stolen Horse International aka NetPosse.com. Please follow these steps to file a report:
To file a missing, lost, stolen or searching for horse report you will need to create an account and log in on www.netposse.com.
Click on FILE A REPORT in the top menu.
Choose the type of REPORT you wish to file.
Choose your extras, your final price may depend on additional features you select. Some base REPORT types are free but you can add extras on.
Pay if required.
Upload pictures, and EDIT your report to complete the required information.
To access your report to edit it go to My Account, My Registry / Reports and click on the report you filed.
You can reach the report manager, Pam Miller, or assistant report manager, Dawn Thomson, via email for help: Their emails are:

If you have not already done so, call law enforcement to make them aware and file a report with them as well as animal control. In some states you need to contact the brand inspector or Agricultural Livestock Division to notify them as well.
If you have any questions on how to file the report, please feel free to contact us through the website via the contact us button.
Pam Miller​ or Dawn Lambert Thomson​ are the ones that process reports and they will be in touch with you just as soon as possible.
We appreciate your support and your trust in our organization to help you during this difficult time. We look forward to assisting you!
#Report #HowTo #File #NetPosse #BringingHorsesHome #StolenHorseInternational #JustAsk #WeCanHelp #NeverGiveUp