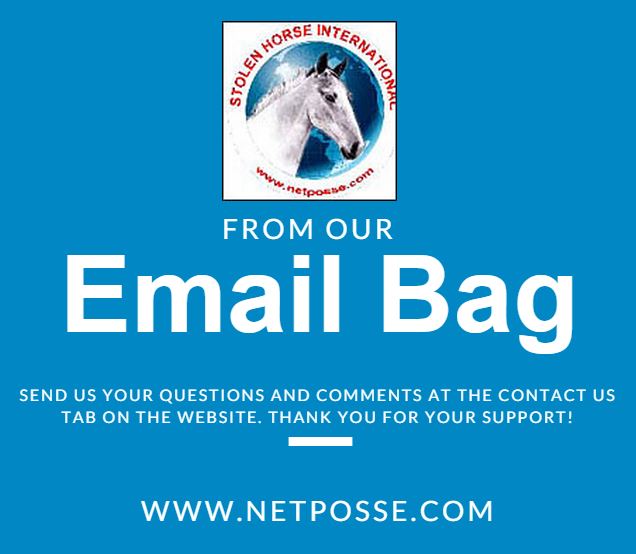 We received the following email from one of our supporters. It made us wonder if anyone else felt the same way as this supporter. We are posting the note and our response just in case more people want to know why we do these reports.
Subject: Ads for sold horses
I'm curious why a site purported to be for the purpose of recovering stolen horses would put up a post from a former owner looking to find a horse she legally sold to a third party six years ago. Up until this time I have paid close attention to your posts, assuming that they are for horses that have been stolen. If you are going to allow people to use your service to satisfy their curiosity about what happened to a horse they sold, I'm afraid interest in your posts will diminish.
Our Response
Since Stolen Horse International (aka www.NetPosse.com) was formed more than 16 years ago due to the theft and recovery of one horse, the nonprofit has expanded from stolen/missing horse listings to include Stolen Tack & Trailers, Found Equines, Searching for Equines, Searching for Equine History, Stolen Equipment, Stolen Livestock, and most recently (about five years ago) Criminal Attacks on Equines. We were also one of the first nonprofits to step up 10 years ago after Hurricanes Katrina and Rita and offer free listings of any pet or equine lost in Natural Disasters. That service is still extended any time an area experiences a natural disaster.
As we've grown over the years, we have been happy to offer more services at the request of the public because of the resources and contacts we have cultivated, as well as the extensive volunteer network. We also are proud to be able to serve horse owners in a greater capacity than in the very beginning by expanding our services to the agricultural industries. Many horse owners also own working dogs, livestock and equipment and needed our protection and help with these when stolen . This expansion is a good thing, and is actually not recent at all. It is simply perhaps more noticeable due to the explosion of social media in recent years. We are not alone in gaining exposure in part to social media, and we do what we can to incorporate that power within our network and alert system and use it as a one of our many tools for helping horse owners and others who utilize our services.
While we primarily focus the public alerts on Stolen and Missing Equines or Stolen Tack and Trailers, I am actually surprised this is the first time you have realized we do more, and yet you seem disappointed. No other organization - for profit or non profit - does what we do for so many with so little. I hope you can embrace the full scope of what we do in a positive way.
In particular, Searching for Horse reports are utilized in many situations. I have a listing from a horse that was lost to me when I was only 12. Giving him away was not my decision, and I could do nothing legally to get the horse back since I was a minor. I am sure he is long since deceased, but this happened well before the Internet or NetPosse existed. It would do me a world of good to know what happened to him, and there are others in these circumstances who are now of legal age that would like to find their horses. There are others who had to let go of a horse due to a divorce or loss of a job and perhaps they were promised to be notified if the horse was ever sold again or would simply like to know the horse is in a good place. There are myriad reasons for filing a listing such as this, and we do not publish these horses as stolen or missing as we do make every effort to not purport false information. However, some people need closure, and they turn to us to help them with that.
I have to wonder, though you do not say which report you are referring to, if this one struck a chord because it is somehow personal for you. If you have an issue with one of the listings, we also offer a rebuttal process found on each page listing. We know that despite someone certifying several times during a report process that all information is true and correct, not everyone is completely honest in a report, which is the purpose of the rebuttal.
If I can offer further clarification or help in a particular case, please let me know.
Sincerely,
Angela
~ Angela Kirby ~
NetPosse.com Executive Coordinator
www.netposse.com
Horse Theft Education Begins Here!
Volunteer AND Victim: www.netposse.com/Volunteer_Victim_StolenTack.htm