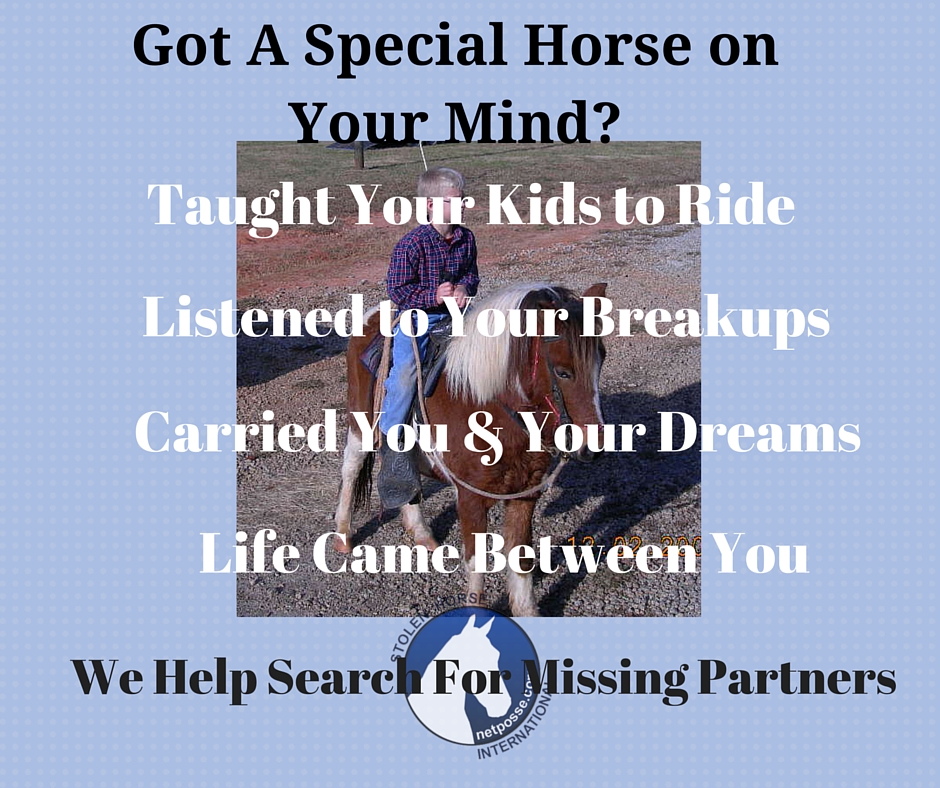 Life just gets in the way sometimes, doesn't it?
You've got that 'heart' horse-the one that is just so, so special to you. Maybe you rode that horse while you were in high school and that horse heard about all the hook-ups, break-ups, and make-ups in your life. Perhaps even participated in your engagement or even your wedding. Horses hear a lot of things and never tell a soul.
Maybe you went into the military-and got deployed overseas. The people you left your horse with were folks you thought you could trust. But when you came home, your best friend was long gone-and so were those 'friends'.
College can be tough on having horses-and parents will often object to the expense of the horse plus the expense of college. It's either one or the other-so your horse is reluctantly sold. Your heart is broken, but there's nothing you can do.
We at NetPosse hear all of these-and quite a few others. Basicaly, they all revolve around the same thing-people want to try to find the horse again. Sometimes they just want to know that she/he is okay and maybe just go visit once or twice. They'll be happy with that. Others want the full monty-they want to try to repurchase the horse if at all possible.
Our position is: We will assist you in locating the horse. That's it. What happens between you and the current owner is between the two of you. If the horse was legally sold at any point, that has to be respected. There are various legalities that must be observed-and we will be happy to help you navigate that minefield.
Please note: NetPosse is not made up of attorneys and does not give legal advice. Any and all information we do give out is based on years of experience in working with the public, horses, and law enforcement.