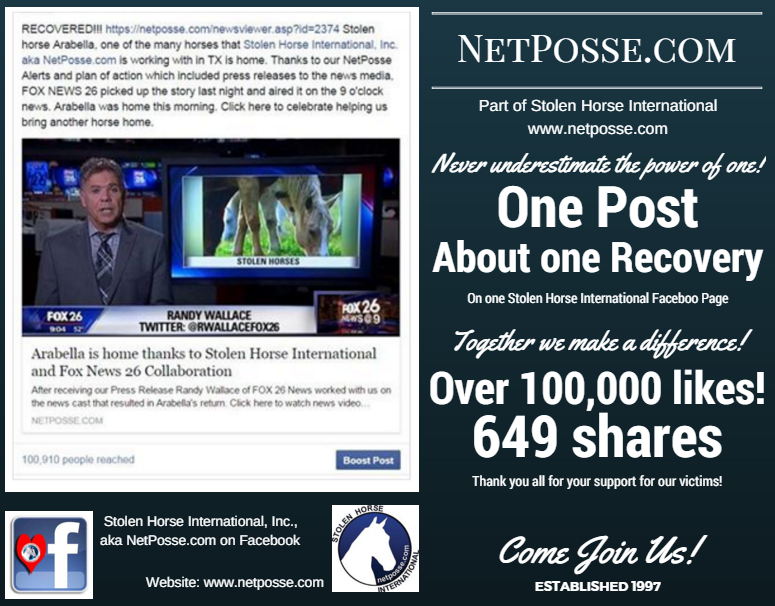 Stolen Horse International is an educational nonprofit organization that provides education to horse owners about the many ways horses disappear and how to protect them before the worst happens.
NetPosse.com is a division of Stolen Horse International that has listings of stolen, lost and found horses, tack and trailers listings. The NetPosse Alert originates here and is sent to tens of thousands nationwide, sometimes even worldwide.
CASE SUMMARY
Arabella is home today becasue of Stolen Horse International's Plan of Action which resulted in the news story on local news. Once all requirements were submitted on January 18, 2016. Randy Wallace, of FOX 26 News did a great report after working with our volunteer case manager on the 20th of January. Arabella was home the next morning. Read the story here.
YOU CAN HELP
Do you want to help someone in need? Volunteer by registering for an account on www.netposse.com and then fill out the VOLUNTEER FORM.
Join our mailing list brought to you through Constant Contact for alerts, announcements and fundraisers. CLICK HERE.
Like Us on Facebook: https://www.facebook.com/StolenHorseInternationalNetPosse/
Never Underestimate the Power of one!