Fort Lupton, CO – Imagine going to the barn to feed only to find that your four-day-old colt is gone! Gypsy, the newborn colt was immediately reported missing as soon as the owner discovered only the foal's visibly upset mother. Owner, Caiti Hladky said in her post on social media, "We are devastated. There are baby hoof prints right outside the gate and someone's footprint that is twice as big as mine. Tracks that look like (they) backed close to the gate and pulled out. He did not get out or get attacked by a predator. He was taken!"
It appears, Gypsy named after its breed, was taken by someone between the hours of 10:45 pm April 20 and 8:30 am April 21 from the farm which is in the 13600 block of Weld County Road.
The sheriff's office reported that the newborn colt is valued at 12,000. They are asking the public to keep their eyes open. "Note the pattern of its coat, which is unique to each animal. Take particular note of the unique pattern of the coat near the colt's hind legs."

Caiti also filed a report on Stolen Horse International's website, the nation's go-to nonprofit organization when a horse is missing, lost, stolen and more. You can find a printable flyer on Gypsy's webpage. Please, go to the webpage, read the details and updates, share the p https://netposse.com/?4205 on all social media platforms.
Anyone who thinks they've encountered a similar-looking horse or who has any information about this case is asked to contact Weld County Non-Emergency Dispatch at (970) 350-9600 or Northern Colorado Crime Stoppers at 1-800-222-TIPS (8477). Those submitting tips through Crime Stoppers which lead to the arrest and filing of charges on a suspect(s) may be eligible for a cash reward.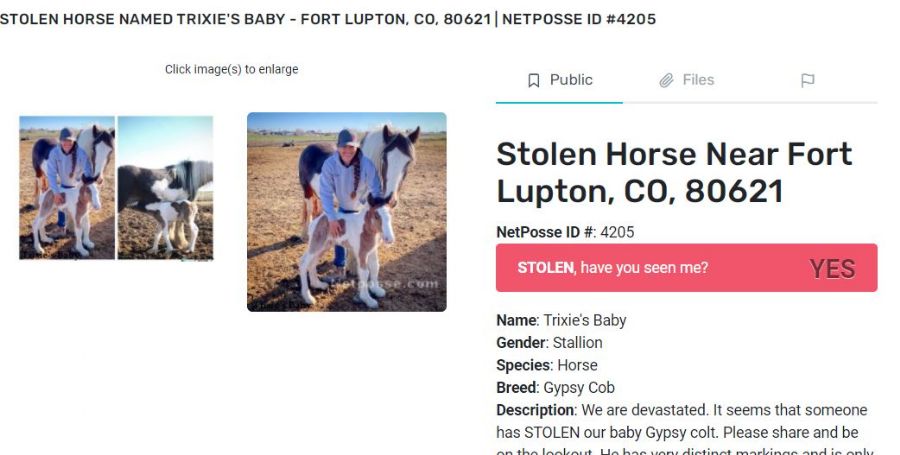 Click the image above to go to Gypsy's webpage.