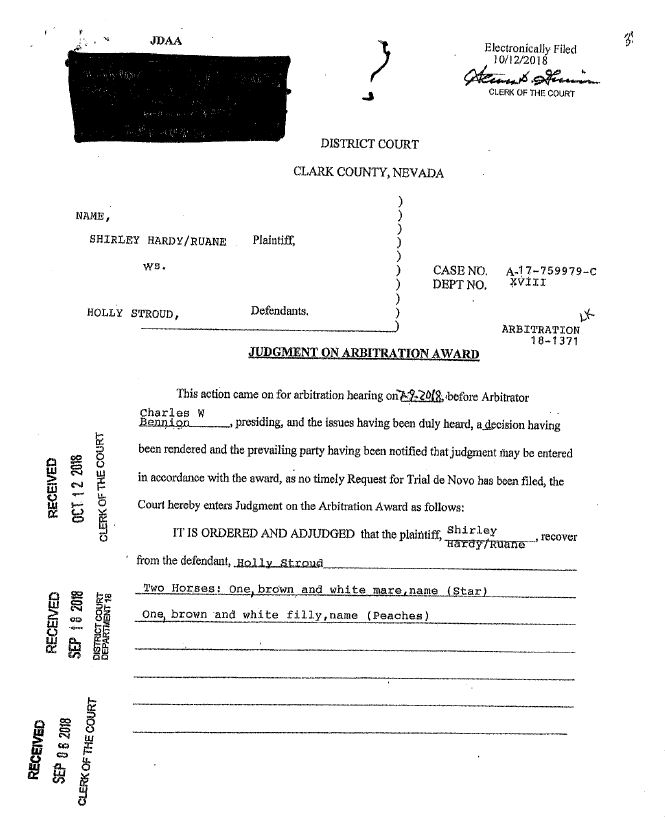 13 Action News published a story regarding Peaches and Star the 2 missing horses out of Las Vegas, Nevada on October 22, 2018. In the story, 13 Action News states "Two former friends are in a legal tug-o-war in a dispute over personal property that happens to be two horses named Peaches and Star.
Shirley Hardy says she feels betrayed by the legal system after jumping through legal hoops for nearly two years."
13 Action News went on to explain that there was a verbal agreement between Shirley Hardy and Holly Stroud which intalled "The pair allegedly arranged for Star to give birth at Stroud's Las Vegas property and if the mare produced a male, Stroud would keep the baby and return the mother, but if Star produced a baby girl, both mother and baby would return to Hardy."
This matter has been presented in court and an Arbitration Award was issued to return both horses to Shirley Hardy. However, Ms. Stroud has refused to comply with the judgement stating she was "following her attorney's instructions not to turn over the horses".
According to the article, "legal experts recommend taking steps in any civil agreement to protect yourself:"
GET ALL AGREEMENTS IN WRITING
DOCUMENT EVERYTHING
HIRE LEGAL REPRESENTATION TO ENSURE RIGHTS ARE PROTECTED
For the story in it's entirety, please click the link below: KTNV.com
https://www.ktnv.com/news/investigations/fight-over-peaches-and-star-leads-to-ugly-legal-tug-o-war