An article released by www.thehorse.com on June 23, 2016 urges North Carolina horse owners to vaccinate their equines after Eastern equine encephalitis (EEE) was confirmed in horses in Horry County, South Carolina, in the past three weeks. Horry County, South Carolina borders Brunswick County, North Carolina.
According to the article, the State Veterinarian, Doug Meckes, DVM, advised "If your horses exhibit any symptoms of EEE, contact your veterinarian immediately."
One of AQHA's Corporate Partner's, Pfizer Animal Health,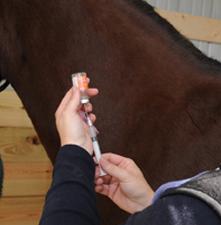 Photo Credit: AVMA
Prevent EEE by vaccinating your horse now
explains that Eastern equine encephalitis, commonly referred to as EEE, is a viral disease that is spread from birds or small mammals to horses by infected mosquitos. It is one of several Mosquito-Borne diseases that can affect the central nervous system and cause severe complications and death.
You might ask, what are the symptoms of EEE? According to Pfizer Animal Health, signs in an infected horse can be varied but usually begin with:
Fever
Depression
Listlessness
Symptoms then progress to more serious neurological signs such as:
Incoordination
Stumbling
Circling
Head pressing
Coma
and often death.
Once the horse becomes infected with the EEE virus and develops neurological signs, the disease is fatal in roughly 90 percent of cases. There is not an effective treatment and seizures resulting in death usually will occur within 48-72 hours of the first indication of illness in the horse.
"Fatality rates reach 75-80% among horses. Horses that survive might have long-lasting impairments and neurologic problems." according to www.thehorse.com's article.
Dr. Meckes went on to say "If your horses exhibit any symptoms of EEE, contact your veterinarian immediately."
Vaccinations are not the only course of prevention. Horse owners also need to reduce the mosquito populations and their possible breeding areas. It is recommended that stagnant water sources be removed and keeping animals inside during the bugs' feeding times, which are typically early in the morning and evening, and using mosquito repellents.
For the full story, please visit www.thehorse.com or click on this link: http://www.thehorse.com/articles/37751/north-carolina-horse-owners-urged-to-vaccinate