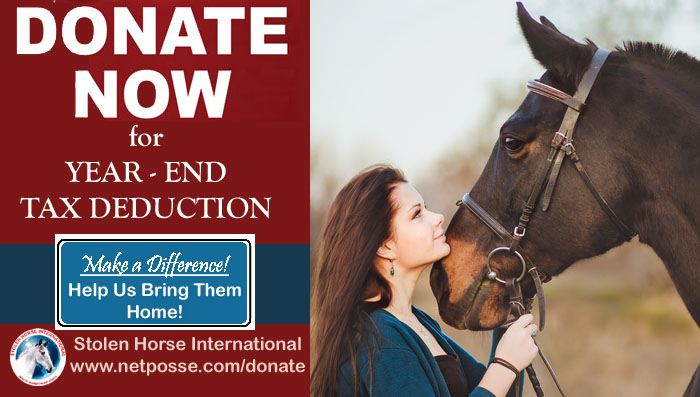 Now in existence for more than 16 years, Stolen Horse International, Inc., continues to strive to expand its programs and offerings to the horse community. We are writing to ask you to support our organization this year with a
donation
to our annual fundraising campaign.
Supporting charitable organizations and horse rescues, which include Stolen Horse International, are often atop equine enthusiasts' contribution lists for the holiday season. Without the assistance of compassionate individuals just like you, we wouldn't be able to serve the horse community like we do each year.
We ask that you make a commitment to support our annual appeal by making a
cash donation
. This year our goal is $30,000 and we hope that you will be able to make a contribution. Your generosity will make a difference in the lives of many victims by allowing us to continue our work.
We have enclosed links and an address where you can make your donation. Remember that every donation makes a difference, regardless of size.
We are a 501 c 3 nonprofit rescue organization
Our rescue is like no other in the world. We rescue missing horses and their owners, too! We hope that you will be able to take part in one or more of the exciting events, recoveries or programs this year and experience first-hand the pride we take in supporting our cause.
"The best move I made in this entire mess was to contact Stolen Horse International. Debi Metcalfe was my greatest source of information and emotional support during the entire criminal and civil case. She kept me grounded and focused, and she kept me clam when I thought I was going to totally lose my mind."
An industry leader, our programs are unique and second to none with expertise in equine ID and case successes . There is no one with more experience doing what we do in the horse world.
You might or might not see a rehabbed horse saved from an auction on our website. We do not have any bleeding heart pictures or pleas to save a horse from slaughter. However, we help do both by helping them before they reach those stages in their lives.
To ensure donors make the most of dollars or supplies they contribute, we are sharing our wish list.
Our organization needs:
Funds for basic operations—Internet, phone lines, paper, copy services, printer cartridges, insurance fees, accountant fees, website maintenance, expenses and hosting fees, web IT, utilities, monthly service fees, equipment repair or purchase costs, technical support etc.
Funds for technology updates, fundraising costs, marketing, product development and legal costs.
Fees for professional newsletter and email service. We are currently using Constant Contact.
Funds to support our victims' services programs with through products such as but not limited to, brochures, website reporting facility, articles, consulting, and much more.
Funds for educational outreach program at public events such as booth fees, insurance, electrical, gas, food, lodging, booth supplies, etc.
Dedicated server—We have grown so much that we will soon need to have our own dedicated server. The cost will be between $1,200--$2,000 a year (depending on our needs) plus IT services.
Sometimes you might have items on hand you do not use anymore, we are always happy to have them for our store or auctions, especially if they are new or gently used.
Donors can also make a difference by volunteering your time, even if you are halfway around the country from our office. We always have a job for you. We currently need:
Grant writers

Artists

Editors

Writers

Professional fundraiser

Marketing services

Volunteers to head up current and future projects

Facebook Network Coordinator
NetPosse is an all-volunteer organization
We do not pay anyone to work at Stolen Horse International so we do not pay wages. All of your donation dollars are directly back to this nonprofit in order to maintain this organization. We want to continue to provide the second-to-none victim's services and educational outreach programs we offer now and increase those in the future.
Remember that your gift might be tax-deductible! Without you there will be no Stolen Horse International or NetPosse.com. We need your help!
---
MAIL DONATION: Send checks to: Stolen Horse International, WHHH Campaign, PO Box 1341, Shelby, NC 28151
DONATE ONLINE: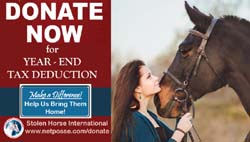 Click image to donate.