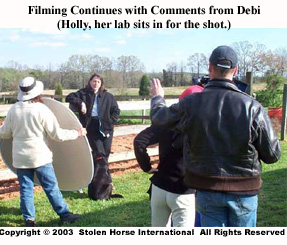 WE CAN'T DO THIS WITHOUT A LITTLE HELP FROM OUR FRIENDS - We also need donations to make this activity project a success. We will use many volunteers but there are some positions that won't be free. Crew, food, editing just to name a few. Please, help us with this project for Stolen Horse International and DONATE to the FILM PROJECT in the drop down box. Click here to donate now.
STOLEN HORSE INTERNATIONAL, Shelby's hometown nonprofit organization is holding an Open Casting Call for a film project to be shot in September in and around Shelby, NC. The nonprofit's activity project will include educational information for many that are in the horse industry as well as the horse lovers of the world who like true heartwarming horse stories .
The organization needs the support, both financially and physically from the community to make this project a success. Local characters are welcome at the casting call which needs "cowboys" and "cowgirls" and additional production crew members. There will be a few extra roles.
This is a limited budget project; however, there is pay for selected roles and crew. This is a promising project which can help more people learn about our community as well as the work of Stolen Horse International.
Casting is for males and females ages 18-65. All ethnic backgrounds welcome. We have one role each for a girl and a boy ages 8-12. Advanced riding skills are encouraged. Wardrobe is needed for 19th century /Old West/Cowboy type clothing. Please bring clothing information and pictures to the audition.
Male and Female Voice Overs are needed. Please bring a copy of your voice over work.
While this open call is primarily for a specific project, this will also enable us to keep a pool of actors in our files for use on similar projects in the future.
Auditions for actors and crew will take place in downtown Shelby. Actors auditions will consist of an interview and an improvisation. No script provided! Please bring headshot and resume.
Those interviewing for crew positions need to bring resume along with a DVD of your work OR links to your work if you are applying for DP/ Cinematographer. Bring Resume for all other positions. Also bring a list of your equipment.
DATE: Saturday, August 10, 2013
Actors: 10:00 a.m. to 3:00 p.m / Crew: 3:00-6:00 P.M.
Cleveland County Chamber
200 S. Lafayette St. Shelby, NC
See you Saturday. NO phone calls, please.
---
Click button below to donate now.