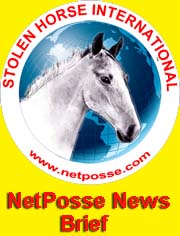 What if everyone assumed this horse had been "dumped" or abandoned? Would it have made it home? Not every horse you find is dropped off as many are so quick to conclude. Read this new blurb. This horse and owner are lucky!
SOUTHERN PINES - After a brief time apart Thursday afternoon, a horse and its owner were reunited just before 5 p.m., Southern Pines police said.
Police said a missing horse was found Thursday afternoon, but no one had reported the equine missing.
Al Carter, director of animal operations in Moore County, said the horse was found by a Highway Patrol trooper on East Indiana Avenue near N.C. 211.
On Thursday night, the Highway Patrol said they did not have any information regarding the incident.
With the help of animal control officers, the animal was safely corralled at a local farm in Southern Pines, police said.
Carter said he did not have more information regarding the horse or its owner Thursday night.
- Caitlin Dineen