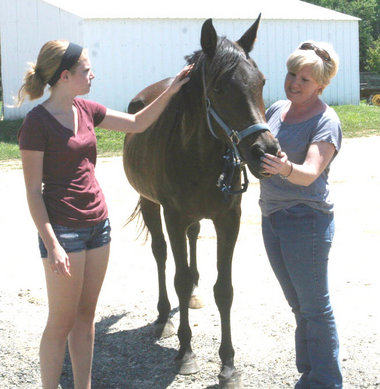 em>

Staff photo by Kevin Gross -Devon Dietrich, left, and her mother Laura Dietrich, visited the horse that ran loose a month ago Monday in Alloway. They plan to take it home to Collegeville, Pa.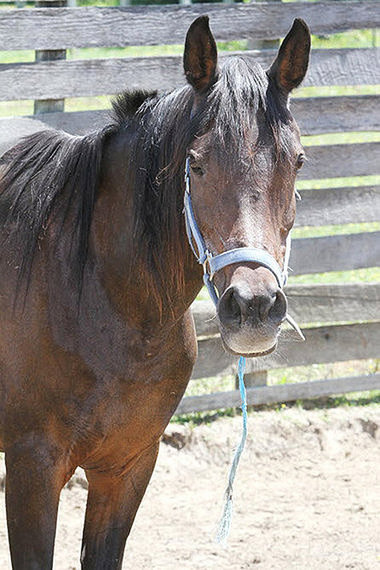 She looks like thousands of other horses. This Arab mare at the DuBois farm in Alloway Township remains unclaimed. - Staff photo by Britney Lillya
Monday, July 02, 2012 - Exactly one month after bringing the dark brown Arab into her farm, Christine DuBois and friends are relieved to have found an owner for her and so are we here at Stolen Horse International.
According to the NJ.com news article, the horse does not appear in either woman's opinion to be the type of horse that would try to runaway. Instead, it is assumed that her previous owner let her loose.
It is possible that the owner was unable to afford taking care of her any longer and set her free rather than handing her off to someone who could just as it is stated in this article. It is also possible that none of these conjectures are true at all.
The horse could have been stolen and transported from another county or state before escaping or being let out. Therefore a local owner would not be around to be found.
It is also possible that a horse can travel great distances, cross county lines and be taken further from its home by well meaning people, thus making it harder for the owner to find their horse and vice versa.
All of the above are not only possibilities but are facts from actual cases seen by Stolen Horse International over the years.
We may never know how this mare came to be where she ended up when she was found. It is wonderful that she has a new home and that so many caring people have taken care of her. We are so thankful for that because this is not always the case. This is one lucky mare!
But what if there is someone out there somewhere still searching for her? Just a thought.
---
Resource:NJ.com, By Kevin Gross/Today's SunbeamToday's Sunbeam, http://www.nj.com/salem/index.ssf/2012/07/horse_found_in_alloway_townshi.html

Related coverage:

• Alloway's mystery horse is still unclaimed after the 10th day
• Horse found five days ago running along rural Alloway Township road remains unclaimed.
• Week passes without anyone claiming horse found wandering along Alloway Township roadway.
ID Your Horse
Help prevent this from happening to your horse!
Read more about equine identification methods here.
Visit the NetPosse Store to purchase microchip kits and freezebrands.