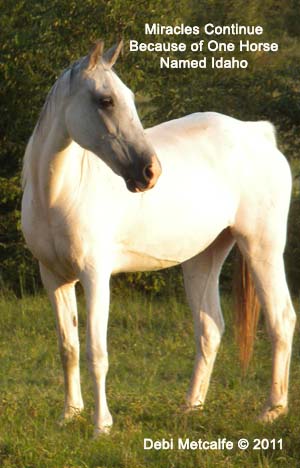 Idaho, now 28 is the horse behind the NetPosse.com Alert that helps bring horses home.
Throughout history there have been horses whose names we still recall as displaying the true heart and spirit of a horse, such as General Lee's Traveller, Battle of Little Bighorn survivor, Comanche, and racing legend, Seabiscuit. And there is a horse that might not typically be considered a hero – she has never carried a general into battle, escaped capture on the open plains, or proven herself on a racetrack – however, she is a hero to horses, as well as humans. Because of her, many other horses have been saved from an uncertain fate, even death – all because she once grazed quietly in a serene pasture.
The amazing story of Idaho, a Racking Horse mare, was told in the pages of "Gaited Horse Magazine" by Angela (Kirby) Beck in 2006, many years after her theft in 1997 and recovery fifty-one weeks later. But no one, including her owners Debi and Harold Metcalfe, would have ever guessed the impact that she would have on their lives. One day, the Metcalfes were just an American family with two children and a few pleasure horses. The next, they became caught up on a journey that led to places they never imagined being. The horse they once admired became on icon they would never again underestimate. The Metcalfes have learned the power of one horse.
Download The Gaited Horse Magazine article here.
September 26, 2013, marks the sixteenth anniversary of Idaho's theft. It is because of her theft and recovery that Stolen Horse International, known more commonly as NetPosse, exists today. Formed in 1998, once the Metcalfes realized that there were other victims of horse theft who needed their help, this nonprofit organization has been involved in the successful recoveries of hundreds of horses and the prevention of thousands of thefts through its educational and outreach programs, as well as its overwhelming presence on the Internet.
Debi, with Harold's support, has worked ceaselessly to build this all-volunteer organization with the help
Idaho's Home Again Collection
in the NetPosse Store.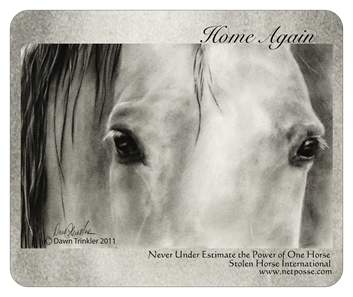 Design available in a limited edition print.
More products coming soon!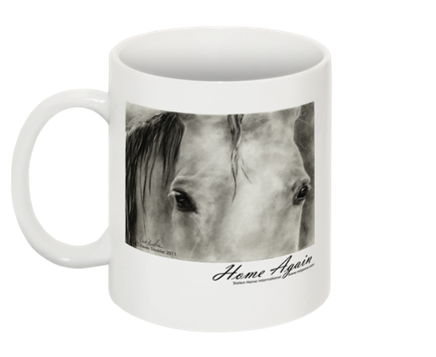 of the Board of Directors and several core volunteers. Now, 15 years after Idaho's theft, NetPosse has an international following in not just the equine community, but in law enforcement also. Professionals often seek out Debi for tips and advices, and through her diligence and determination, NetPosse has become the number one resource on the Internet for victims of horse theft. Every horse that is bought home through the NetPosse volunteer network, a NetPosse Alert (the horse world's predecessor to the Amber Alert), or a NetPosse flyer, is one more horse that might not have been recovered if not for this organization.
Today, the horse that inspired an international organization grazes peacefully in the foothills of the Blue Ridge Mountains with her pasturemates. While Idaho will always carry the physical and emotional scars as evidence of her suffering to some degree, her spirit to survive her year-long ordeal is an inspiration to all who are traveling this same journey the Metcalfes did.
As a tribute to this beautiful creature and what Idaho means to those who support NetPosse or have become a part of this organization due to their own victimization, we are pleased to offer several quality products with Idaho's image to the public. All proceeds of sales are used to fund educational programs, administrative expenses, and the like, but also to keep the costs of utilizing this site by victims to a minimum. As always, NetPosse appreciates each person and their contributions every day to this organization and to bringing horses home. As Debi always says, "Never Underestimate the Power of One!"
The design on the mug and mousepad was drawn by Dawn Twinkler of No More Brushes. Be sure to visit Dawn's website and look at her other beautiful work at http://www.nobrushes.com.
Questions? Contact Us for more!