We brainstormed with Randi Thompson, herself an expert in the equine industry, on this problem a bit and we came up with our own way to do our seminars in a setting that tired horse folk would love to not pass up. We have taken what we know about equine protection and found a vessel, pun intended, to put horse owners and informative seminars on together. The first Horse Lovers Summit on the sea was born and sailed on January 11, 2020.

We invited others to speak at the seminars and offered a well-rounded program for everyone. Not only were the seminars a hit but we found out that bringing horse people together had more benefits for everyone. The following commentary about her observations in regards to the summit is written by our founder, Debi Metcalfe.

FIRST BY LAND AND THEN BY SEA

This was a wonderful week that started with meeting each other and finding new horse friends with much in common before we stepped on the ship. We started out, most of us, as strangers and for many of us, came away as friends, many of which I am sure is the start of long-lasting friendships.
This trip meant different things to different people and we want to hear what you liked most and what meant the most to you. To me, first and foremost what that I was able to provide valuable education at the seminar, answer questions in an informal setting every day and hang out and get to know the people behind the names on Facebook. Many of you made impressions on me that were so endearing. I felt very blessed to have been a part of this trip. Thank you all for coming !!!!
Second, and very high on my list especially since I have done so many cruises, was our group that met nightly in the piano bar where we sang off-key to the top of our lungs, cut up, danced and were just plain silly at times. Other times we shared moments in music from this artist that left us all amazed, especially when the music was so poignant that you only heard silence past the notes on the piano.
So, I am going to tell you about my take away on this moment in time for myself and Harold and those who shared it with us. Keep in mind that this was cruise #17 so we were not that interested in dancing, attending every show or excursions. Not only did we want to have great seminars, but we also wanted to chill, relax and be entertained. This show fit our criteria perfectly.

THE PIANO BAR with GUSTAVO
This show was beyond outrageous with over the top musical entertainment for those who 'got it". It was also a gateway that introduced and endeared many of my new friends in our group together who love horses. Even in this fun-filled setting, I was able to answer questions about equine protection from our guests.
I'll be the first to admit that although about half of our group attended almost every night, it was not everyone's cup of tea or 'apple juice' and why we loved that there was entertainment to meet everyone's needs on the Carnival Paradise.
For those who went to the piano bar and enjoyed it then I think you will enjoy seeing our after-hours photos and reviews. We want to see your photos and hear your take on the piano man and his music as well.
Catherine Rotruck and Kim Schurg looked and acted like they are reserved on the surface. But wait, wasn't that Kim and Cathy clogging to Rocky Top and doing a dance line that kept going around and around and around the bar? I truly don't think that Gustavo expected that from what started out as quiet reserved women sitting on their seats in the back. The music, the laughter, (the beverages for some) loosened us all up and brought us all together in many ways. I thought they were prim and proper when I met them. Well, they are but there is a fun side to them, which I came to love. I found that to be true for everyone else as well.
One of the reasons that we were out so late the last two nights is because a few of us were at the bar talking with Gustavo after everyone left, and that lasted until 2:30 on the last night of the cruise. We learned a little about the person behind those keys and want to share some of that with you as it relates to our piano bar experience.
We are happy to report that what you see in the show is not always the person you get when the lights are turned off and the crowd has left. There is a calm insightful person there who like the rest of us, has special talents and a big heart.
He is not only an amazing singer and piano player but very much the entertainer. When he is on his show is not always random like it seems. As it turns out he works hard on his material to entertain the crowd. Each show is different because of the audience's feedback but many of the prepared jokes are used to provoke audience participation. Gustavo said some audiences are very sedate and not at all what this week was like with our group, and many others, adding to his material. He depends on people like us making comments so that he can use the comments while finding a way to make everyone laugh at him, and themselves. Some of those people become a little more than the people who are happily a part of his comedy and further the success of his show.
Amanda Carpenter and Randi Thompson, owner of the Ladies Horse Society Facebook page, joined us and found their seat amongst us, which was mostly in the back corner behind the piano man. Randi had her moments as she too joined in on Rocky Top with her rendition of clogging. And then there was another one who fooled me, Kelly Del Margo, who started out in the seats away from the bar. But, like many of us the combination of Gustavo's humor, keys and voice got to her too. Yes, that was Kelly in that line dancing around the pack standing room only bar. She could be found hugging a seat behind the piano as well with her new friend Andrea Jenkins.
It was not long before I convinced Lindsay Murray and friends that they needed to come to check out the piano man. It made me smile when I saw Lindsay, Stephanie Rowsam, her mom Maria Rowsam and Amy Brown walk through the doors the first time. Lindsay was hooked too and was there every night after the first time she came. I watched Lindsay and Beth chatting together and laughing and I found myself marveling again at how a white piano, the Mexican piano player and music were helping our group get to know each other better. And before you go PC on me, Gustavo refers to himself as the only Mexican who plays his own piano show in all of the cruise lines. It is hard to tell when some of his 'lines' in the show are fact or fiction but I am guessing that one is a fact.
It was by chance that a few of us ended up with seats to the right of the keyboards. My husband Harold wanted to sit there so he could see Gustavo play, as did I. We've been to piano bars before on cruises so we knew what they were about, or so we thought. It was by chance that we ended up being a part of his show but not by chance that the reserved seats were for those who planted our behinds on those seats first. It seems he took a liking to our group and enjoyed the energy that we brought to his show.
Dale Wade and Elizabeth Fink Bell-Wade started out sitting on the back wall. Only one of them remained quiet and calm after the first few songs in the show. Dale all I can say is that like Harold, you are a saint. You both have a lot of "woman" on your hands and surely know how to handle us. You are clearly the ying to our yang.
Beth soon became one of Gustavo's wingwoman with her 'no break for you" banter which also became a bar chant by many before the week was over. Beth was at her 'best' and added to the show in soooo many ways. I had not even had a drink when she was adding her thoughts to the show, so much so that I had tears in my eyes from laughing. I was afraid to get up or I just knew I would pee my pants because I laughed so hard. Beth, you captured my heart that night!!
There were also those moments when Beth and Gustavo sang right to each other face to face with a song that was always jumping like a bullfrog, namely Jeremiah. And who can forget the woman that grabbed the tip jar, ran around the bar and encouraging everyone to pay off the piano man. I am sure that Sharice, the only waitstaff in the bar, will not forget Beth either.
That brings me to Tim the Man whose laughter could be heard at many of the jokes. But mostly he sat there chuckling beside Harold and chatting with other horse cruise people. But wait, don't let that quiet exterior fool you! Tim provided many zingers that made us all laugh and he too became a part of the show ensemble for the piano man. Tim the Man became one of Gustavo's wingmen as well. One of his comments stopped the music completely and brought the piano man off his stool to high five Tim at his place at the bar. It was a very good one too! I heard it and it was one of the best lines I heard all week. Do you care to share that one Tim Van Loan?
During his first show, which many of you will remember as being a bit "raw" at times, Gustavo shared with us one night that he thought Harold didn't like his show and was about to kick his behind. Of course, I cleaned that up.

He later learned that my husband has a great deal of love for music and deep respect for the effort Gustavo put into his music. You see, Harold comes from a musical family background and has played a few instruments himself. I got to sit back and watch Harold discuss some special instruments and thoughts about music with Gustavo, which meant a lot to me. Gustavo found out that Harold's straight face was actually one concentrating on the keys and his voice. In the lyrics from Piano Man where it says, "There's an old man sitting next to me", there was always a nod to the man to Gustavo's right to the mostly straight face, Harold. I loved watching my husband enjoy this show far more than anyone knows. I loved hearing the songs I requested that often brought back memories or reminded me of moments in our life.
He flirted with Andrea who sat behind him and she played her role in his show perfectly. My friend of almost 30 years was having fun not just with me but with all of the men and women in our group, and she doesn't even have a horse. Everyone enjoyed watching that little banter between the two of them, all in fun of course.
Kelly Del Margo and Andrea Jenkins sat behind the bar drinking a bottle of champagne at the show on the last night. Gustavo was not only happy to open the bottle for Andrea but also played a special request for her, Roxanne after almost everyone left. I don't know that song myself and I am thinking that Gustavo didn't know it either but, he took his time to learn as he played. His show was over. The showman was not putting on a show anymore. He had changed to just Gustavo.
As for me, well, I enjoyed the whole show both at the keys and around the keys. If you hadn't figure it out by now, I love to take pictures and videos and document moments in time. This was one of those moments where I did just that for this group but more so for me.
I took a few videos just because I like the music, the lighting and all that went on behind the music. I also played with the lighting, the intensity of the musician and the many faces of Gustavo showed up, I think, in photos and videos. As it turns out, some of them were actually pretty good. I now have all the cast of characters above and more caught on video forever.
I kinda became the official unofficial photographer and videographer. I have a new program to learn I can't wait to see how I can use those videos as my subjects in this learning process which is a challenge I've put off too long. Of course, when I learn a new skill it is always used in my work with Stolen Horse International.
A stolen horse brought me this far when it comes to graphics, making videos and artistic pictures that mean something. Now I get to use that love for graphics to challenge me again with Gustavo and our guest as the subjects. For reasons that I don't want to go into, I also was dubbed Mama Debi. Gustavo and I know why.

For those who wondered why we encouraged everyone to join us, you now know that this meet and greet for our group was much more than a man playing the piano at a bar. We shared fun. We shared stories. We sang. We connected.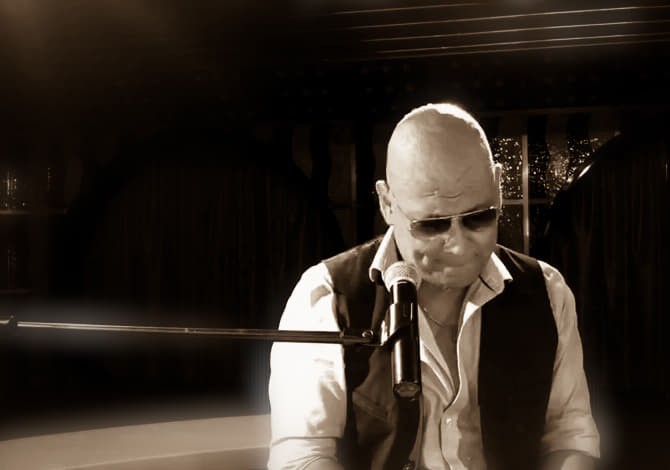 As for our new friend Gustavo, I don't even know if he sees his real talent. Of course, it is his pipes, his smokey voice, his wit, the many faces he makes, his hand gestures and his off-colored jokes. Perhaps his real talent is bringing people together in a way that only a musician with a huge heart can do. I don't think those of us who were there every night would now be as connected as we are had it not been for the piano man. I know all of us who were touched by his music and personality, hope that one day our paths will cross again. But if that does not happen, thank you from my heart, and I am sure theirs too, Gustavo. We won't remember the day the music died. We will remember the week on the high seas when it lived.