FOR IMMEDIATE RELEASE
The Ladies Horse Society
Contact: Randi Thompson
Company: Ladies Horse Society
Phone: (828) 697-4274
Email: randi@randithompsonlive.com
Horse Lovers Cruise For Friends and Family
Join us for the Ladies Horse Society/Stolen Horse International Horse Lovers 5-Day Caribbean Jan 13 -18th 2020 on Carnival Paradise. Those who have booked with us are excited as they are ready to relax and network with other horse people that they have met, or want to meet, from social media. Others are also planning on checking off a few items on their "bucket list" with the excursions offered outside the cruise while we are on land that includes riding a horse on a beach, swimming with dolphins and so much more! You can bring your spouse/family if you like with us and have horse husbands already signed up, single ladies and even single men.

While at sea we will have group activities that begin with a special "Meet and Greet" where we will choose which group activities we would like to do together. For those interested, we will also have seminars with internationally recognized speakers Randi Thompson and Debi Metcalfe who were both recently featured speakers at the 2018 World Equestrian Games and other events nationwide.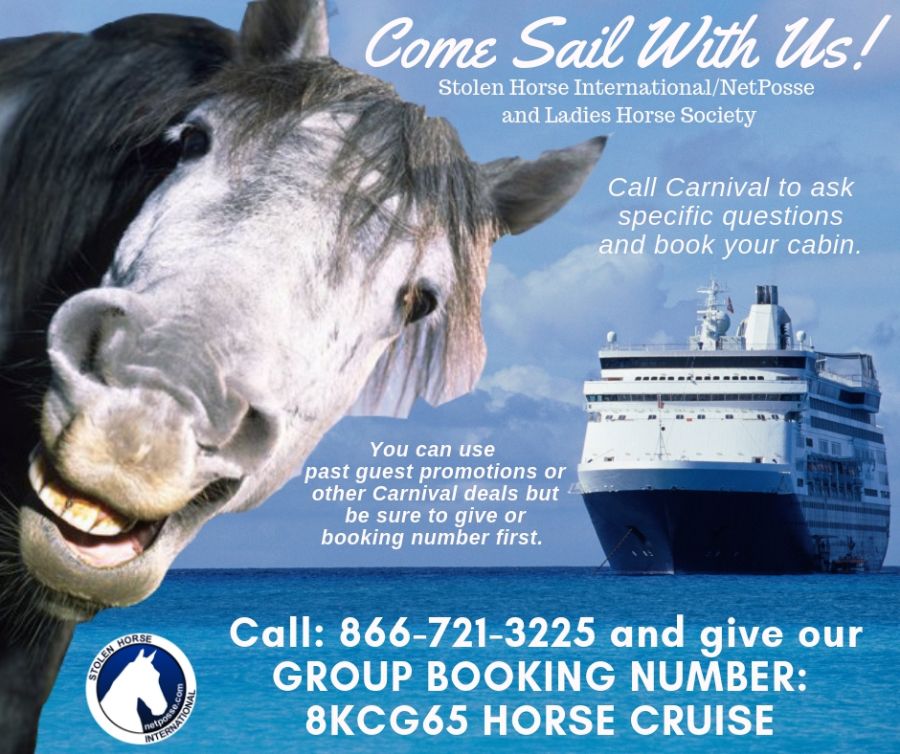 Randi states "We are going on a grand adventure with other horse people and are excited about who has already booked. This will be my first cruise and I am looking forward to meeting everyone. We will be making memories together that will last a lifetime! We were able to get great group rates for this 5-day voyage. All payments are made through the Carnival Cruise lines and they have made payments available to those who would like to make arrangements that way. Many of us will be arriving the night before and we will meet up with our fellow travelers before we depart from the port in Tampa Fl. We do have people looking for roommates, so let us know if you would like us to introduce you to someone.

Debi shares, "I am a seasoned cruised traveler myself and I am so looking forward to sailing away with people who love what I love most outside of my family, horses. I'm so excited!! For more information including our special group pricing click on this link from NetPosse https://netposse.com/article.asp?id=2150
When booking your cabin, you have to use this group booking number: 8KCG65 Horse Cruise. Only those booked under our group name and number can participate in our group activities. We also have the best prices!
Call Carnival at 866-721-3225, when booking your stateroom or for room information. Staterooms are as low as $289 per person. Each room will have two people. This price is per person. Some of our friends have also booked private rooms and will be charged at the same cost as a room with two people. (Plus $99 port fees and taxes)"

Randi Thompson is the founder of the Horse and Rider Awareness programs and the Ladies Horse Society, which are featured on Facebook with her other programs.
Randi Thompson has been coaching professionals in the horse industry for over 25 years in horse and rider training, business and marketing. She is the founder of the Horse and Rider Awareness programs which are featured on Facebook. You can join the Ladies Horse Society page at Ladies Horse Society https://www.facebook.com/ladieshorsesociety and How to Market Your Horse Business page at https://www.facebook.com/howtomarketyourhorsebusiness. Randi's other Facebook pages include, How to Market Your Horse Business, Dressage Instructors, Jumping Instructors and Movers and Shakers of the Horse World. Her website is https://horseandriderawareness.com.
Debi Metcalfe is the founder of Stolen Horse International, a 501(c)(3) a nonprofit organization, also known as NetPosse. Metcalfe, a victim of horse theft herself, has become one of the most recognized names in the horse industry. Her presentations appeal to horse owners everywhere who want to learn about equine Identifications, how a horse can disappear, (theft, disasters, civil matters, runaways) and how to protect, prevent and recover them when the worst happens. She has appeared on television and various radio programs, in newspaper and magazine articles, and addressed civic groups. She is author to the book, "Horse Theft, Been There—Done That".
Debi's website is https://netposse.com and you can visit Stolen Horse International—NetPosse.com on Facebook page at https://www.facebook.com/StolenHorseInternationalNetPosse


For more information contact Randi at randi@randithompsonlive.com or Debi at debi@netposse.com. Make sure you put Horse Lovers Cruise in the subject line.
Would you like to feature the Ladies Horse Society in an interview or publication? Contact Randi at randi@randithompsonlive.com or call: 828-697-4274 If you want to do the same with Stolen Horse International, call Debi Metcalfe at 704-472-4314 or email debi@netposse.com.
Stolen Horse International
provides news and other resources for free on this website. As a charitable organization we survive on the kindness of people like you. Please consider donating to help fund the organization or purchasing a NetPosse ID for your horse, dog or cat to help protect your beloved animals!
Donate
Buy NetPosse ID
Back