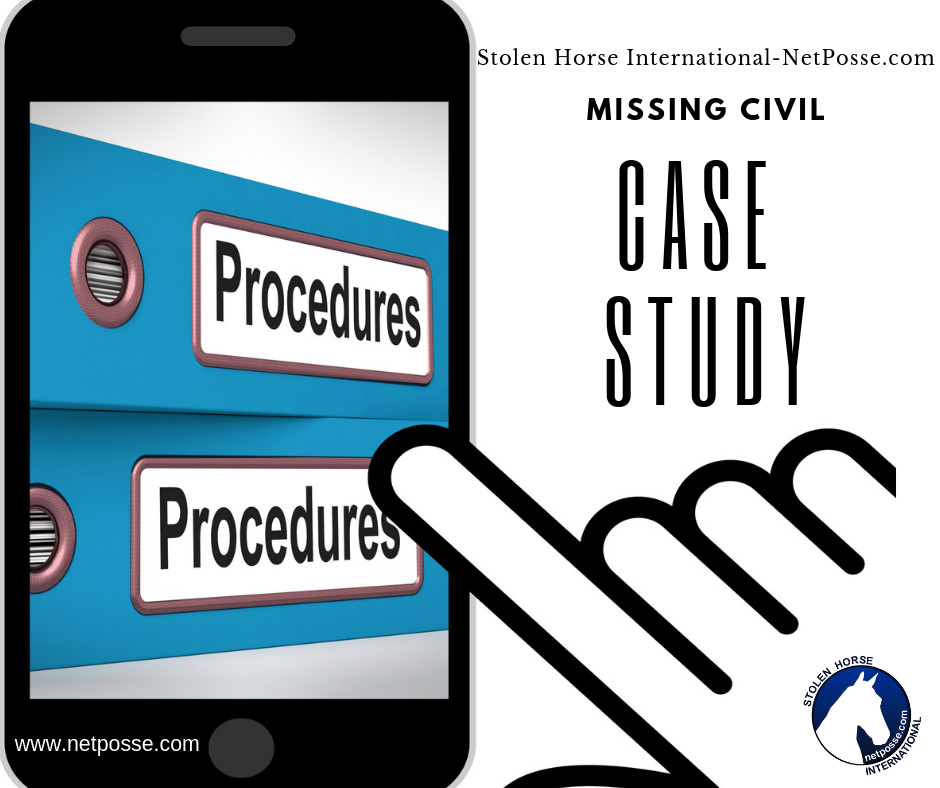 Policies and procedures are designed to influence and determine all decisions and actions and all activities take place within the boundaries set by them. Procedures are the specific methods employed to express policies in action in day-to-day operations of the organization.
Policies and procedures are an essential component of any organization. Stolen Horse International is no exception to guidelines, policies and procedures as well.
Policies and procedures are designed to influence and determine all decisions and actions, and all activities take place within the boundaries set by them. Procedures are the specific methods employed to express policies in action in day-to-day operations of the organization.
Policies are important because they address pertinent issues, such as what constitutes acceptable information, truthful information and false information, and gives this organization to handle all accordingly.
Procedures, on the other hand, clearly define a sequence of steps to be followed in a consistent manner, such as how this organization responds to filed reports and any report rebuttals.
These policies and procedures are rendered useless if our organization disregards them and fails to effectively communicate them to both the people who file reports with us, as well as those who feel a report inaccurate.
The latter part of this problem, communication with those who feel victimized, is easy to address. Our organization provides verbal and/or written information about our policies and simple instructions on how to utilize our tools to document claims and evidence with support documents.
Utilizing both policies and procedures during decision-making ensures that this organization is consistent in our decisions.
The following case study reveals how another organization failed to act in accordance with our policies and procedures, and the significant impact this failure had upon the report in question.
THE REPORT
A person filed a missing civil, not stolen, report with Stolen Horse International via our website, www.netposse.com. The report information was submitted, documents to support their claim were sent to us and the report filing fee of $40 was paid. Our goal was to help locate and verify that the horse was safe, something that the person filing said they did not know. The information was reviewed and a NetPosse Alert for the case was issued.
It is our policy that when there is 'another side' to a story that we listen. To make it easy, we provide a rebuttal tab on every report. We do not like to have our organization used by our 'victims' or other parties for their own untruthful benefit. Our procedure is to give the person who feels the report is wrong a chance to file a formal rebuttal to the report via our website, one very similar to the way the original report was filed.
We are not a judge, jury or magistrate. We do not rule on cases, just information that we are given. If we find a rebuttal to be plausible, we remove the information from our website and social pages, and then return the $10 filing fee that was paid. Why wouldn't someone who is telling the truth and has documentation to prove their story file the report?
The person filing the original report does not get a refund.
THE PRINCIPAL PROBLEM
A third-party soon claimed that the report was false via a Facebook post on our business page. Stolen Horse International saw the information and concluded that there was a possibility the other side may have valuable information and we issued a request for them to file a rebuttal case so research could be conducted to understand the details of the allegation.
We did read the comments and we did think that it was plausible, we repeat, plausible that we may not have gotten the right information from the person who filed the report. This does happen to us just like it does to law enforcement officers, court officials and to the public in general. We want to know if we got it wrong. This is another reason we provide a legal way to tell the other side of the story via the rebuttal process on www.netposse.com.
We do not respond to bullying and intimidation tactics. We respond to a rebuttal from that has details, documents and a sworn statement that the information we are being given is the truth.
Our rebuttal form had to be submitted before we could move forward. This request was communicated not only on our post thread on Facebook but directly to several individuals involved.
We even asked for a picture of the horse, a newspaper showing the date and a named person who had the horse so that we could verify the picture to be current. This was also rejected by the organization.
On March 24th, our founder was contacted by a person who said they were fostering the horse. They asked our founder to remove the listing.
OUR RESPONSE: I'm not sure why you are making this so hard when all you need to do is file the rebuttal like Pam asked to be done. How about this? You file the rebuttal and I will be out tomorrow to see the horse. I will need you to give me an address where the horse is located and permission to come onto the property. And the address and permission to come onto the property needs to be in the rebuttal form.
NOTE: Our founder does not normally do home inspections. However, since she was going to be in the city where the horse was said to be on business the following day, she was going to make an exception, if the rebuttal with permissions were filed.
THEIR RESPONSE: I was never asked to file a rebuttal by anyone. I wasn't even aware until I saw (name has been removed) post that there was a process for rebuttal. I will fill it out. My address is (address has been removed) - you have my permission to come on my property to see the horse.
To make it very easy for them to file a link to the rebuttal for was sent with visuals. The person did start a rebuttal report on our website. Then this happened.
THEY CONTINUED A LITTLE LATER: The director of (RESCUE NAME) has asked that I not fill out a form to take the post down. As much as I detest all this drama, I am not in the position to make the call on this. You are still welcome to come see the horse.
NOTE: Without the written legal permission that our rebuttal form supplies, there was no way our founder was going to walk on anyone's property to see a horse, especially after reading some of the organizations post.
During the NetPosse Alert process, it became clear that there was a consistent theme among the people associated with the rebuttal side of the case. They ignored our statements of fact and demonstrated a history of problematic behavior on social media.
The problematic behavior included negative Facebook comments and unprofessional behavior becoming of the type of organization they represented, unnecessary drama and on numerous times our request for the rebuttal was ignored, even mocked.
Facebook Page Example: (From an organization official) Stolen Horse International-NetPosse.com Please don't take it down as I said we are no longer interested in your group removing this post as it has become very beneficial to us and many others. Thank you for posting it and keeping it up.
THE FINAL RESULT
This case clearly exemplifies that this organization, did everything we could in regards to our policies and procedures, when a problem arose.
This organization invested significant resources in engaging the third-party to initiate the way we could consider taking the case from our website and social media. The effort and expense in time to our organization were significant.
Because of the third-party organization's refusal to assist us in any way toward solving the problem or removing the information via our policies and procedures, we had no choice but to leave the report as stated until some sort of legal information was received.
We received that info today. A magistrate, not a judge in a courtroom, ruled in favor of the third-party organization. We are also told that an appeal to a court with a judge by the original party with a contract may happen in the future.
Either way, we now know more and we have updated the info on the webpage. The thread on this page, has been deleted.