One of our Stolen Horse International, aka NetPosse victims recently saw the 'happy ending' story of a horse recovered months after she was stolen. Her comment is echoed by many of our victims who are still missing their horses. It was also a reminder that we needed to remind you that your help is very important.
Susan said, "We see everyone's solid colored horses being found and yet our loud leopard yearling filly just got over 4K shares within the first month and then nothing. And the lead we got from the sheriff's department said it wasn't enough to waste man hours on. People don't care. It is sickening and sad but thank you for posting the happy endings. It still gives me hope that one day we will see our Sunshine again."
As a victim myself, I understand how Susan feels. Our horse Idaho was stolen in 1997 when there was no social media. We still licked stamps and paid for long distance calls. We had Yahoo list groups, message boards and websites to use for contacting people about our horse. We drove to horse auctions in multiple states to see if Idaho was there and to post flyers. It took hours and days to do what social media can do in minutes today.
A group of people formed to help us search for Idaho as soon as we sent out our first email. The group included many victims just like us. We helped and encouraged each other. It was bittersweet when someone found their horse and we didn't. We felt both happy and sad. We were happy they found their horse but were sad we had not found Idaho.
If you know our story then you know that we did find Idaho 51 weeks after her theft. It was our hard work and the support of thousands who offered hope when they shared our "Idaho Alert". It was the emails, the prayers that encouraged us to hang in there and not give up. The support kept us hoping that one day she'd come home. She did on September 17, 1998. We also found and prosecuted our thief.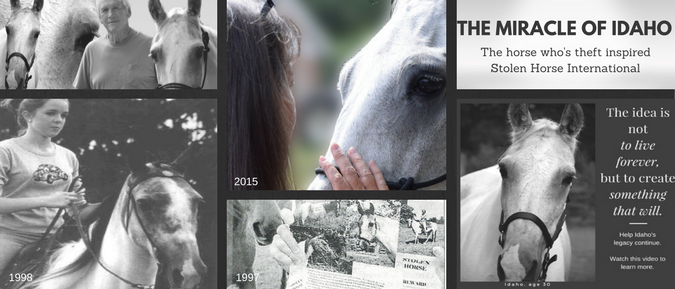 Stolen Horse International was founded because of Idaho's theft so that people like us would have the help we didn't when "it" happened to us. If we had given up then this organization would not be here today.
Reading Susan's comment reminded me that people often forget about horses that are not found within a few weeks. Victims sometimes give up the search when they do not get quick results. This is a world where everyone wants everything instantly. Finding a stolen or missing horse rarely works that way. It is more like finding a needed in a haystack when the haystack keeps moving.
SEARCH TIPS FOR VICTIMS AND VOLUNTEERS
These tips are here to remind victims and the people who help how to keep a search moving forward.
Stolen Horse International serves as home base for lost, found, missing and stolen horses. There are thousands of report listings on our website.
Stolen Horse International starts a search using our expertise from working with thousands of victims and by using our 21 year old network of contacts for our NetPosse Alert. The public sees very little of the work that is actually done on each case.
Stolen Horse International provides a flyer and the tools to keep missing horse info current via a webpage link to the case which can be shared on social media sites, websites, emails, etc.
The flyer needs to be printed and posted in public places. Not everyone is on the internet and even less on Facebook.
To Victims: You have to keep your horse in front of people. You have to ask for help. You are in charge of your search for your horse. If people do not see your efforts to search for your horse then they forget.

Do something every day to get your horse in front of more people.
Share every day to no less than 20 Facebook groups a day. More is better.
Find websites that are not on social media. Use the emails addresses on those websites and email each one. Give a short plea for help and give them the NetPosse.com link to your horse for complete details and the flyer.
Post your NetPosse Alert on Craigslist every week in multiple places.
Print your flyers from your NetPosse report. Keep them in your car and post them everywhere. Again, not everyone is on social media.
Post your info to messages boards. Yes, there are still some very active boards.
Keep your information updated on NetPosse.com and share your link in every post, every email, etc.
The more you work to find your horse the more people who see your horse and the more you increase your chances of finding your horse.

To Helpers: If you are the person who sees the plea for help with finding a horse, share it! Don't think a case is hopeless no matter how long the horse has been missing.

Horses are not always found immediately. It can take weeks, months and years.
Your share can be the one that connects the dots that helps a horse come home.
If you are on social media, share multiple times, not just once.
Share everywhere. A horse can be across the country in less than a week.
It is important to let the victim know you are supporting them and how. You instill hope in a victim far more than you know. A brief note means the world to a victim that feels forgotten.
Don't just share. Print that flyer and post it at horse events, convenience stores, tack and feed stores, horse shows, restaurants etc.
This is a short list of reminders for us all. An article that defines more search tips can be found on www.netposse.com under the SERVICE tab in Resources. When a horse is missing it takes the whole horse community sharing and caring together to bring them home.
DON'T FORGET TO GIVE—WE CAN'T DO WHAT WE DO WITHOUT YOU
Stolen Horse International has been helping victims for 21 years. We cannot do what we do without you. Each year we have to raise $30,000 - $50,000 to continue our Victim's Services and Educational Outreach Programs. Without your support we will not be able to continue helping victims, which is our most expensive program.
Please visit www.netposse.com and make a donation today.
Never Underestimate the Power of One—You!